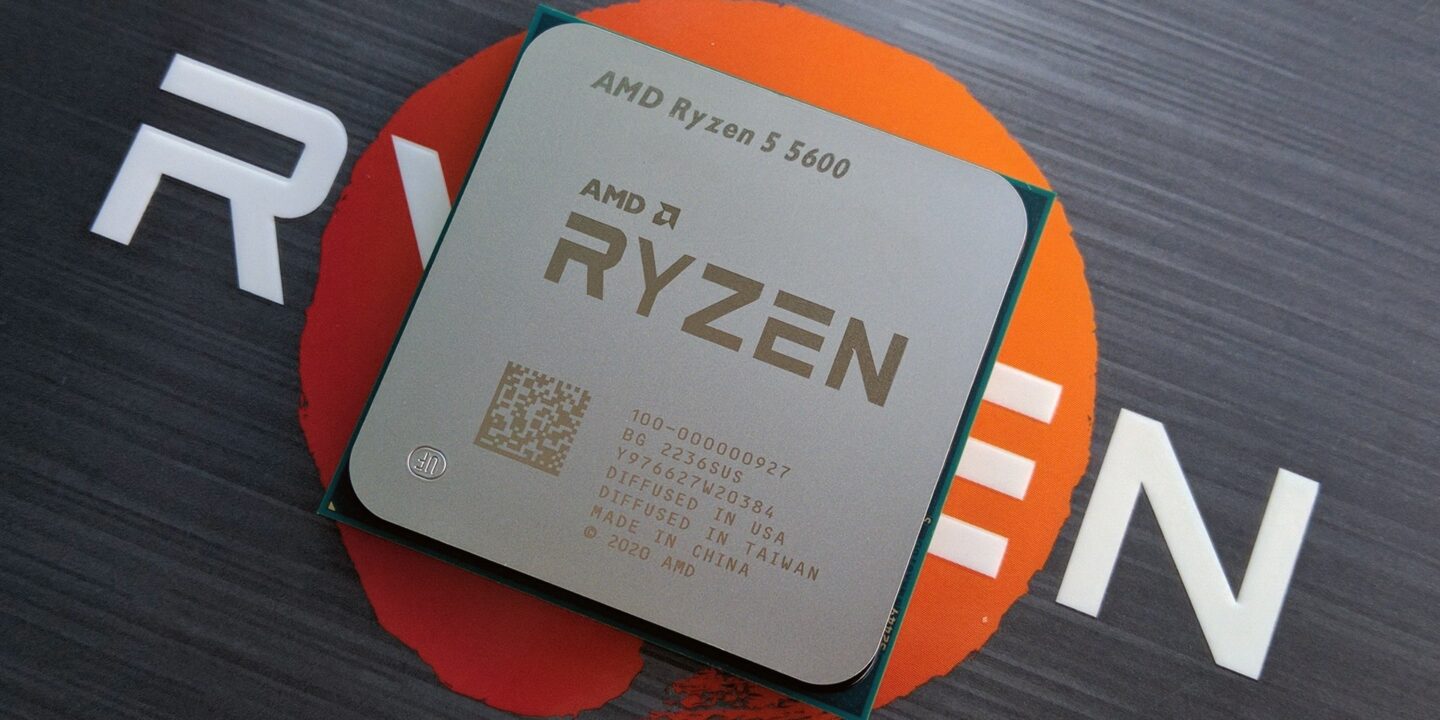 Relative to its brethren in Zen 3 architecture, Ryzen 5 5600 was released quite recently and was meant to improve the situation of red chipmaker in the budget segment, where last year it was dominated by Intel with its Core i3-i5 processors. However, for uncertain reasons, this CPU never got the attention it deserves.
In this review we will try to find out what the Ryzen 5 5600 processor is capable of and what its position is relative to the cheap Xeon E5-2670 v3 and the more expensive Core i5-12400F.
CPU
Ryzen 5 5600 has a rated frequency of 3500MHz and its TDP level is set at 65 watts. At first glance this seems to be a very modest figure, but there is something to consider: 7nm die has a very small heat dissipation area, so coolers designed to dissipate 65 watts are not able to handle the hot temper of this CPU. In order to make Ryzen 5 5600 feel "comfortable" you should look for cooling system with the ability to deliver about 95-125 watts.
There is also a peculiarity: as we mentioned above, Ryzen 5 5600 rated clock speed should be 3500MHz, but the available Gigabyte X470 AORUS ULTRA GAMING and ASRock B450M-HDV motherboards don't have such numbers. CPU clock varies from 3600 to 4450MHz and voltages from 0.900 to 1.200V, and no BIOS manipulations (like updating to the latest firmware or downgrading to different versions) failed to change that.
Perhaps this is due to the relative freshness of this CPU and, as a consequence, the banal negligence of motherboard manufacturers with regard to the last one. However, this particular feature has no effect on the final performance of the chip, because thanks to Precision Boost 2 technology, it never operates at its base frequency. But we couldn't not mention it. Now let's return to the characteristics review.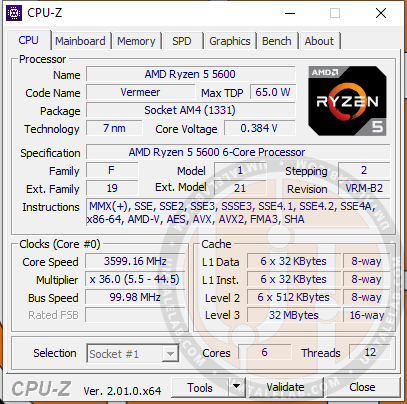 The Ryzen 5 5600 processor is based on a 6-core, 7nm VRM-B2 revision die based on AMD Zen 3 architecture. This chip has 512 KB of second level cache per core and general, high-capacity third level cache of 32MB. This CPU is designed to be installed on AM4 socket motherboard, its nominal frequency is 3500MHz, but with Precision Boost 2 technology it can go up to impressive 4450MHz.
By the way, it's worth mentioning that on ASRock B450M-HDV motherboard our CPU operates stably at 4450MHz in almost all types of loads. The only exceptions were stress tests like LinX and Prime95 where we occasionally experienced frequency drops to 4250-4350MHz due to TDP limitations. But this is quite normal.
CPU integrated memory controller speed of the 5600 is not tied to RAM frequency and is fully dependent on the Infinity Fabric bus dividers. Nevertheless, the maximum efficiency of the CPU is achieved at a DDR4/IF frequency ratio of 1 to 1.
Officially, the Ryzen 5 5600 CPU's maximum RAM speed is limited to dual channel DDR4-3200MHz. But we were able to run the Corsair Vengeance RGB PRO memory strips at an effective DDR4-3600 (1800MHz) frequency with 1800MHz Infinity Fabric mode without much effort.
Besides all the features mentioned above, we should also mention the presence of SSE4.2, FMA3, AVX and AVX2 instructions, so necessary in the realities of 2023. This feature will help avid gamers to run any novelty of this year without any problems, and, as practice shows, even with activated ray tracing.
Test setup, software and CPU settings
Test setup
Intel CPU — Core i5-12400F, Xeon X5660, Xeon E5-2667, Xeon E5-2620 v3, Xeon E5-2670 v3;
AMD CPU — Ryzen 5 1600X, Ryzen 5 5600, FX-8350;
CPU cooling — Cooler Master Hyper 212 Black Edition (RR-212S-20PK-R1);
LGA 1366 RAM — 3 x 8GB HyperX Genesis Na'Vi Edition (KHX16C9C2K2/8);
LGA 1700 RAM — 2 x 8GB Corsair Vengeance RGB PRO (CMW16GX4M2C3600C18);
LGA 2011 RAM — 4 x 8GB Micron MT36JSF1G72PZ-1G4M1HF;
LGA 2011 v3 RAM — 4 x 4GB G.SKILL DDR4 F4-2400C15S-4GNT;
AM3+ RAM — 2 x 8GB HyperX Genesis Na'Vi Edition (KHX16C9C2K2/8);
AM4 RAM — 2 x 8GB Corsair Vengeance RGB PRO (CMW16GX4M2C3600C18);
LGA 1366 — DELL T3500 (09KPNV);
LGA 1700 Motherboard— MSI PRO Z690-A DDR4 (MS-7D25);
LGA 2011 Motherboard — DELL T3610 (09M8Y8);
LGA 2011 v3 Motherboard — Qiyida X99-H9 with modified BIOS from Huananzhi x99-8m-f (Unlocked Turbo Boost, Undervolt, and unlocked timings control);
AM3+ Motherboard — ASUS M5A97 LE R2.0;
AM4 Motherboard — ASRock B450M-HDV;
Videocard — PALIT GAMEROCK GeForce RTX 3090 24GB (~1850/19000MHz, Power Limit 113%);
SSD — KINGSTON SUV400S37120G 120,0 GB (Windows 10), KINGSTON SUV400S37240G 240,0 GB + KINGSTON SUV400S37400G 400,0 GB (Games);
PSU — Chieftec GPS-1250C.
Software
Operating system: Windows 10 x64 with the latest updates as of February 2023;
Graphics card drivers: NVIDIA GeForce 528.49 WHQL;
Additional software for FPS measuring: MSI Afterburner 4.6.4;
Games: Testing was conducted on actual game versions as of February 2023;
Game settings: testing was performed at the highest possible graphics settings at 1080p resolution.
Setting up the processors under test
Intel CPUs:

Core i5-12400F@2500-4400MHz, Dual Chanel DDR4@3600MHz (16-19-19-36) GEAR 1;
Xeon X5660@2800-3200MHz, Triple-Channel DDR3@1333MHz (9-9-9-24);
Xeon E5-2667@2900-3500MHz, Quad-Channel DDR3@1333MHz (9-9-9-24);
Xeon E5-2620 v3@3200MHz, Quad-Channel DDR4@1866MHz (10-10-10-24);
Xeon E5-2670 v3@3100MHz, Quad-Channel DDR4@2133MHz (12-12-12-35).

AMD CPUs:

FX-8350@4000-4200MHz, CPU-NB@2200МГц, Dual-Channel DDR3@1866MHz (11-11-11-28);
FX-8350@4695МГц, CPU-NB@2608MHz, Dual-Channel DDR3@2086MHz (11-12-12-30, CPU Core voltage — 1.49v, CPU-NB voltage — 1.375v, DDR3 voltage — 1.660v);
Ryzen 5 5600@3600-4450MHz, Dual Chanel DDR4@3600MHz (16-19-16-36) Infinity Fabric@ 1800MHz (1:1);
Ryzen 5 1600X@3600-4000MHz, Dual Chanel DDR4@3400MHz (16-18-16-34);
You can find out more about almost all tested processors from our full-fledged materials, or by checking out our blogs section, where small articles are posted.
Separately, let us remind the methodology of CPU testing: each game was run five times, then the average frame rate among the five runs was chosen and it was written in the final results. All games were installed on SSDs.
Test results
Data archival
7-Zip
Free archiver 7-Zip has brought the first surprise: file compression speed in this program mostly depends on CPU cores performance rather than on RAM bandwidth. Ryzen 5 5600 beats both Core i5-12400F and Xeon E5-2670 v3.
3D rendering
Blender
Blender Open Data Benchmark
Cinebench R23
Corona Render Benchmark
V-Ray 4 Benchmark
xNormal, AO & NM Map render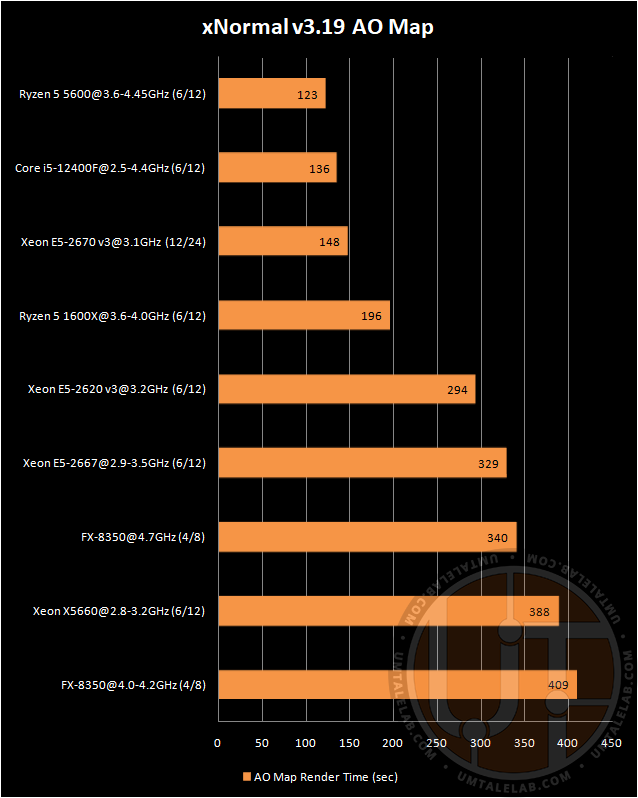 In 3D-rendering Ryzen 5 5600 performed not so well as in archivation, but we can say – quite confidently. Often, 6-core Zen 3 is only able to get close to 2670v3 and 12400F, at the same time in xNormal AMD budget solution managed to beat its competitors a bit.
Overall performance
CPU-z Benchmark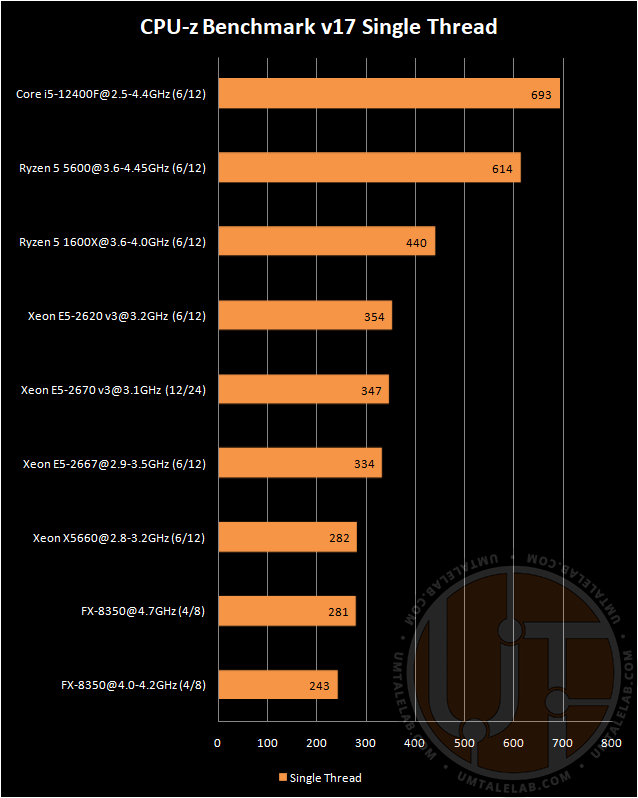 Geekbench 5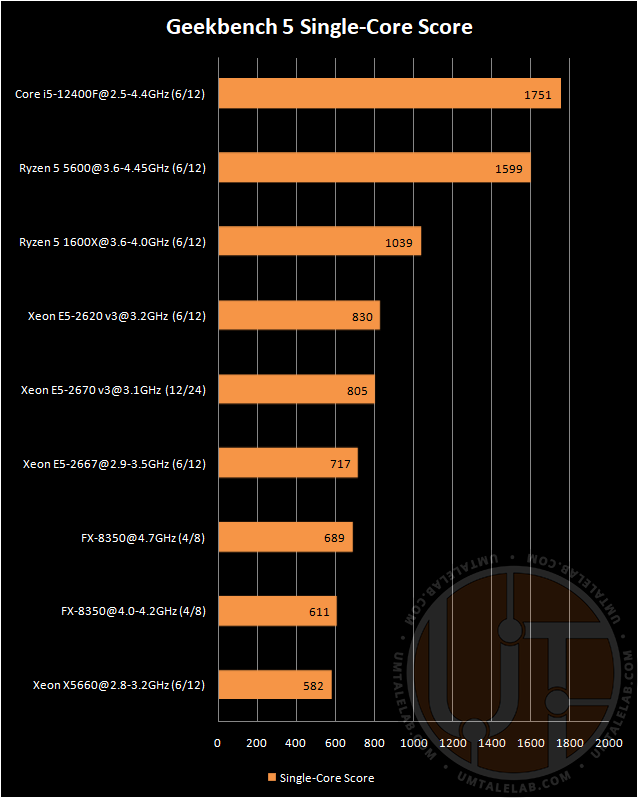 In CPU-z Benchmark and Geekbench 5 the single threaded performance of 6-core Zen 3 is quite noticeably inferior to that of Alder Lake, at the same time, the multi-threaded performance actually equalizes both opponents.
Video encoding
HandBrake, AV1, 2160p, 60FPS
HandBrake, H265, 2160p, 60FPS
In case of AV1 video encoding, 5600 slightly loses to 12400F, but when using H265 codec on the contrary – bypasses it, but still insignificantly. In fact, without going into details, both processors show similar performance.
Web Browsing
JetStream 2
Speedometer 2
Kraken
In JetStream 2 benchmark, which tests JavaScript and WebAssembly execution, Ryzen 5 5600 is quite good, almost catching up with Core i5-12400F, but in Speedometer 2, which measures responsiveness of web applications, 6-core Zen 3 has a 30% gap to that of Alder Lake.
Kraken JavaScript Benchmark, on the other hand, placed the processors virtually identically to JetStream 2.
Difference between Ryzen 5 5600 and Core i5-12400F in 14 applications
Games, synthetics
3DMark Time Spy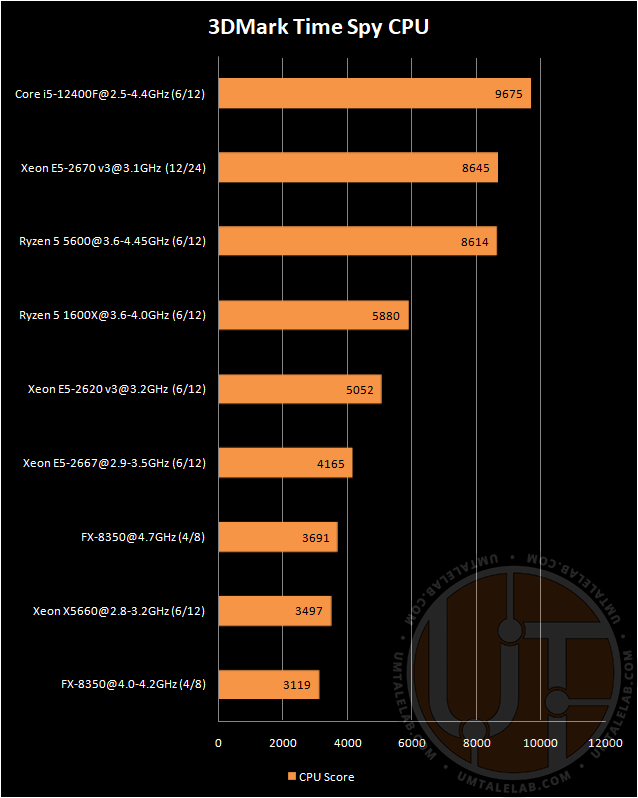 In 3DMark Time Spy gaming synthetics, Ryzen 5 5600 expectedly underperformed the Core i5-12400F, beating the Xeon E5-2670 v3 on the way.
Games
Assassins Creed Valhalla
Battlefield 2042
Ray Tracing – ON
Ray Tracing – OFF
Cyberpunk 2077
Ray Tracing – ON
Ray Tracing – OFF
Far Cry 6
Ray Tracing – ON
Ray Tracing – OFF
Hogwarts Legacy
Ray Tracing – ON
Ray Tracing – OFF
Marvel's Spider-Man Remastered
Ray Tracing – ON
Ray Tracing – OFF
RPCS3 – PlayStation 3 emulator. Red Dead Redemption
Red Dead Redemption 2
The Riftbreaker
The Witcher 3 Next-Gen Update 4.01 + Hotfix (Complete Edition)
Ray Tracing – ON
Ray Tracing – OFF
Watch Dogs Legion
Ray Tracing – ON
Ray Tracing – OFF
Difference between Ryzen 5 5600 and Core i5-12400F in 12 games
So based on the obtained results it becomes very obvious that Ryzen 5 5600 is able to "pull" real games with acceptable FPS. Nevertheless, it should be noted that Core i5-12400F often shows a little better performance. And if we talk about poorly-optimized strategies and emulation of PlayStation 3 games, the superiority of the 6-core Alder Lake can reach an impressive 20-26%.
Conclusion
Based on the combination of its characteristics and demonstrated results, Ryzen 5 5600 is definitely an excellent budget solution. In fact, we are facing one of the best processors in terms of price/performance. But we should not forget about the existence of competitors.
According to online retailers, the Core i5-12400F chip is on average priced 20-25% higher than the Ryzen 5 5600, while according to our research, the superiority of the 6-core Alder Lake over the Zen 3 often does not reach that scale. On average, Intel CPUs are 4% faster in software and 8% faster in gaming benchmarks. But here you should isolate those games and programs that you use more often.
In addition, from the pluses of AMD budget chip can be marked much cheaper motherboards and the ability to upgrade from existing PCs on the platform AM4, which are based on processors 1000, 2000 and 3000 family Ryzen.
But if we compare Ryzen 5 5600 with Xeon E5-2670 v3, everything is not so clear. It is quite obvious that 6-core Zen 3 has no problems with 12-core Haswell in games, but in applications the older multicore chip looks more attractive.
However, these are only our conclusions. We have given you food for thought, and the choice is, as always, up to you.