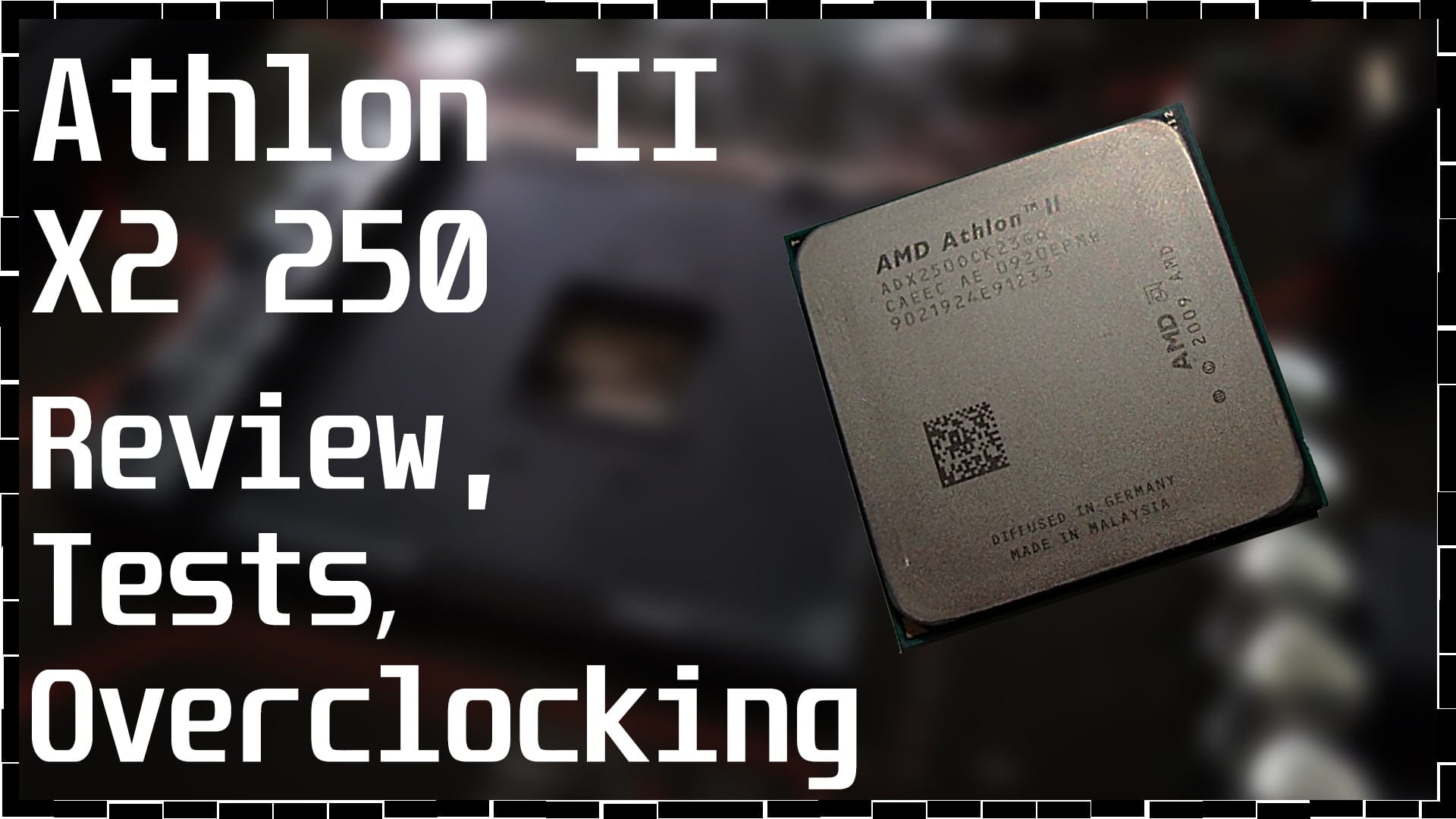 Not so long ago (half a year ago), AMD presented its new dual-core processors to the general public. More precisely, the Phenom II X2 550 and Athlon II X2 250. Of course, at the moment there are more powerful representatives of this family, for example, the fresh Athlon II X2 255. But it has not yet appeared on sale in our city.
What we have?
And really what? What has changed in the processor? Let's note the three most important changes: 45nm process technology, support for current DDR3 memory modules, and the return of 2MB cache memory on board! Now let's move on to a more detailed study of the new core.
Athlon II X2 250 is based on the Regor core revision C2, made according to the 45nm process technology, operates at a frequency of 3GHz, has an L2 (second level) cache memory of a megabyte per core, which gives 2MB in total.
It is designed for installation in socket AM3 but is also backward compatible with the old socket AM2 +, owners of motherboards with it, in some cases, you just need to flash a new BIOS revision. I also want to note that upon reaching such a high frequency, this processor has a fairly low power consumption, within 65 watts, which was naturally facilitated by the transition to a thinner 45nm technical process.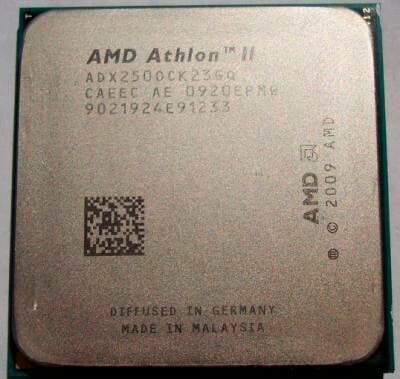 The screenshot of the CPU-Z program does not tell us anything new, but confirms the above information: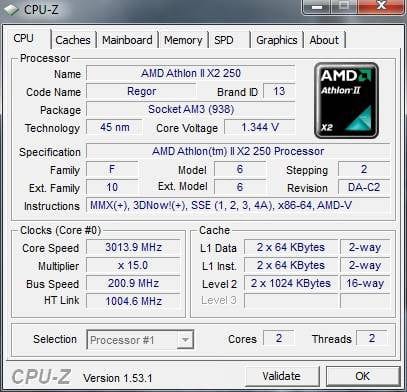 The new Regor core has more similarities with the old Windsor core (Athlon 64 X2 6000+ 3000MHz) than with Kuma (Athlon X2 7750BE 2700MHz), or Brisbane (Athlon X2 6000+ 3100MHz).
The first had 2MB L2 cache, the second had 1MB L2 cache and 2MB L3 cache, and the third had only 1MB L2 cache. Proceeding from all of the above, theoretically, the Athlon X2 7750 strongly suggests itself as a rival for the new processor, but we did not manage to get it.
Test setup and rivals
The following configuration was used for the tests:
Processors: Athlon 64 X2 6400+ BE, Athlon X2 4200+, Athlon II X2 250, Core 2 Duo E6300
Cooling the CPU: Cooler Master Hyper 212+
Motherboard: ASUS M2N68-AM SE2, ASUS M2N-E, Biostar P35D2A7
Video card: Gainward GeForce GTX280
RAM: Two memory modules PQI 2GB DDR2 PC6400 (5-5-5-12)
HDD: Samsung SP160GB
Power supply: Cooler Master 500W SP
Despite the rather small price and ugly appearance, the test motherboard performed well, conquering the frequencies that higher-end products can handle.
And here is the first opponent: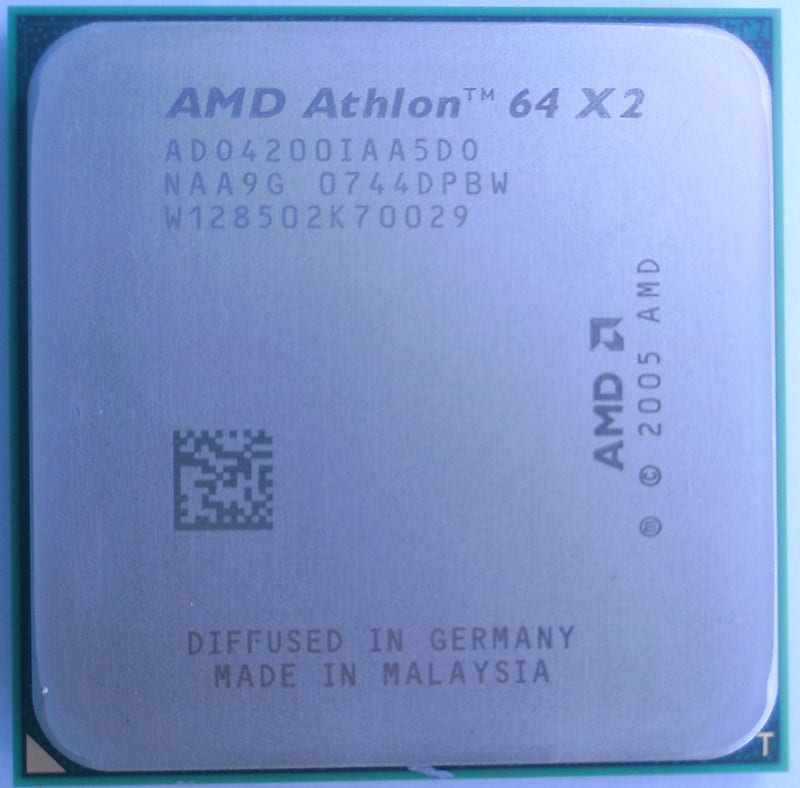 An old Athlon 64 X2 4200+ which miraculously reached such high frequencies as 3GHz (!) Without raising the core voltage.
As you may have already noticed, in the screenshot above, I tried to achieve the base frequencies of all other CPU units, the same happened with RAM, its frequency was violated by only 16 MHz and was 816 MHz, which in no way will affect the final test result …
The third stone will also be from the AMD camp. This is a rather unpopular and hot Athlon 64 X2 6400+ BE: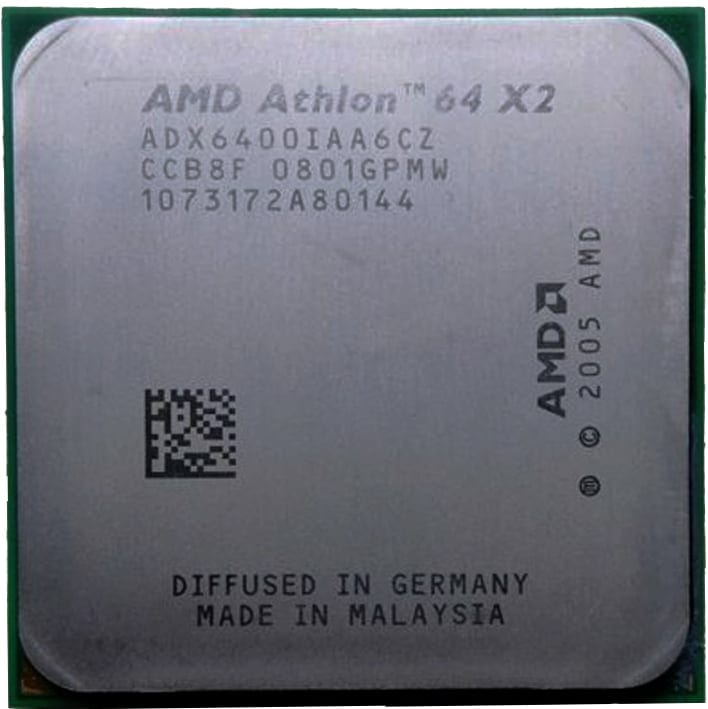 With him, fortunately, everything turned out much easier. I just needed to lower the CPU multiplier and get the required 3000MHz:
I would like to express my subjective opinion about this processor. It looks a bit like the video card used in our test bench. It is hot, so much so that even a bench cooler, which does not strain to keep the ardor of the Phenom II X4 965, could not keep the temperature of Athlon 64 X2 6400+ within 50 degrees. But it so happened that you can close your eyes to all this since this is the last top.
Simply put, before the release of the Phenom II X2 and Athlon II X2, it was AMD's fastest dual-core processor.
The honor of Intel processors will be protected by a rather old, but extremely cheap and productive (of course, after overclocking) Core 2 Duo E6300: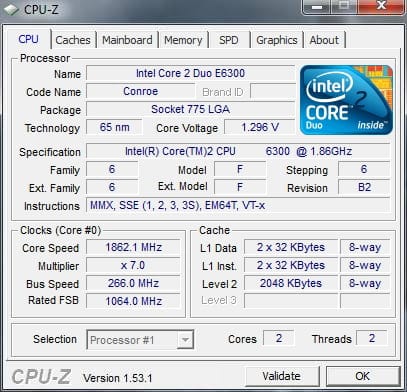 Don't worry about its frequency, we'll fix it a little lower by overclocking.
Overclocking processors
Let's start overclocking the processor. This Athlon II X2 250 turned out to be frankly rather weak, at the base voltage it was able to conquer the bar at 3600 MHz, and when the voltage was increased to 1.5V, it wound up at 3900 MHz, but I still could not bring it to stability.
Selecting the voltage and lowering the frequency to 5MHz on the bus gave nothing. The iron-stable frequency was 3719MHz at a voltage of 1.536v. Almost all Athlon II X2 samples can be overclocked to this level. Here's a screenshot of CPU-z: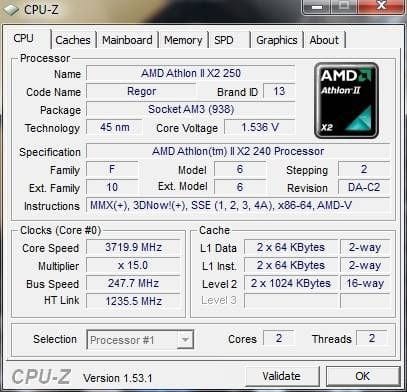 Let's move on to overclocking the Core 2 Duo E6300. Thanks to the benchtop motherboard, it was easy to overclock. Almost immediately, I was able to find more or less stable frequencies at 3400MHz and then achieved absolute stability at a frequency of 3360MHz with a voltage of 1.424v.
This is a rather mediocre result, however, further attempts did not lead to anything.
Testing
Unfortunately, the processor did not stay with us long enough and we were unable to conduct a full test. We present to your attention a selection of those tests that the CPU managed to pass before it left our laboratory:
Rendering
Cinebench 9.5, this test suite, which can use a huge number of cores active in the processor.
Thanks to architectural improvements, the new Regor core outperforms its closest opponent Windsor by 4%. The lag of the Brisbane core reaches an impressive 8%. Core 2 Duo E6300 shows itself exclusively on the positive side and at lower frequencies, it practically catches up with the overclocked 300 MHz higher than Athlon II.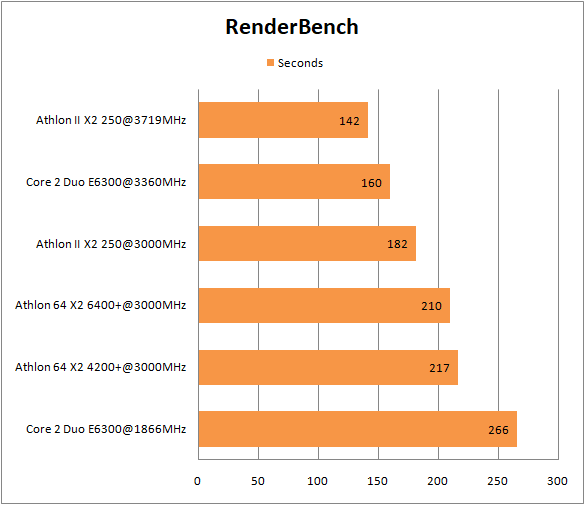 This test can only use one thread. Here you can see what the updated architecture is capable of. The Windsor core, being in equal conditions, lost about 14% to the new Regor! The Core 2 Duo no longer looks so menacing here.
Overall performance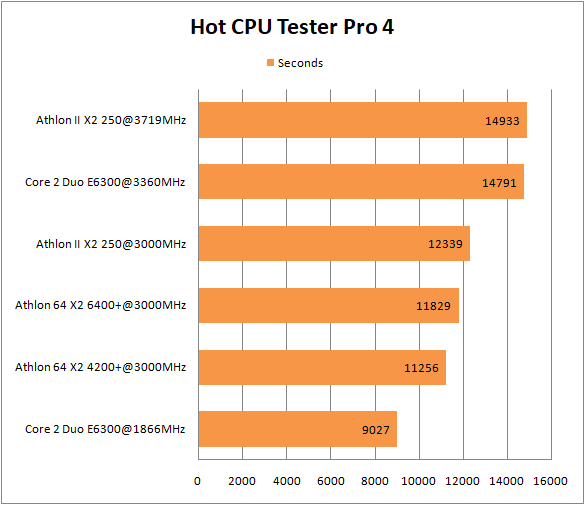 The diagram shows that this test suite can use only one thread. The advantage of the new core is minimal here and equals 5%. On the other hand, the E6300 looks extremely confident and menacing. Considering the 300MHz difference, it is the clear favorite.
Games: Synthetics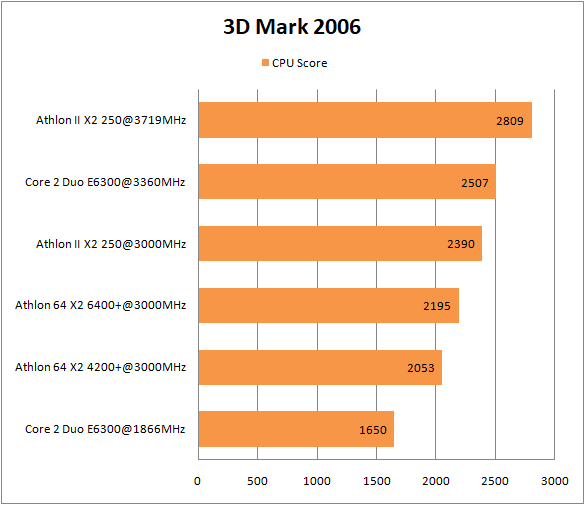 I was pleasantly surprised by the Regor performance in 3D Mark 2006. In the CPU test, the gap between Athlon 64 X2 6400+ and Athlon II 250 was about 9%.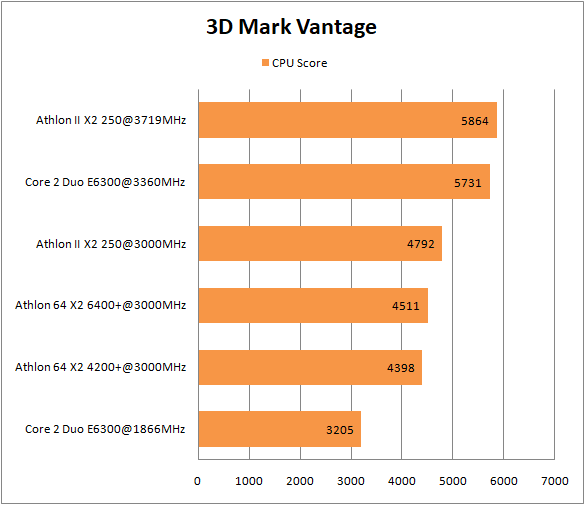 In the latest test suite from FutureMark, the victory of Athlon II X2 does not look quite impressive. In the CPU test, the gap is 6%. Core 2 Duo E6300 looks much more interesting and impressive. If in the 2006 version he did not particularly stand out, then in Vantage he shone. At a lower frequency, it practically caught up with the newcomer overclocked to 3719 MHz.
Games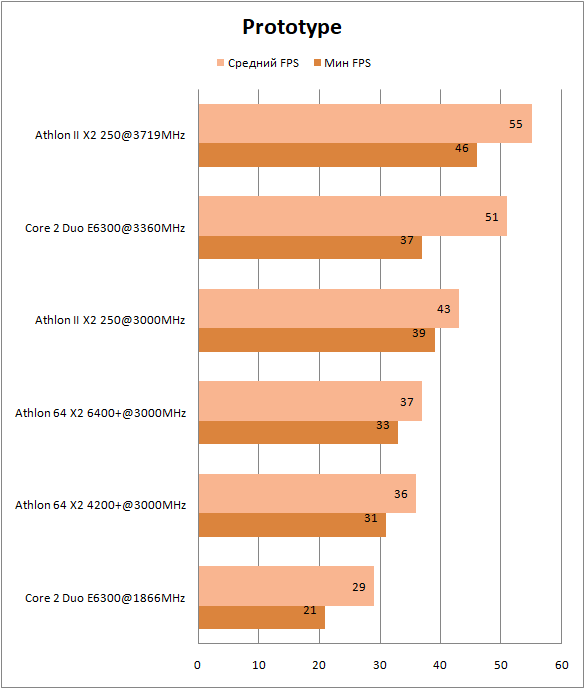 The last test in our today's review was the Prototype game. This is a very processor-dependent project. To play it without significant FPS drawdowns, at least a triple-core CPU was previously required. But with the arrival of the new generation Athlon II from AMD, everything changes!
The minimum frame rate for Regor is significantly higher than the average for the Windsor core at the same frequency! At the same time, the average frame rate finally surpassed 40!
Overclocking brings us even more amazing results. The minimum FPS has grown to 46, and the average to an impressive 55! Previously, for this game, it was better to use the same Core 2 Duo at frequencies above 3GHz. But now you have a choice.
Conclusion
The new dual-core CPU from AMD turned out to be a very powerful solution that easily brought the previous top Athlon 64 X2 6400+ to its knees. Although it operated at a reduced frequency, you and I might have noticed that the gap between them sometimes reached 10%. And to add here the frantic appetites for power consumption 6400+, which are equal to 125 watts.
I think many people are tormented by the question of whether it is worth changing a processor like Athlon 64 X2 to the new Athlon II X2. Based on today's review, I don't think it's worth it. Unless you care about electricity bills … Although this, I do not consider it a reason to pay extra for a 10% increase in productivity.
It's another matter if you have, for example, an old and low-frequency Athlon 64 X2 or Core 2 Duo. Then it makes sense to think about Athlon II. And then only if you do not want to mess with overclocking your old CPUs.
Author: UmTale
Test setup accessories: UmTale, MTP