After examining the performance of the AMD Radeon HD 5870 graphics card, some of our readers threw up the idea of testing its direct competitor in the person of NVIDIA GeForce GTX 470, or at least GTX 480. Moreover, in the era of the mining boom and the shortage of gaming graphics cards, gamers literally have to survive on anything. And the 400-series of NVIDIA video cards just fall into the category of " anything".
However, to our great regret, finding the above mentioned graphics cards in working order turned out to be a rather nontrivial task. For example, in the photo below you can see one of our dead experimental subjects, who never happened to be the heroine of this blog.
Leadtek GTX 470 was purchased at a flea market with a typical problem for the 400-series – "dumping" of the crystal from the substrate. This problem is not "cured" by the usual warming up, or, even more so, by the "reball", which is useless in this case. Here it is necessary to replace the GPU, and the new GF100, as you might guess, no longer exists in nature. Therefore, the reference GTX 470 made by Leadtek went to the shelf of our laboratory.
Nevertheless, we did not give up and a year after the release of the material about the Radeon HD 5870, we got a working graphics card GeForce GTX 470 in our collection. Moreover, one of the best representatives of its generation! But first things first.
In this article, we will test the GTX 470 in 14 games and overclock it. After some time (it all depends on your activity), the second part will be released with a comparison of the GeForce GTX 470 with the Radeon HD 5870.
Graphics card
As I mentioned just above, we finally got a working and very impressive sample of the NVIDIA GeForce GTX 470 video card made by GIGABYTE, model GV-N470SO-13I. However, as you probably already noticed from the picture below, it did not come to us in full:
Unfortunately, for 11 years, the video card's native fans have failed and the seller exhibited this model without them. However, there is nothing wrong with that. A pair of 120mm fans can easily solve this problem.
The GV-N470SO-13I has a rather massive cooling system: a three-section radiator is pierced by four heat pipes. But do not deceive your expectations: the first generation Fermi chips are incredibly hot, therefore, such a cooling system is more of a vital necessity for them than a margin of "strength" from the manufacturer.
Board and power system
Photo of GV-N470SO-13I Rev 1.0 PCB:
Model GV-N470SO-13I has an extremely impressive power subsystem for the GPU and video memory. At the "exhaust", it is capable of providing more than 280 watts to the components of the video card, which should be enough for a 215-watt GTX 470.
The GPU power circuit uses 36 series 7030AL PBm 1039 D1 and 7030AL PBm 1039 D7 mosfets located on both sides of the PCB. In fact, the same mosfets are used in the more gluttonous graphics cards GeForce GTX 570 and GTX 580 in the same version by Gigabyte.
Four PWM controllers are used as GPU voltage converters at once: one powerful six-phase NCP5395 from ON Semiconductor and three two-phase uP6275AD, which makes the GV-N470SO one of the most reliable and sophisticated graphics cards of the 400 series of NVIDIA graphics cards.
The ON Semiconductor ADP4100 four-phase power converter is responsible for powering the video memory, however, it is worth noting that out of the theoretical four phases, Gigabyte engineers have implemented only two in practice. Nevertheless, for a relatively low-frequency video memory GDDR5 GTX 470 this is enough with a margin.
Also, in the GPU power subsystem, Gigabyte's favorite film capacitors NEC / TOKIN 0E907 are used.
By the way, exactly the same ones were installed on the GV-R587OC-1GD video card we tested earlier.
GPU and memory
As a GPU, the GTX 470 graphics card received a stripped-down version of the 40nm GF100 chip in a configuration of 40 rendering units, 56 texture units, and 448 stream processors.
Specifically, in our case, this is the GPU GF100-275-A3:
The company for the GF100-275-A3 chip is 1280MB of video memory of the GDDR5 standard with a 320-bit interface, composed of ten 1-gigabit (128-megabyte) video memory chips manufactured by Hynix with the marking H5GQ1H24AFR-T2C 046A.
The base frequency of these microcircuits is 5000 MHz, but due to the high power consumption of Fermi video cards, the voltage of the set GDDR5 is intentionally underestimated, which is why the real clock frequency of the memory chips turns out to be significantly lower. In the case of the GTX 470, it is only 3348MHz.
According to NVIDIA factory specifications, the GeForce GTX 470 should operate at 607/1215MHz for GPU (core/shader domain) at 0.950 volts and 3348MHz for GDDR5 video memory. However, the sample GV-N470SO-13I presented in this material is overclocked from the Gigabyte factory and operates at slightly higher frequencies: GPU – 700/1400 MHz at a voltage of 1.025 volts and GDDR5 video memory – 3348 MHz.
The GPU-z utility confirms all the above characteristics, adding to them information about the GTX 470 support for technologies such as OpenCL, Vulcan, OpenGL 4.6 as well as DirectX 11. DirectX 12 is not officially supported, but indirectly the GTX 470 supports some "basic" version of DirectX 12, since, for example, Red Dead Redemption 2 is still launched on it. But more on that later.
Testing features
For 11 years of using the GTX 470 graphics card, the thermal paste under the cover of its GPU GF100 turned into dust and stopped performing its direct duties, bringing the temperature of the GPU to 100 degrees Celsius. Therefore, it was decided to scalp the GPU and replace the dried thermal interface.
With a scalpel, fan, and a plastic card to remove old sealant, this operation does not take long.
Nevertheless, it is rather difficult to recommend this procedure to anyone. It's all to blame for the potential danger of disabling the GPU, however, for chips such as the GF100, replacing thermal paste under the lid is almost the only way to adequately function in the realities of 2021. After all, the difference in temperatures between scalped and stock GPU is an impressive 24 degrees.
If you decide on the above operation, remember that all actions with your equipment you carry out at your own peril and risk!
Test setup:
Processor — Xeon E5-2620 v3@3200MHz (unlocked Turbo Boost frequency);
Graphics card — GIGABYTE GV-N470SO-13I;
Motherboard — Kllisre X99-D8 (AD12) with modified BIOS to unlock full Turbo Boost frequency;
RAM — G.SKILL DDR4@1866MHz 4 x F4-2400C15S-4GNT 4GB, with total volume 16GB (timings: 10-10-10-24);
SSD — KINGSTON 120GB SA400S37120G;
HDD — Seagate 2TB ST2000DM008-2FR102;
Power supply — Chieftec GPS-1250C.
Testing the GeForce GTX 470 in 14 games:
Assassin's Creed Odyssey
Minimum graphics settings, resolution 1280×720.
Unfortunately, it was not possible to run the last part of Assassin's Creed Valhalla on GTX 470 – the game requires full API DirectX 12 support. But the previous project of the Assassin's Creed Odyssey series easily launched on such an old video adapter, but we could not get an acceptable FPS. At any setting.
On average, the game demonstrates 23 frames with rare drawdowns of up to 15 frames. Such depressing indicators are completely unsuitable for a comfortable stealth action game.
Control
Minimum graphics settings, resolution 1280×720.
But Control pleased me. Sam Lake's creation works pretty well. Sometimes there are small freezes, but this is no wonder – the card has only 1280MB of video memory. If we close our eyes to this, then the owner of the GTX 470 can count on an average of 50 relatively stable FPS.
Counter-Strike: Global Offensive
Medium settings, resolution 1920×1080, MSAA x2.
With the multiplayer shooter Counter-Strike: Global Offensive GTX 470 copes with a bang. I didn't even have to reduce the graphics settings to the minimum here! The game averages 120 frames per second at 1080p.
Days Gone
Minimum graphics settings, resolution 1280×720.
So we got to the fresh project Days Gone. To our surprise, the GeForce GTX 470 not only launched this game but also demonstrated a solid frame rate of 44. Moreover, rare and very rare events did not drop below 29 FPS! This is a really solid result for a graphics adapter that is 11 years older than the tested game (we are talking about the release of Days Gone on PC)!
It is quite obvious that at minimum settings, Days Gone lacks stars from the sky. But it works, and if you want to go through it will not be difficult.
Destiny 2: Beyond Light
Minimum graphics settings, resolution 1280×720.
Destiny 2 is an MMOFPS, therefore, it is extremely difficult to predict all the scenarios of the player's behavior in it. Nevertheless, in most of them, the GTX 470 will be able to provide its owner with an average of about 54 frames, with rare drops to 39. Frankly speaking, in some places, it is not entirely playable (PVP and some raids), but the video card will allow you to familiarize yourself with the project.
Far Cry 5
Minimum graphics settings, resolution 1280×720.
As a person who has gone through Far Cry 5 far and wide, I'll say frankly – you can play on the GTX 470, but you will not get comfortable gameplay, at least at the base frequencies. The project demonstrates an average of 41 FPS, and rare events drop to 35. In general, the game can be completed with this FPS, but some missions will give you an incredible headache.
Of the available options for "downgrading" graphics, there remains a decrease in the internal rendering (taking into account that the external one is already 1280×720), however, in practice, in this situation, the picture turns into a mess and it becomes extremely difficult to aim with a weapon.
Far Cry New Dawn
Minimum graphics settings, resolution 1280×720.
A direct sequel to Far Cry 5 – Far Cry New Dawn works slightly better on the GTX 470 but crashes in random areas of the map. Probably, for the sequel to the fifth part, the amount of video memory is critically important.
Mafia: Definitive Edition
Minimum graphics settings, resolution 1280×720.
Mafia: Definitive Edition is a single project, so it's hard to say here how good 36 FPS is. Subjectively, it is relatively difficult to drive vehicles at such a speed. In addition, the game is replete with frequent freezes, which is clearly reflected by the indicator of very rare events on the MSI Afterburner chart.
However, the GTX 470 should be given credit as some games on legacy consoles don't even have that FPS value.
eFootball PES 2021
Minimum settings, resolution 1920×1080, render resolution 80%.
The football simulator eFootball PES 2021, with reservations, was able to work stably at a resolution of 1920×1080 (real resolution approximately 1600×900). The game functions well with no friezes, even when changing the camera to player/goal / ball/replays. On average, the GTX 470 dismantles 74 frames, and the rate of rare events does not go below 57 FPS. Excellent result!
Red Dead Redemption 2
Minimum settings, resolution 1280×720.
But the situation in Red Dead Redemption 2 is simply disastrous. The game started, but 13 frames per second are not at all the indicator that will allow you to enjoy the vastness of the wild west with comfort.
Tom Clancy's The Division 2
Minimum settings, resolution 1280×720.
The Division 2, on the other hand, works pretty well. We used the built-in benchmark as a test, and knowing full well that the performance in it is slightly lower than in the open world, we can confidently say that the GTX 470 is quite suitable for the Ubisoft shooter.
Watch_Dogs 2
Minimum settings, resolution 1280×720.
Another Ubisoft creation and another little victory for the old GTX 470. Watch_Dogs 2 is quite playable: 51 FPS average and 43 FPS rare events.
The Witcher 3: Wild Hunt
Minimum settings, resolution 1280×720.
The situation is about the same in The Witcher 3. Polish developers have perfectly optimized their project. The GTX 470 is capable of rendering an average of 51 frames, and very rare events will not drop below 34. Excellent result for an action-RPG!
World of Tanks
A previously prepared replay was used as a benchmark: "Erlenberg" map, "Assault" mode. Medium graphics settings, resolution 1920×1080.
Even in 2021, with all the improvements to the Big World engine, the Tanks work perfectly on an old graphics card like the GeForce GTX 470. It's awesome! To say that Wargaming has perfectly optimized its most popular product is like saying nothing.
The GTX 470 averages a solid 68 frames per second, and the rare event rate does not drop below 43 frames.
Below is a summary graph of testing the GeForce GTX 470 in 14 games:
In 11 out of 14 selected games, the video card was able to demonstrate acceptable FPS, and in some projects, such as WoT, CS: GO and PES2021, the frame counter exceeded the psychological mark of 60 FPS! This is a really great result. Just think: GeForce GTX 470 is 11 years old, and it is still capable of giving its owner sane performance!
Разгон видеокарты GeForce GTX 470
Our copy of GV-N470SO-13I was able to overclock up to 790/1580MHz (core/shader domain) on the GPU and up to a solid 4004MHz on the GDDR5 video memory:
This is an extremely good result, which reference samples for the most part cannot even dream of. In addition, this specimen has the ability to raise the voltage to 1.100 volts, which in theory can allow it to reach 850/1700 MHz. But, unfortunately, even with a stock voltage of 1.025 volts and a frequency of 790/1580 MHz for the GV-N470SO-13I, the GPU temperature in some places exceeded 85 degrees, which is not the most favorable condition for a graphics card with 11 years of experience. Therefore, it was decided to limit itself to overclocking without raising the voltage and frequencies of 790/1580 MHz.
Let's check how much the performance of the GeForce GTX 470 has increased after such a successful overclocking.
GeForce GTX 470 at base frequencies and overclocked
Far Cry 5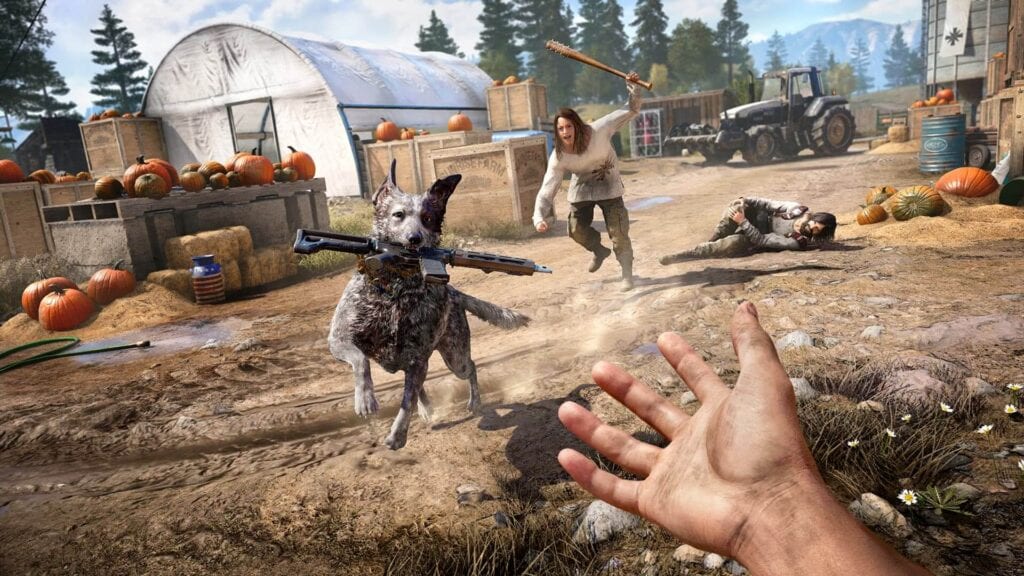 In Far Cry 5, the gain from overclocking was about 12%. Not bad. Especially considering that 46 frames per second, in general, is already more or less playable FPS for a single shooter.
Tom Clancy's The Division 2
About 8%. Not much. But, in Tom Clancy's The Division 2, the obvious limiting factor is precisely the modest amount of video memory GTX 470. Therefore, whatever the overclocking, it will not give the expected increase.
The Witcher 3: Wild Hunt
In The Witcher 3: Wild Hunt, the gain from overclocking was 10%, which is not so little in terms of the final FPS.
World of Tanks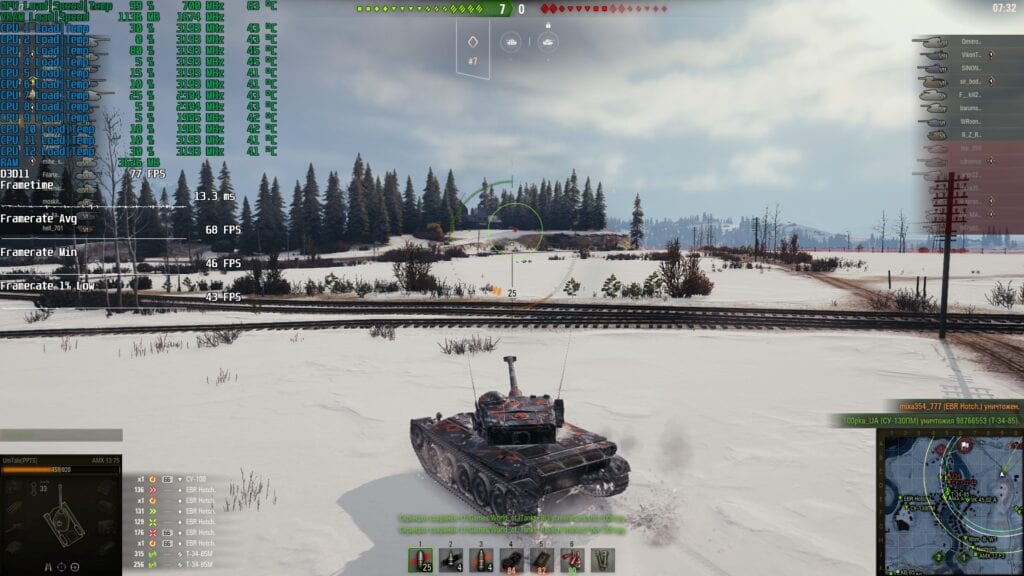 World of Tanks reacted most significantly to video card overclocking. Here, the increase in the frame rate was an impressive 15%.
Conclusion
The GeForce GTX 470 graphics card was a pleasant surprise. Even 11 years after its release, it is still capable of something. And if not for its crazy power consumption and heat dissipation (which you could see with your own eyes in the screenshots of the above tests), it could be recommended as a "plug" during the mining boom, however, due to the above problems and features, the GTX 470 (and as a consequence, its older sister GTX 480) is an extremely unfortunate choice to buy.
However, we only provided food for thought, and it is worth deciding whether it is worth it.
Thank you for your attention!
If this material was useful to you and you would like to see more similar articles on this resource, then please support our site on Patreon! The main goal of fundraising is to expand the component park and improve the quality of testing: replacing the HDD with a voluminous SSD, buying a capture card to reduce the impact of gameplay recording using ShadowPlay on the final results, and so on).
Also, I would like to express my special gratitude to the patrons who have already signed up! Your support is extremely important for us!