To my great regret, reviews of motherboards on our site are rare. However, I cannot but to write about a new stand board for AMD processors for socket AM3.
The old ASUS M2N68-AM SE2 completely stopped responding to the requests of the growing site and it left our test laboratory. Nevertheless, given her contribution to the development of the site, I would like to thank ASUS for an extremely good ultra-budget motherboard.
The last review, in which our old motherboard still appears, will appear on the site within a month.
So, what can we do with the new test ASUS M4A785TD-V EVO test motherboard? It's time to move on to review it. Let's take a look at it first:
The box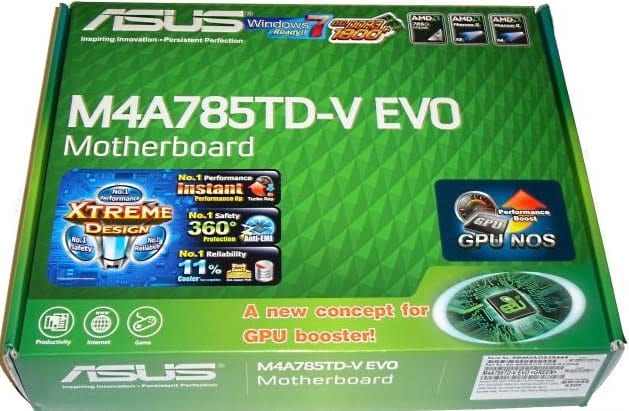 Supplied in a green box and as many may have already noticed, this is an outdated option. ASUS now uses a completely different printing industry.
Thanks to the many stickers, even without buying the board, you can find out that it belongs to the class of mid-budget products. The front side of the box also makes it clear that this product supports the ASUS Express Gate software shell, with which you can get to the Internet in a matter of seconds.
And the last thing the box introduces us is information for a potential buyer that the integrated AMD Radeon HD4200 graphics processor can be additionally overclocked using the GPU NOS program.
Equipment:
3 SATA-cables;
1 IDE-cable;
a cover for the rear panel of the case;
user manual and quick installation instructions;
stickers;
CD with software and drivers;
a set of branded Q-Connectors.
The delivery set includes everything that may be required for a normal start of the system. The only thing I would like to note is the presence of two SATA cables with metal clips.
Specifications:
Model
ASUS M4A785TD-V EVO
Supported processors
Socket AM3: AMD Phenom II / Athlon II / Sempron 100 Series
System logic set
AMD 785G + SB710
System bus frequency Hyper Transport, MT/s
5200 (HyperTransport 3.0)
Supported memory type
4 x DIMM, up to 16GB, DDR3 1800/1600/1333/1066/800 MHz
Integrated graphics core
AMD (ATI) Radeon HD 4200 with SidePort Technology
Built-in Memory Type SidePort
128MB DDR3 1333MHz
Expansion slots
2 x PCI Express 2.0 x16 (blue works in x16 mode, gray – in x4 mode)
1 x PCI Express x1
3 x PCI
CrossFireX texhnology
Supported by x16 + x4 formula, Hybrid CrossFireX supported
Disk subsystem
AMD SB710:
– 5 x SATA 3Gb / s
– 1 x UltraDMA 133/100/66 up to 2 PATA devices
– 1 x eSATA 3Gb / s
SATA RAID 0, 1, 10, 5, JBOD support
LAN support
Gigabit Ethernet Controller Realtek RTL8112L
Sound subsystem
VIA VT1708S high quality 8-channel audio codec
IEEE 1394
VT6308P controller supporting 1 port on the interface panel and 1 more using an extension bracket
USB
12 USB 2.0 / 1.1 ports (6 at the rear)
External I / O ports
1 x PS/2 keyboard port
1 x D-Sub port
1 x DVI-D port
1 x HDMI v1.3a port
1 х eSATA port
1 x optical S/PDIF output
1 x IEEE1394a port
1 x LAN (RJ45) port
6 x USB 2.0/1.1 ports
8-channel audio port
Internal I / O ports
24-pin ATX power connector
4-pin ATX 12V power connector
1 x CPU fan connector
1 x IDE connector
1 x IEEE 1394a connector
1 x LPT port
1 x COM port
2 x fan connector
1 x S/PDIF out
3 x USB 2.0/1.1 ports
5 x SATA 3Gb/s
Connector for devices on the front of the case
For a mid-range solution, the specs are overwhelming. The only drawbacks, if they can be considered as such, are the lack of FDD and COM connectors.
Appearance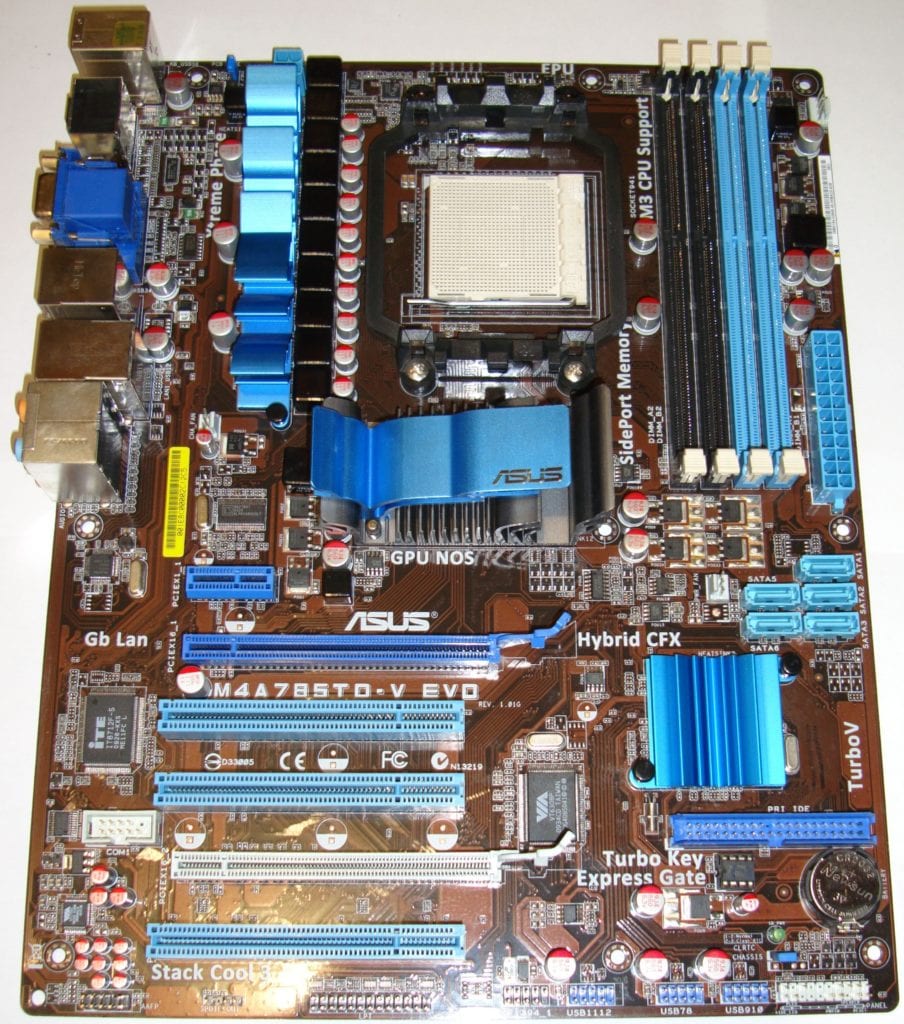 The board looks quite impressive. The huge radiator on the power converter is especially striking. But, as the practice has shown, it is not completely firmly in contact with power transistors and can cause a negative effect instead of a positive one.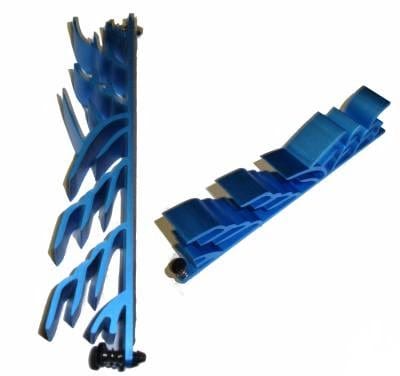 The power converter looks even more impressive than its radiator. It has 10 power phases, 8 for the processor cores, and 2 for the memory controller built into the CPU.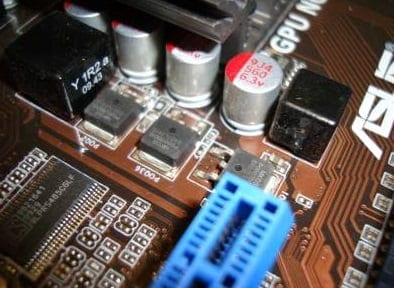 The power supply for the AMD785 northbridge and the integrated graphics core is apparently made according to a 2-phase power supply scheme. Subjectively, this is enough. But with high overclocking of the integrated graphics, it may not be enough.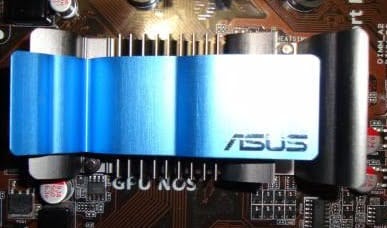 The northbridge is cooled by a massive blue-gray aluminum radiator. As you can see from the photo, it has a fairly high heat dissipation area. However, if your case is poorly ventilated, the chipset will not save you from overheating.
As you can see, the board has two PCI Express 16x slots at its disposal, but this is only at first glance. The top (blue) really works in 16x mode, but the bottom (white) already uses only 4 lines.
For video cards like the Radeon HD5750 / 5770, this should be enough to build CrossFire out of them. But if you plan to use more powerful cards, such as, for example, HD58хх / 68хх / 69хх, it is better to get a motherboard based on the AMD790 / 890FX system logic set.
You can also insert some inexpensive video card from NVIDIA into the 4x slot and get physical effects.
The rear panel contains the following connectors:
PS/2 port for keyboard / mouse;
D-Sub;
DVI-D;
HDMI v1.3a;
S/PDIF;
IEEE1394a;
LAN port;
eSATA;
6 x USB 2.0/1.1;
8-channel audio port.
Test setup:
Motherboard – ASUS M4A785TD-V EVO (BIOS v2103)
Processor – Athlon II X4 620
Cooling CPU – Cooler Master Susurro (RR-KCT-T9E1)
RAM – Corsair XMS3 PC10700 (9-9-9-34)
Video card – ASUS GeForce 9800GT
Power supply – FSP 400W
HDD – Samsung SP160GB
BIOS: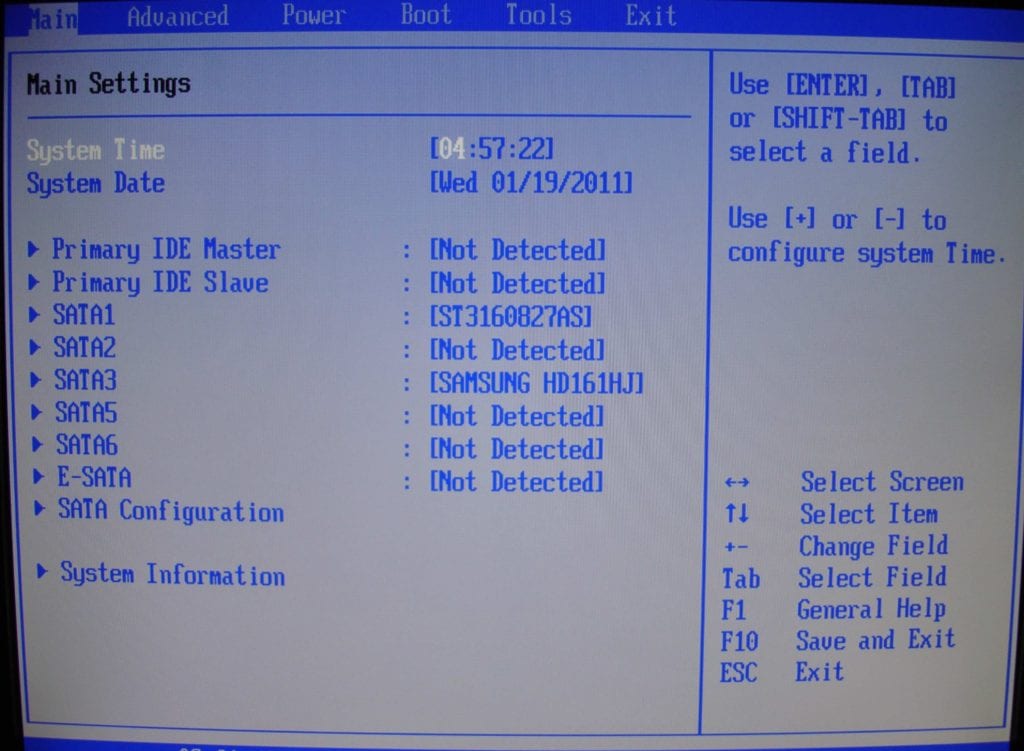 The BIOS of the ASUS M4A785TD-V EVO motherboard is based on the AMI microcode.
Features of the board for fine tuning: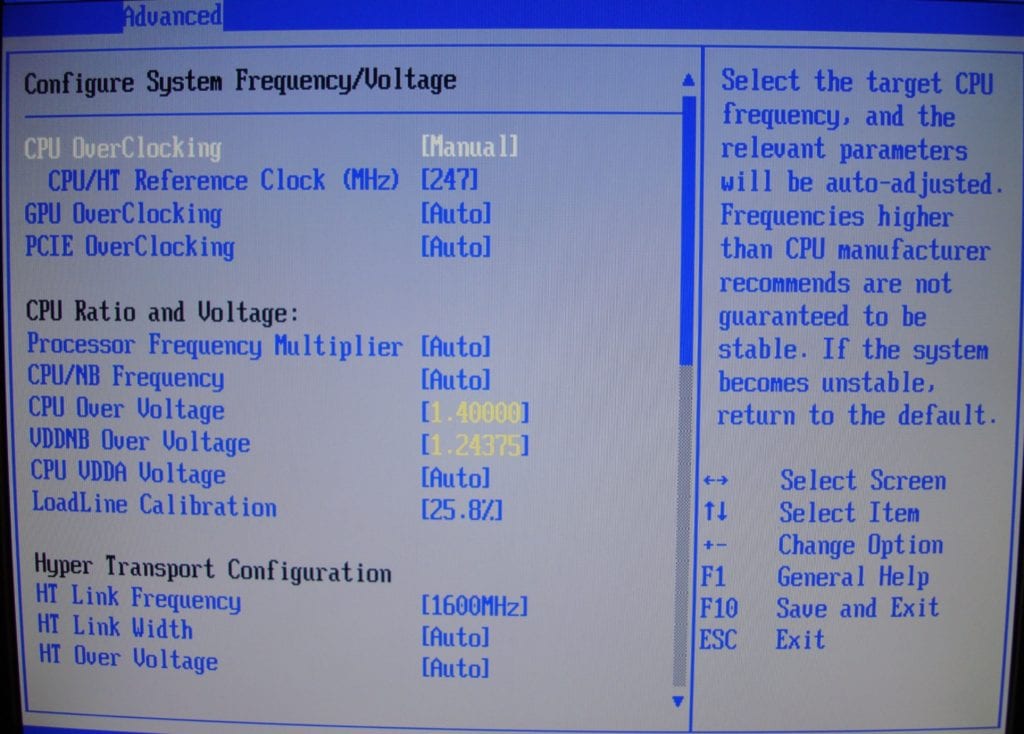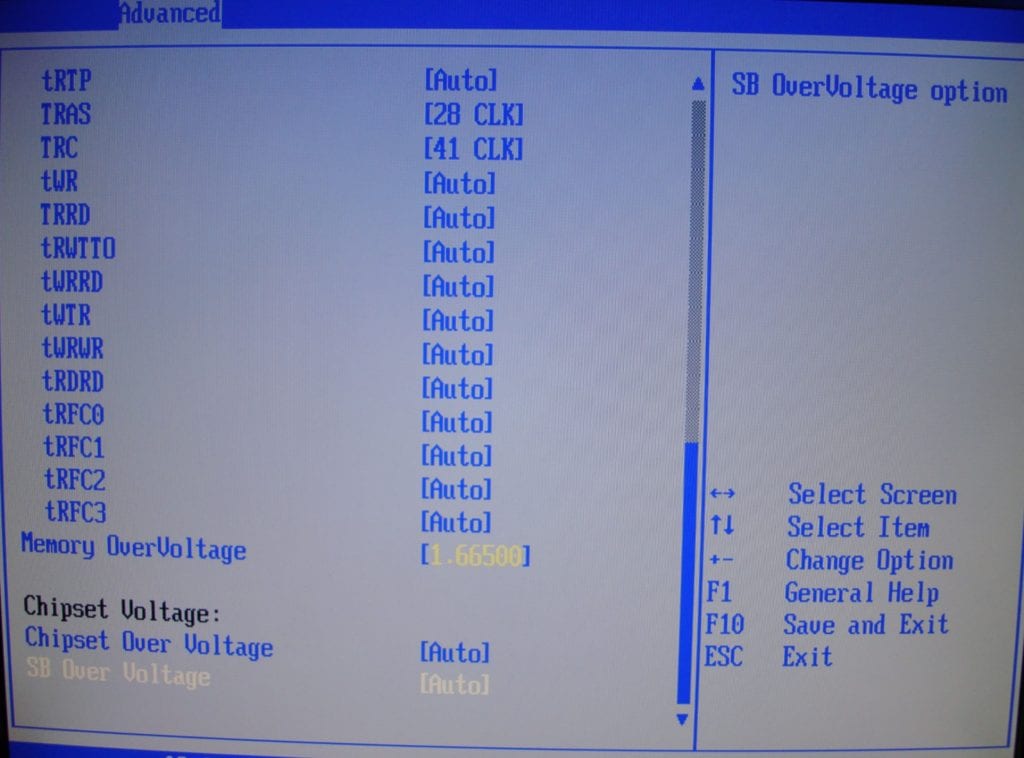 | | |
| --- | --- |
| GPU Engine Clock | 150-2000 |
| Processor Frequency Multiplier | x4 – max |
| CPU/NB Frequency | х4 – x20 |
| PCIE Clock | 100 – 150 MHz |
| HT Link Frequency | 200 – 2600 MHz |
| HT Link Width | 8, 16 |
| HT Over Voltage | 1,2 V – 1,35 V |
| CPU/HT Reference Clock | 200-500 MHz |
| Memclock Value | 400 MHz, 533 MHz, 667 MHz, 800 MHzц. |
| Memory Overvoltage | 1,5 V – 2,31 V |
| Chipset Over Voltage | 1,1 V – 1,61 V |
| SourthBridge Volt Control | +0,1 V – +0,3 V |
| CPU VDDA Voltage | 2,5 V – 2,8 V |
| CPU Over Voltage | 1 V – 1,7 V |
| LoadLine Calibration | 0% – 100% |
Configuring the video memory of the integrated graphics core is very flexible. But for maximum performance, I recommend setting the UMA + SIDEPORT parameter. So the graphics core will have access not only to the memory chip soldered on the board but also to the RAM installed in the slots. But there is one nuance, the frequency of the RAM must be equal to the frequency of the SidePort DDR3 memory!
BIOS is able to monitor the current temperature of the processor and system, 4 voltages, as well as the speed of all three fans.
Overclocking
Finally, it's time to try out the full potential of this product. It's time to overclocking. All that I could achieve on the current firmware was 330MHz over HTT: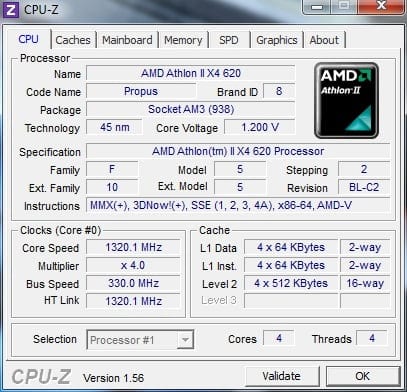 This headroom for the reference frequency should be enough to overclock any processor, even with a low multiplier. The maximum stable overclocking of the processor rested on the CPU itself, and was only 3549 MHz: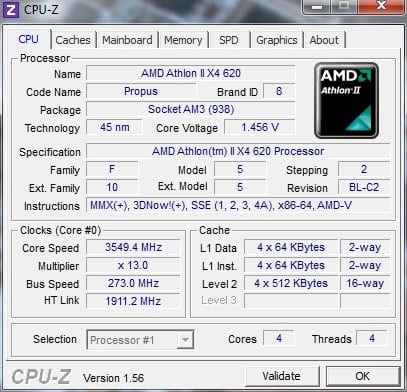 AMD's C2 revision turned out to be extremely weak. Processors based on this stepping rarely overcome 3600MHz, in contrast to stones based on C3. They can easily handle more than 4GHz.
Also, I want to share one feature of this board. When the voltage on the CPU was increased to 1.550V, the valley test in S&M did not pass. The error "Thermal protection worked" was knocked out. This trouble is solved by installing a blower on the power converter. Possibly the problem is the poor clamping of the heatsink to the power transistors, but, as it seems to me, the old C2 stepping of the Athlon II X4 620 processor consumed a lot of power and the power converter simply could not cope with it.
But, as the saying goes, all's well that ends well.
Conclusion
ASUS has released a fairly balanced solution for overclockers. Indeed, in the CIS countries, this word has a slightly different meaning than in the West. Minimum investment, maximum productivity. ASUS M4A785TD-V EVO fully complies with this.
Pluses:
Not a bad overclocking set of settings, an excellent basis for overclocking processors with both a free multiplier and a fixed one, the ability to create a bunch of two video cards. Iron stability. eSATA rear panel, 6 USB. Price.
Minuses:
A bit inconvenient location of SATA ports. Super reliable overheating protection. The heatsink on the processor power system does not fit snugly against the power transistors.
Author: UmTale