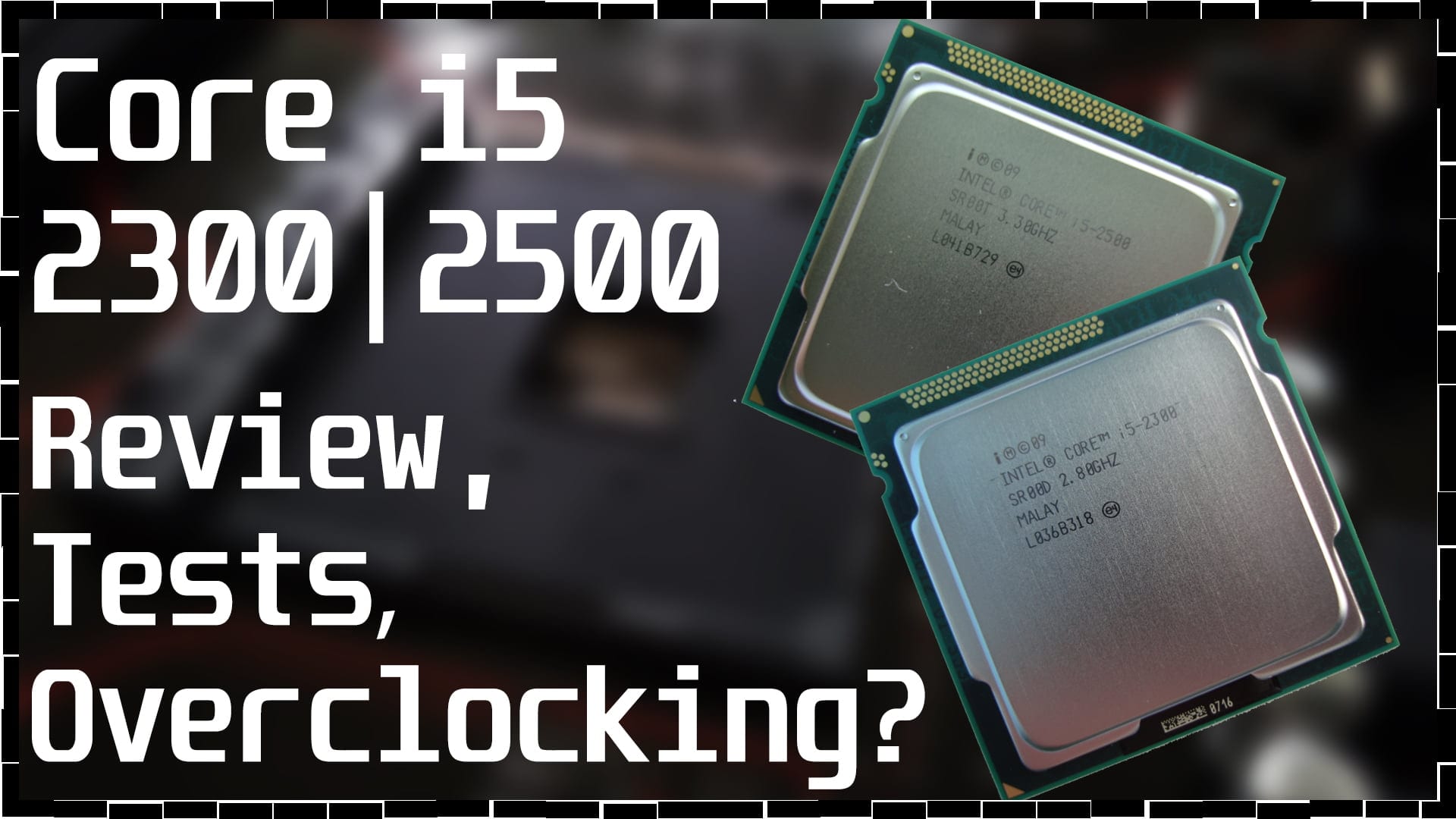 Introduction
Intel refreshed its highly successful Core processor line six months ago. The Sandy Bridge architecture replaced the old Nehalem. This architecture did not bring anything fundamentally new; nevertheless, it was able to raise the performance bar even higher, which had an extremely unfavorable effect on the competitor, that is, AMD.
Let's see what Intel has improved in its processors:
The first and most important thing is the transition from the 45nm process technology to 32nm. In fact, Nehalem exists not only on the old 45nm process technology, but also on 32nm, but due to the six-core design, Intel changed the name of the architecture and called it Westmere (Core i7 980/990 for LGA1366 and a huge bunch of Xeon lines W36xx and X56xx for the same LGA1366).
The second change is the integration of a relatively efficient graphics core into the processor. The third is a much-improved memory controller but truncated compared to LGA1366 since there are now only two channels.
But in fact, the disadvantages of RAM bandwidth remain only on paper. In reality, the memory bandwidth of the new processors is on par with the previous CPUs due to major changes and improvements in it.
Processors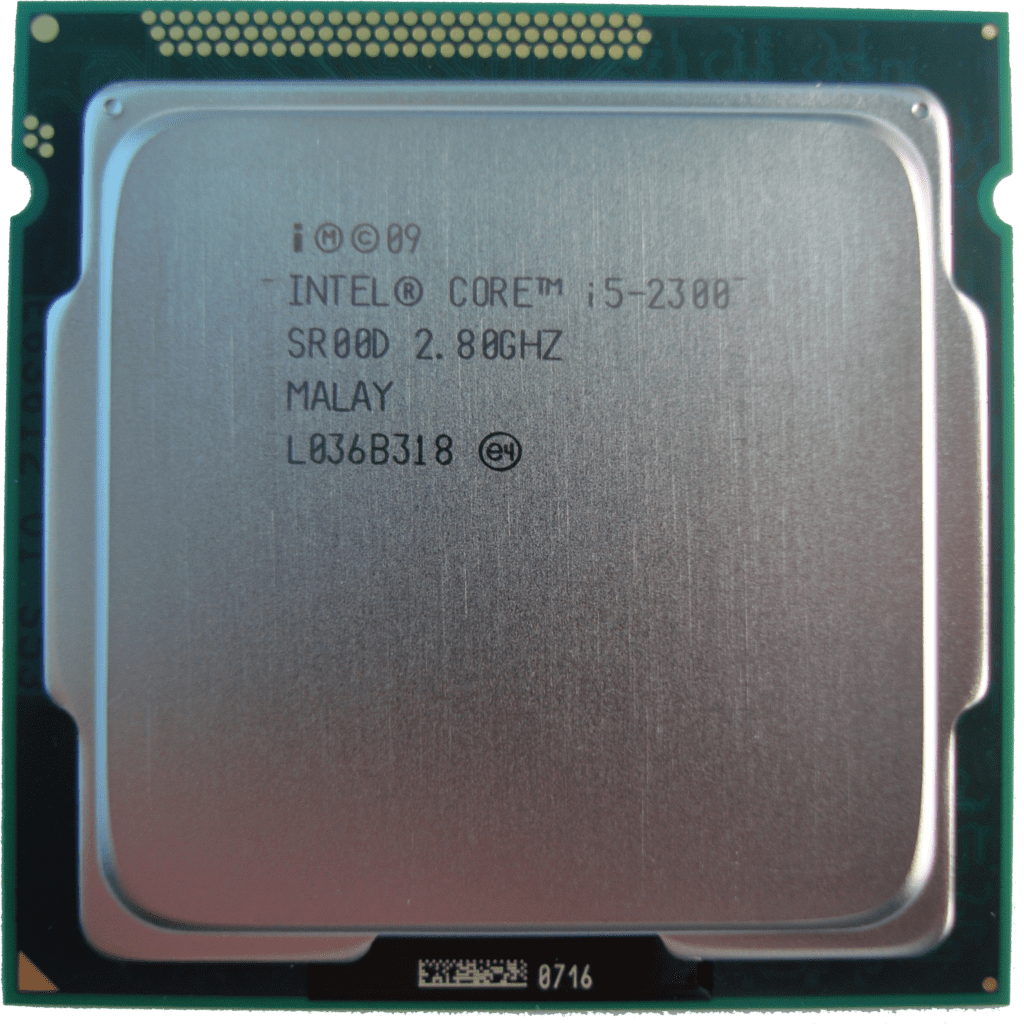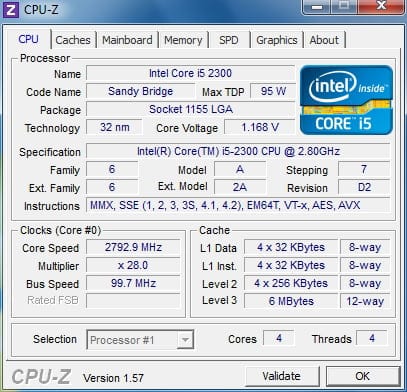 SR00D marking. The Core i5 2300 processor is based on the Sandy Bridge 32nm core. Equipped with 256KB L2 cache per core, and 6MB L3 cache shared across all four cores. The base voltage of our sample is 1.168V, core revision is D2, the maximum TDP is 95 watts. The base frequency of the chip is 2800MHz.
The next processor, the Core i5 2500, is also based on the 32nm Sandy Bridge core. Has 256KB L2 cache per core and 6MB shared cache for all four cores. The base voltage of this processor is slightly higher than that of the Core i5 2300 and equals 1.192V. Core revision D2 and maximum TDP – 95 watts. The base frequency is set at 3300MHz.
Test setup:
Motherboard LGA1155 – ASUS P8P67-PRO
Motherboard LGA775 – Biostar P35D2A7
Processors – Core 2 Duo E8400, Core i5 2300, Core i5 2500
CPU cooling LGA1155 – Intel BOX
CPU cooling LGA775 – Zalman 7700cu
RAM – 2x2GB DDR3 Corsair XMS3 PC10700 (9-9-9-34)
RAM – 2x2GB DDR2 Corsair PC6400 (5-5-5-16)
Video cards – Sapphire Radeon HD5770 (960/5300MHz)
Power supply – FSP 500W
HDD – Samsung SP160GB
Software:
Windows 7 x64 SP1
CPU-Z 1.57
CineBench 9.5 x64
CineBench 11.5 x64
Light Work – Renderbench
3D Mark 2006 v1.2.0 (CPU test only)
3D Mark Vantage v1.1.1 (CPU test only)
Hot CPU tester PRO
AMD Catalyst 11.6
wPrime v1.55
Fritz Chess Benchmark
SuperPi 1.4
FRAPS v3.1.0
Graphics quality settings in games:
GTA IV:
Resolution – 1280х1024
Textures – high
Reflection resolution – high
Water quality – very high
Shadow quality – high
Filtration quality – x16
Viewing distance – 100
Detail depth – 100
Traffic flow – 100
Depth of field of observation – on/on
Vertical sync – off/off
Prototype:
Resolution – 1280х1024
Textures – high
Shadows – high
Anti-aliasing – 0х
Overclocking
As you probably already know, you won't be able to overclock LGA1155 processors using conventional methods. Roughly speaking, Intel has banned overclocking, and with the help of the "K" models, in which the multiplier is not locked, began to "pull" money for the opportunity to overclock their processors. Fortunately, this privilege does not cost users $ 1000, as it once did.
Let's go directly to overclocking. The first test subject was Core i5 2300. Using the multipliers available thanks to Turbo Boost technology, I achieved a frequency of 2900MHz and then raised the reference frequency to 103MHz. After that, unfortunately, it turned out that the BCLK frequency of 103MHz is the most stable for the test motherboard. Which led to the final overclocking frequency of the Core i5 2300 at 2987MHz.
The Core i5 2500 has made me happy! Its maximum possible multiplier is much higher than that of the Core i5 2300, and only thanks to this I managed to conquer the 3800 MHz frequency:
Then the reference frequency was used. An increase of 3 MHz in BCLK gave an additional 114 MHz of the processor frequency, which ultimately amounted to an impressive 3914 MHz: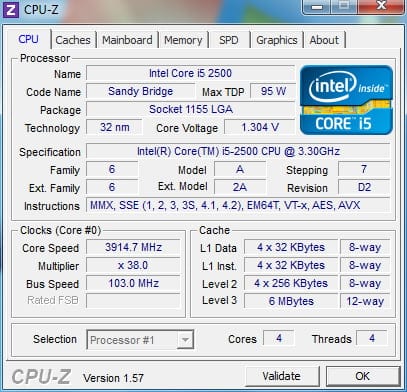 It is quite obvious that I decided to play with the subject a little more and try to achieve the coveted 4GHz in order to please my ego. I will not delay too much, just give a screenshot of the CPU-z utility:
This is the so-called "frequency for screenshot". There could be no talk of any stability. However, we have to admit that with a more expensive and functional motherboard in hand, one could count on stable operation at 4GHz.
Tests:
Rendering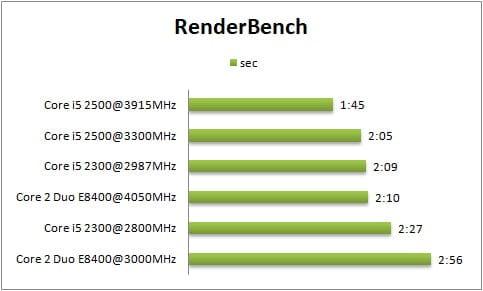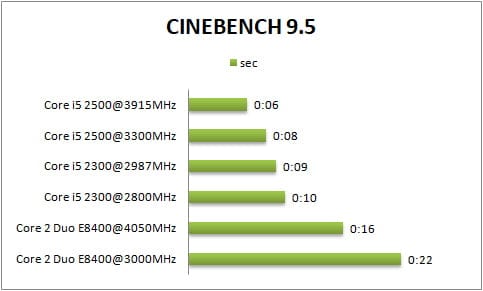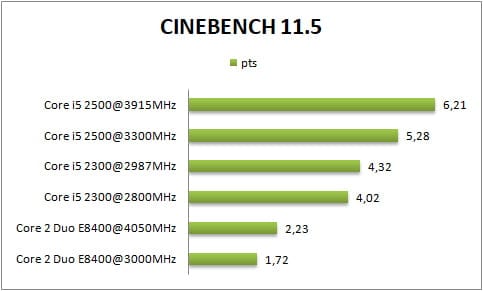 Overall performance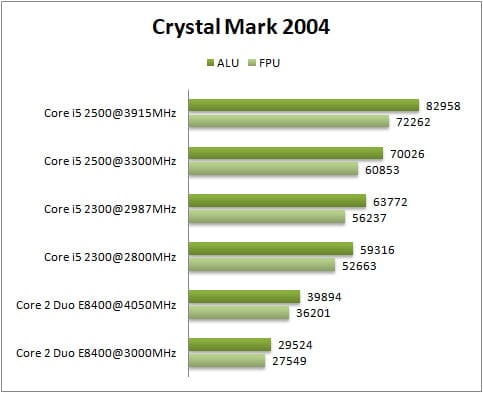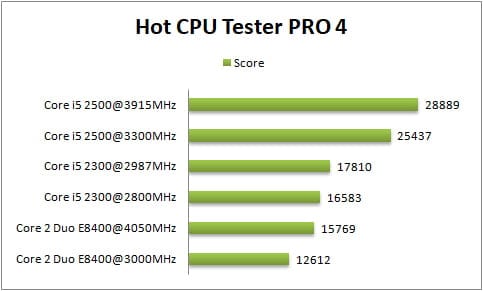 Calculations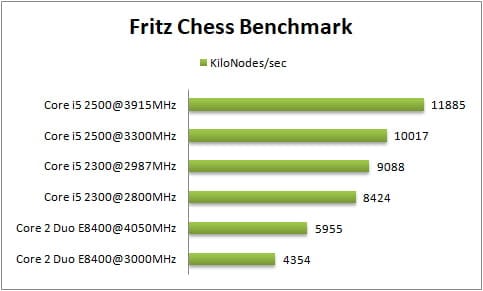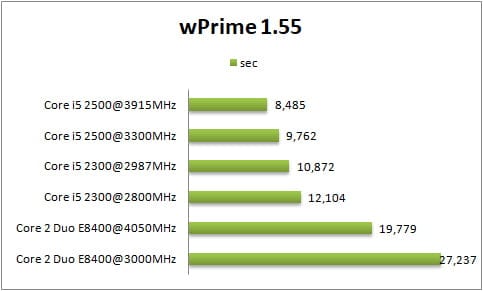 Archiving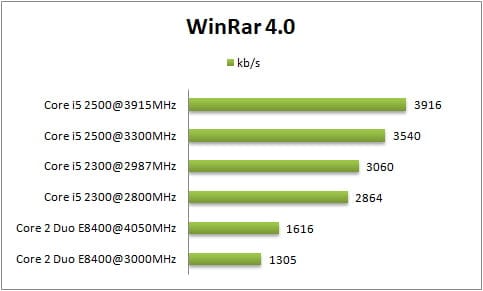 Games: synthetics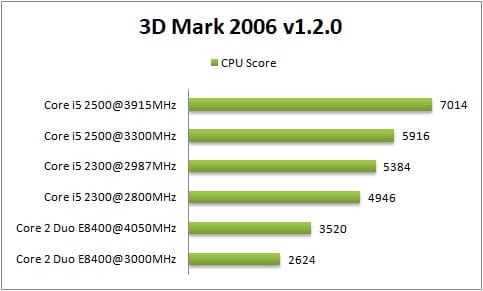 Games:
Conclusion
Looking at the tests, you might have noticed that there is no adequate competitor for the two processors described above. This omission will be eliminated in future reviews. But even now, tentatively, we can say that the new Intel processors, built on the Sandy Bridge architecture, are unmatched both in synthetics and in real applications, especially gaming.
At the very least, the single-threaded RenderBench test proves this. In it, the Core 2 Duo E8400 overclocked to a frequency of 4050 MHz could not overtake the Core i5 2300 working at a ridiculous frequency of 2987 MHz.
Author: UmTale
Test setup accessories: UmTale, DENIM, MTPZP