Rufus is a compact yet powerful solution for creating a variety of bootable media. Often, most users use this utility to burn images of Linux/Windows operating systems to flash drives or portable hard drives. It is quite logical that the author of the program decided to embed methods of bypassing the very dubious TPM protection and excessive requirements for the central processor into his creation.
All you need to do is download the latest current beta version of the utility (not lower than Rufus 3.16 Beta 2) and select "Extended Windows 11 Installation (no TPM/no SecureBoot 8GB-RAM)" in the "Image option" drop-down list and write the downloaded from the official Microsoft website, the image of Windows 11 to your drive.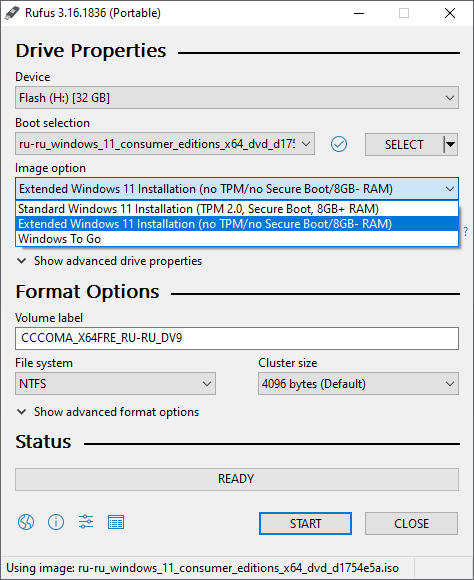 This method allows you to disable TPM and SecureBoot technology checks, as well as reduce the amount of RAM required to successfully install Windows 11 below 8GB.
You can download the latest beta version of the program from the official Rufus repository on GitHUB.