The RPCS3 emulator development team posted on YouTube channel another video demonstrating the fixes and many optimizations that have brought the next patch revisions to the program for God of War 3, Gran Turismo 5, and The Last of Us.
According to internal testing by the developers themselves, gamers can look forward to significant performance improvements with the new God of War 3 patch. For example, when using the AMD Ryzen 7 3700x processor, the frame rate increase is an impressive 10FPS.
In addition to improving performance in GoW3, the RPCS3 team addressed an issue with graphical artifacts in The Last of Us. With the new patch, the developers have solved the problems with displaying rain and made the Bloom effect work normally.
Well, the highlight of this video was the ability to unlock the frame rate in the most popular and meticulously crafted racing simulator Gran Turismo 5.
Below is the video itself:
Separately, we recall that recently, patches for games can be downloaded directly from the RPCS3 client. To do this, you need to select the "Manage" section in the top drop-down menu, then "Game Patches":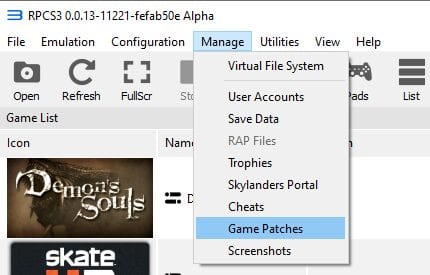 Then click on the "Download latest patches" button located at the bottom:
And only after these manipulations enable or disable certain patches. For example, in the bottom screenshot, we have activated the patch to unlock the frame rate in Gran Turismo 5:
Well, in the end, it should be noted that with the current fixes in the emulator, the game God of War 3 can really be played to the end. However, you need to understand that in order to adequately emulate the third part of Kratos' adventures, the RPCS3 developers recommend using an AMD Ryzen 5 3600 (or better) or Intel Core i5-8400 (or better) processor.
As for The Last of Us, the game still has many problems. And this is in addition to the rather mediocre performance. However, there is not so much time left before the actually working version.