In our difficult times, external hard drives are the second most important tool for storing important information. In the first place, of course, are cloud storages, but sometimes access to them is hampered by various factors: from lack of access to the Internet to too low a connection speed to the latter. It is for such situations that high-volume portable storage of high reliability is needed.
In this article, we will conduct an express test of the Transcend StoreJet 25M3 TS1TSJ25M3G external hard drive, as well as test the HDD installed in it separately. We will do the latter in order to find out if there is an influence of the USB controller on the final performance of the drive.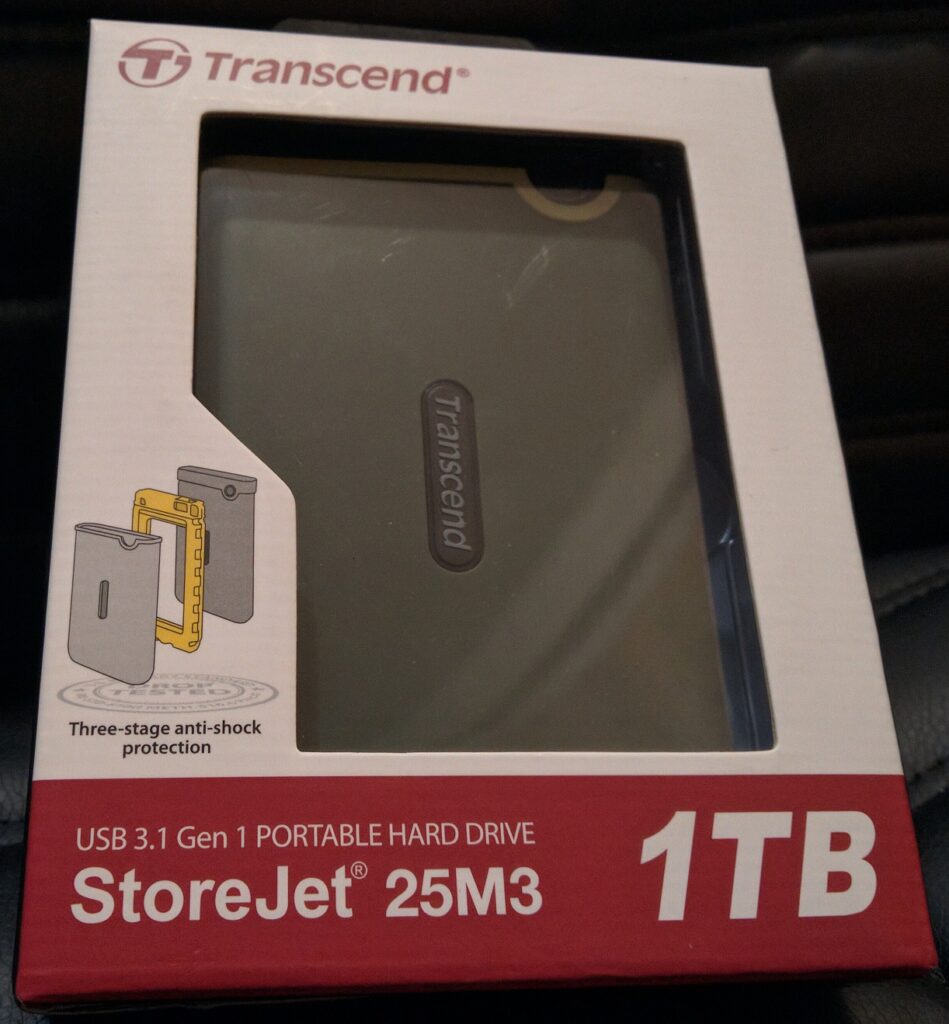 According to the official specifications, the StoreJet 25M3 meets the criteria for high storage reliability for portable storage, as it has three-stage protection against static and external influences.
Transcend StoreJet 25M3 SPECIFICATIONS
| | |
| --- | --- |
| Dimensions | 129.5 mm x 80.8 mm x 16.1 mm (5.10″ x 3.18″ x 0.63″) |
| Weight | 185 g (6.53 oz) |
| Color | Military green |
| USB type | micro USB – USB Type A |
| Connection interface | USB 3.1 Gen 1 |
| Capacity | 1 TB |
| Drive type | 2.5″ HDD |
| Working temperature | 5°C (41°F) ~ 55°C (131°F) |
| Working voltage | 5V |
| Certificate | CE/FCC/BSMI/KC/RCM/EAC/UKCA |
| Guarantee | Three-Year Limited Warranty |
| Operating system | Microsoft Windows 7 or later, macOS 10.10 or later |
The package includes the external hard drive itself and a micro USB – USB Type A connection cable: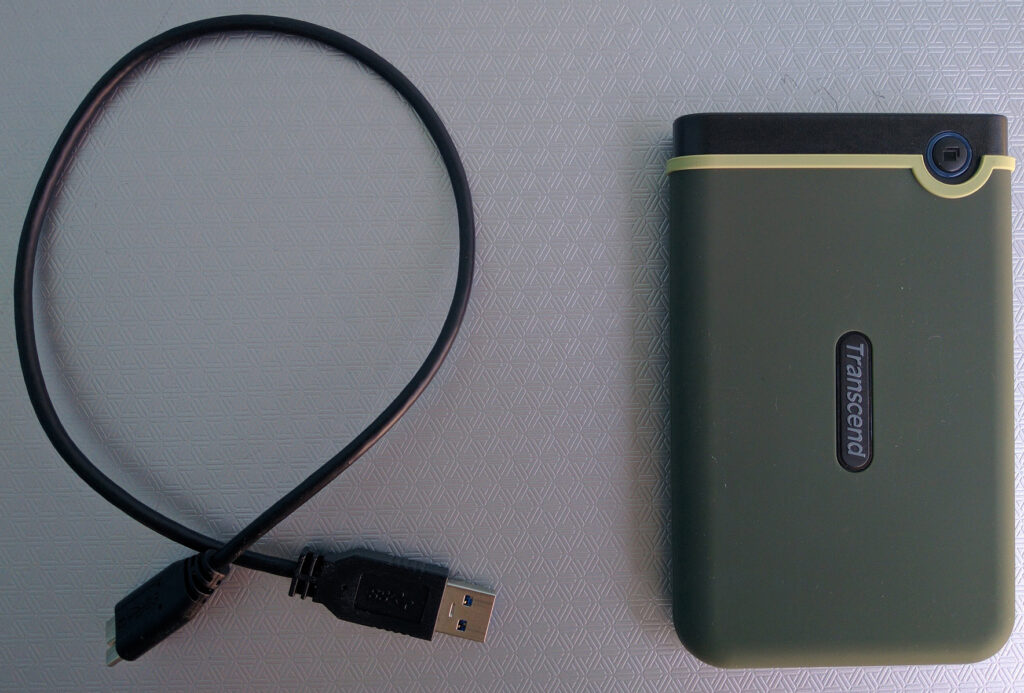 The StoreJet 25M3 we received was made in 2021 in Taiwan. Device serial number G81591-1754, model TS1TSJ25M3G:

The StoreJet 25M3 external hard drive enclosure consists of three parts:
Internal rubber frame;
Plastic case;
External silicone case.
This shock-resistant design allows this device to meet high military data protection standards. However, it is worth noting that the silicone cover does not completely cover the plastic case of the HDD, due to which the upper edge of the device may be damaged if dropped. In addition, do not forget about the USB connector itself: it lacks any moisture protection.
The StoreJet 25M3 control board (SATA to USB bridge) looks like this:

Fortunately, many manufacturers of external drives have abandoned specific connectors in favor of the common SATA interface, which has significantly simplified the life of consumers.
To convert a SATA 3.0 signal to USB 3.1 Gen 1, a fairly common ASMedia ASM225CM B4GU1637A3 controller is used: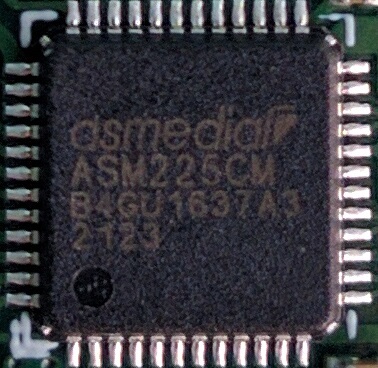 The StoreJet 25M3 external hard drive firmware chip uses a 1-Mbit (128-kilobyte) ROM MX25V1006FM1I:
This is a fairly reliable solution: even in the case of the so-called "rally" of the firmware, you can rewrite the USB flash drive using a cheap programmer and clothespins.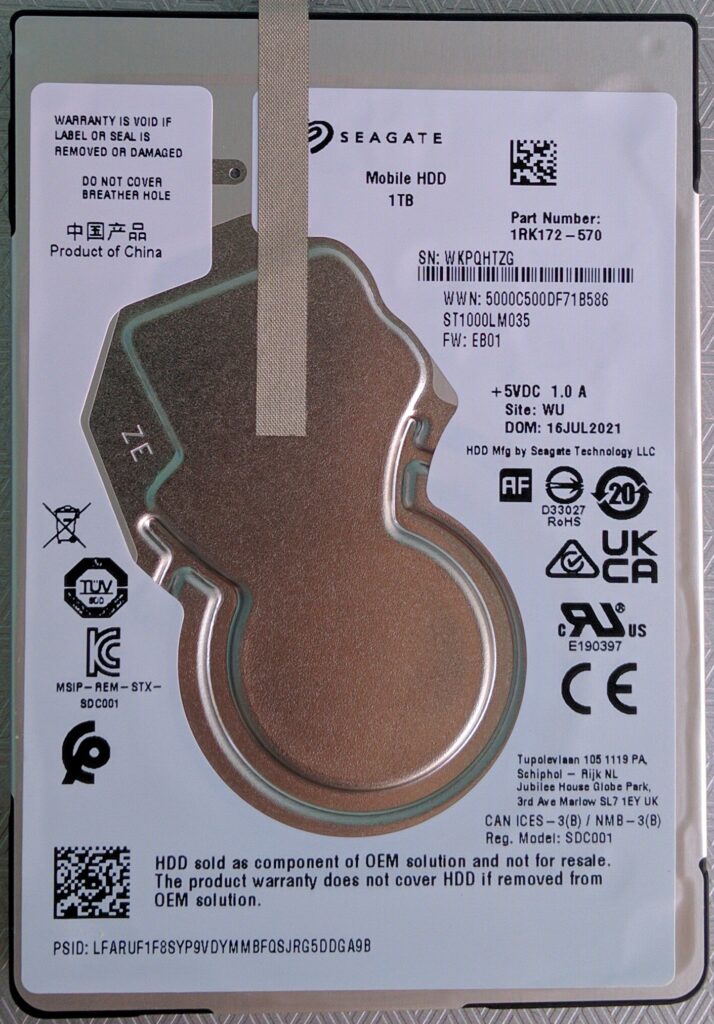 So we got to the most important component of an external hard drive: the basis of the StoreJet 25M3 is a drive from Seagate, model ST1000LM035. This HDD is based on SMR technology (tiled magnetic recording), features a 5400 rpm spindle speed, 128MB cache, and a typical throughput of up to 140MB/s.
Such characteristics do not distinguish this hard drive with anything special, except for the amount of cache memory and SMR technology that is impressive for a mobile device. But if you look at the reviews left by users for the ST1000LM035 on the Internet, it becomes obvious that the choice of Transcend was not very successful. The Winchester is extremely unreliable and it is virtually impossible to recommend it for purchase.
In 70% of cases, this HDD is not able to work stably for more than one or two years (sometimes less) and the reason here is quite banal: there is this advanced SMR technology.
It's hard to say what kind of HDD you'll get as part of an external StoreJet 25M3 hard drive, but if you've come across the ST1000LM035, then try to more carefully monitor its temperature readings. If you do not bring its temperature to 45-50 degrees, this solution will probably last much longer.
StoreJet 25M3 testing
Test setup:
Processor — Xeon E5-2630 v3@3200MHz (unblocked Turbo Boost);
Motherboard — Kllisre X99-D8 (AD12) with modified bios to unlock full turbo boost frequency;
RAM — G.SKILL DDR4@1866MHz 4 x F4-2400C15S-4GNT 4GB, a total of 16GB (latencies 10-10-10-24);
Power supply — Chieftec GPS-1250C.
Before testing, the hard drive was completely cleaned and formatted to the NTFS file system.
Crystal Disk Mark 8.0.4 x64, 64 MiB
Crystal Disk Mark 8.0.4 x64, 1 GiB
Crystal Disk Mark 8.0.4 x64, 2 GiB
Crystal Disk Mark 8.0.4 x64, 16 GiB
HD Tune Pro, Benchmark (Read)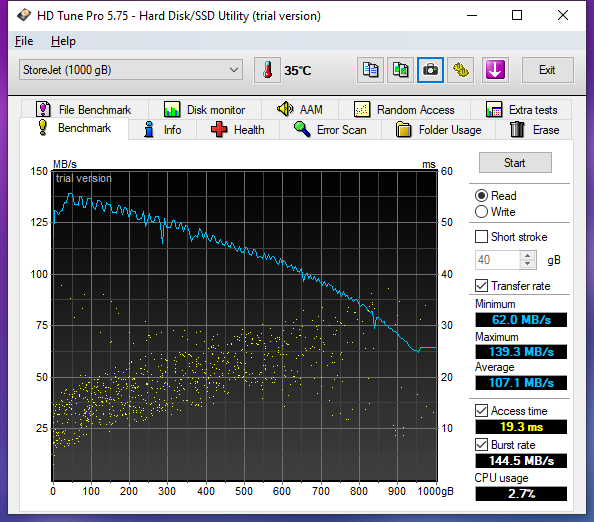 HD Tune Pro, Randome Access
HD Tune Pro, Extra Tests
Explorer, copying large files (100-300MB)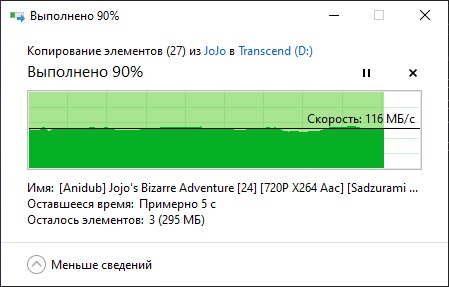 Explorer, copying small files (0.5-8MB)
In general, the results of testing the drive are not particularly remarkable. The linear read/write speed of 130-140MB is quite typical for devices of this class, just like the speed of working with small files.
Now let's find out if the situation changes if you connect the hard drive directly to the SATA 3 interface on the motherboard.
Testing ST1000LM035 (SATA 3.0)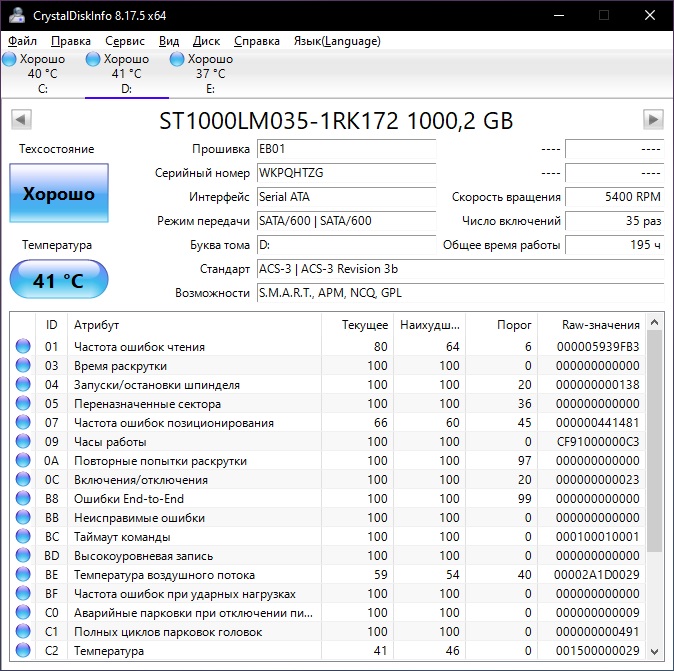 Crystal Disk Mark 8.0.4 x64, 64 MiB
Crystal Disk Mark 8.0.4 x64, 1 GiB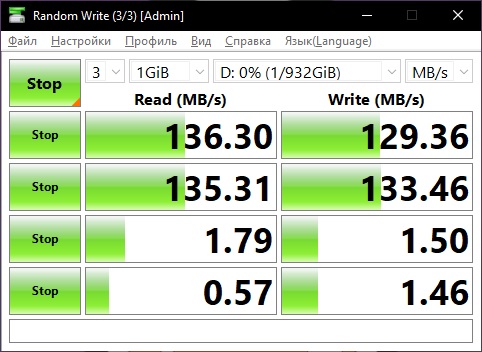 Crystal Disk Mark 8.0.4 x64, 2 GiB
Crystal Disk Mark 8.0.4 x64, 16 GiB
HD Tune Pro, Benchmark (Read)
HD Tune Pro, Randome Access
HD Tune Pro, Extra Tests
Explorer, copying large files (100-300MB)
Explorer, copying small files (1-8MB)
The situation has indeed changed, but not everywhere, and most importantly, not as much as we would like. But let's go in order. Linear read/write speed practically did not increase, but work with small files, depending on the test, increased by 10-20%. The conclusion suggests itself: there is not much sense in connecting a hard drive directly to a SATA connector. The only case when this can be justified is only if there is no USB 3.0 / 3.1 interface on the motherboard. But is there any point in constantly disassembling and assembling the drive? The question is rhetorical.
Conclusion
In the bottom line, we have an extremely reliable and protected from external influences portable capacious storage, at the same time, with a mediocre, and even in some respects a dubious hard drive inside. Literally: as far as the StoreJet 25M3 is protected from external factors leading to various breakdowns of such devices, it is just as vulnerable to internal ones.
However, it is worth clarifying: this is true only for the StoreJet 25M3 model with a Seagate ST1000LM035 hard drive on board. It is quite possible that with an HDD from WD, or Toshiba (if models with such devices are produced at all), this external hard drive will be much more reliable.