Today has turned out to be quite productive for top overclockers: First, Splave won a gold medal in the Intel Core i9-10900KF chip rank, as well as in the 10-core rank. And then, a few hours later, the Austrian TAGG climbed to the top of the AMD Sempron 150 rank. Moreover, if for some reason you thought that these achievements simply could not be on the same level, we hasten to correct you: for his record Splave received 149.4 points, and TAGG is only slightly less – 148.3 points.
But let's return directly to the result itself. For experiments on the AMD Sempron 150 chip, an actually ultimatum motherboard for the AM2+ platform GIGABYTE GA-MA790FX-DQ6 was chosen. As a cooling, the Austrian used liquid nitrogen, typical for extreme overclocking, which ultimately allowed the enthusiast to overclock the chip to a frequency of 6525 MHz, as well as to successfully complete the hardest benchmark wPrime – 1024m with the result of 11min 52sec 796ms:
Moreover, according to the statements of TAGG itself, the chip practically completed the benchmark at 6600 MHz, but unfortunately, by that time the overclocker had used almost all of the stored liquid nitrogen and the experiments had to be stopped. However, the enthusiast assured that in the future he will return to this instance of the Sempron 150 and will try to surpass his own result.
The TAGG test setup consisted of the following components:
Motherboard – GIGABYTE GA-MA790FX-DQ6;
RAM – 2 x 1GB DDR2 Corsair Dominator standard;
Video card – Zotac GeForce 9500GT;
Power supply – Corsair, unknown 1200 watt model.
And it looked like this: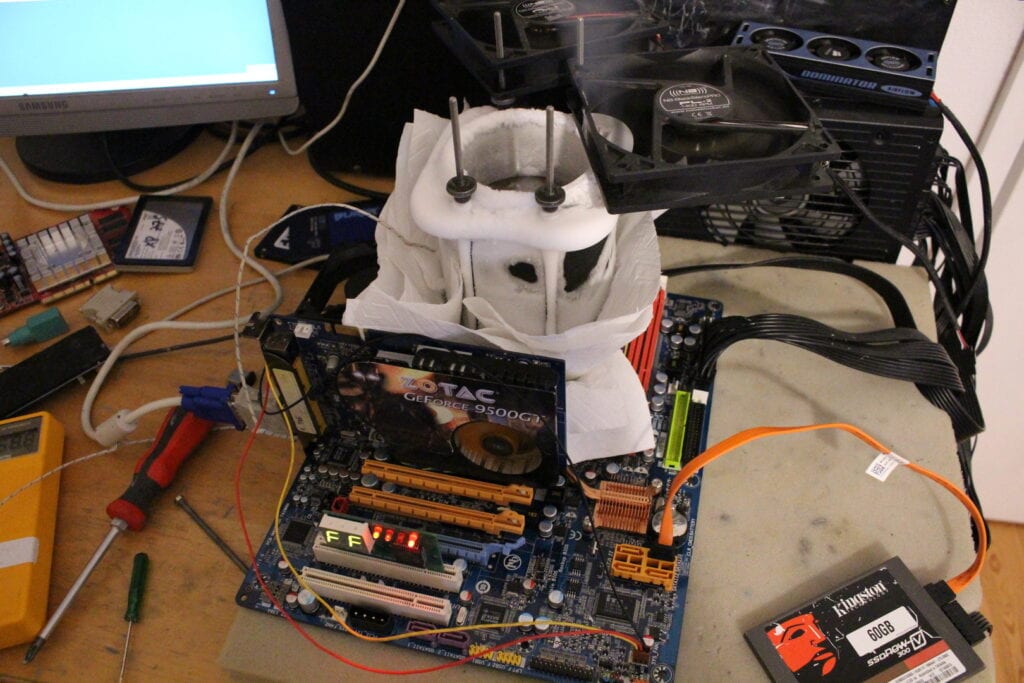 Source: Result page on the HWBot website