Looking at the latest records of the American overclocker Splave, it seems that he is chained to the LGA2066 platform. In the last forty days, he set six records on the top platform:
And this is not taking into account the results in which the enthusiast has repeatedly surpassed himself. And there were at least the same number, if not more.
It makes little sense to hide the fact that it is almost impossible to do without sponsorship in such activities and Splave actively uses ASRock and Enermax products. However, this in no way diminishes his merits.
So today the American decided to please us with a brand new record set on his favorite LGA2066 platform: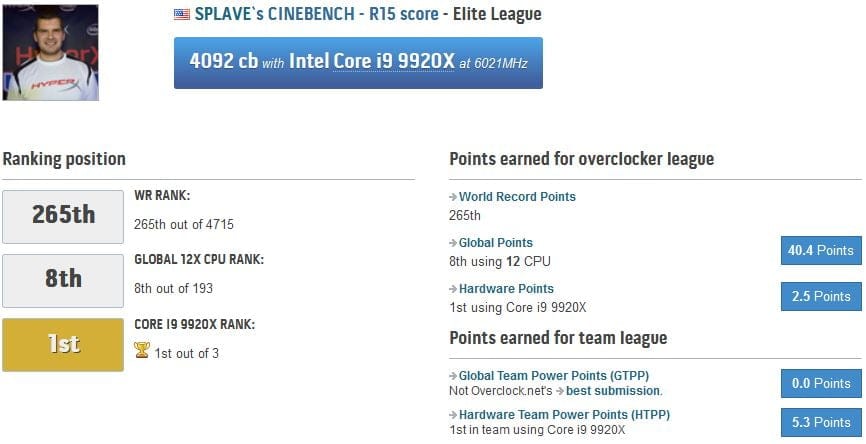 This time, the overclocker's choice fell on the Intel Core i9-9920X processor. This 12-core, 24-thread CPU is one of the "cheapest" on socket 2066, but it certainly isn't weak.
Using liquid nitrogen, the processor was overclocked to an impressive 6021MHz, which ultimately allowed Splave to achieve 4092 points in the popular Cinebench R15 benchmark.
Unfortunately, due to sponsorship restrictions, the enthusiast indicated only the components entrusted by them: ASRock X299 OC Formula motherboard, NVIDIA GeForce GT 1030 graphics card, Thermal Grizzly Kryo, and Enermax Maxtytan 1250 watt power supply.
Source: Result page on the HWBot website
This post is also available in:
Русский