Our colleagues from VideocardZ received official data on the performance of the upcoming budget GeForce RTX 3060 Ti video card.
According to the data obtained, the slide below is official and most likely produced by NVIDIA.
The title of the slide says that the new product is faster than the RTX 2080 SUPER card, and the graphics located just below really support this statement, demonstrating a slight advantage of the GeForce RTX 3060 Ti over the rather productive GeForce RTX 2080 SUPER video card of the previous generation: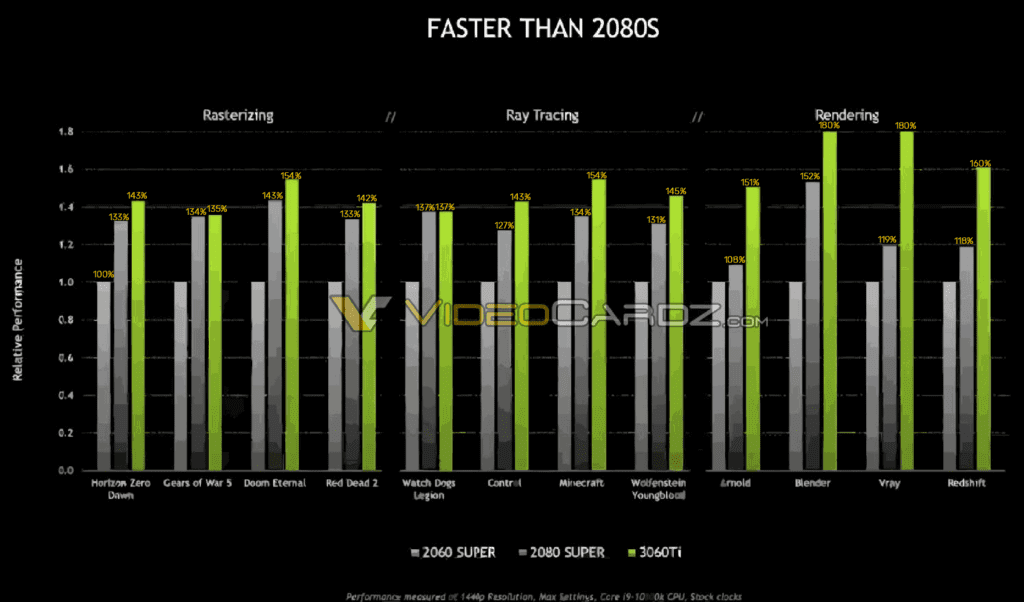 In addition, the new product turned out to be an impressive 43% faster than the previous budget RTX 2060 SUPER card.
Thus, given the relatively low price and high performance, we can safely assume that the GeForce RTX 3060 Ti will be a good choice for owners of 2K monitors and will gain a foothold in the top sales of the vast majority of stores for a long time.
And finally, at the moment there is no true information on the pricing of the NVIDIA GeForce RTX 3060 Ti video card, however, according to early rumors, we already know that it will be the first video card in the Ampere family with a price tag of less than $500. Thus, most likely, the price of the RTX 3060 Ti could be $399-450.
The NVIDIA RTX 3060 Ti is slated for release on December 2.