After a quite successful overclocking of the AMD Athlon II X3 450 chip, a relatively unsuccessful overclocking of the Athlon II X3 440, and a rather amusing study of the potential of two Athlon II X2 260, I set out to test these processors in several games and compare their performance with their price classmates. Moreover, due to the lack of a sufficiently productive video card, I do not have the opportunity to write full-fledged materials in any case. And in order to test old quad-core, tri-core, and dual-core chips in 2020, a weak GeForce GTX 760 video card will be enough, which I now use mainly as a plug when overclocking various CPUs.
And besides that, in parallel, for a short time, I got an old but still interesting Intel Xeon X3430 chip, which, by coincidence, is located in the same price range as Athlon II X3 450 ($ 4-7).
All I had to do was to equip the test setup on the AM2+ platform with the rest of the necessary components. Indeed, for adequate testing in modern games, it was necessary to get the minimum required at the moment 8GB of RAM. It was not too difficult to get 4 DDR2 modules of 2GB each – since they are very cheap now (4-5 $ for a 2GB bar with a frequency of 800MHz). Nevertheless, I completely forgot that with four clogged DDR2 slots, chips based on the K10.5 architecture become capricious and in overclocking no longer reach those frequencies that were previously easily taken with one or two RAM modules installed.
In such a simple way, I got to a very unpleasant detail of this material: in contrast to the overclocking blog, where the same Athlon II X3 450 took a 4 GHz bar with one RAM module as an easy one, here, with four 2 GB bars Kingston 99U5429-007.A00LF the stable frequency decreased slightly and amounted to 3951 MHz:
Is this a big loss? Obviously not. But did it hit pride hard? Very: stopping just a step away from testing Athlon II X3 in games at 4GHz is extremely unpleasant. But what to do, the test processor is not capable of achieving higher frequencies in conjunction with the ASUS M2N-E motherboard and four 2GB modules.
Test setup
Processors – Athlon II X3 450 (rev. C3) and Xeon X3430 (rev. B1)
Motherboard AM2+ – ASUS M2N-E
Motherboard LGA 1156 – ASUS P7P55 LX
CPU Cooling – Cooler Master Hyper 212 EVO
RAM for AM2+ platform – 4 x 2GB Kingston (99U5429-007.A00LF 34CC2E04), overall volume 8GB
RAM for LGA 1156 platform – 2 x 8GB HyperX Genesis Na'Vi Edition (KHX16C9C2K2/8), overall volume 16GB
Video card – ZOTAC GeForce GTX 760 AMP!
Storages – KINGSTON 120GB SA400S37120G (Windows 10, Soft) and Seagate 2TB ST2000DM008-2FR102 (Games)
Power supply – Chieftec GPS-1250C 1250 watt
OS – Windows 10 with latest updates for June 2020
Testing features
Due to the extremely low performance of the Athlon II X3 450, almost minimal graphics settings were set in some games. For example, in Destiny 2, the Athlon II X3 450 chip, even when overclocked to 3951 MHz, could not show acceptable performance at any settings. Nevertheless, at the "minimum" you will at least have the opportunity to get an idea of ​​the game and then decide whether it is worth upgrading for the sake of it.
In general, any Athlon II processors do not support the SSE4.1 and SSE4.2 instructions required at the moment. So many modern and relatively modern games on them may simply not even start.
As you probably already guessed, if not for these limitations and the meager performance of the Athlon II, there would be much more test games and the graphics settings in them are higher. But alas – we have what we have.
The tests will be conducted in the following games:
Counter-Strike: Global Offensive (FPS Benchmark v1.01 from the Game Workshop)
Destiny 2 (Custom Gambit Map)
Fortnite (Free Play)
For Honor (Benchmark)
Grand Theft Auto 5 (Benchmark)
In all games, with the exception of Fortnite, you can somehow achieve repeatable results, but in the creation of Epic Games will have to be content with virtually random results obtained on the same map. Therefore, in Fortnite, it will be quite difficult to assess the performance gain from overclocking the CPU. However, due to the frenzied popularity of this royal battle, I simply could not help but introduce this project to the test.
To a quite reasonable question: Where are the familiar Shadow of the Tomb Raider, Battlefield V, and Watch_Dogs 2? My answer is simple: These games work extremely poorly on such old and weak processors. For example, the same Shadow of the Tomb Raider on Athlon II X3 450 at 3951 MHz shows 23-30 frames per second, but the load of the test benchmark reaches five minutes. Besides, in the last scene "On the Market" the chip is not at all able to draw the mountains in the background until the very end of the test segment.
Battlefield V crashed before entering the main menu, and Watch_Dogs 2 showed the mystery of the black screen, never even getting to the splash screens. But I think it was quite expected and obvious because the K10.5 chips are already more than a dozen years old and they are not obliged to anyone to launch relatively fresh or developing projects.
A few words about the Xeon X3430 chip: Unfortunately, the processor fell into my hands only for a few hours, and I simply didn't have time to overclock it and, in addition, to carry out additional tests at higher frequencies. If you wanted to see tests of the Xeon X3430 in overclocking and with a relatively up-to-date video card – don't worry, I will soon get this chip in my collection and conduct detailed testing.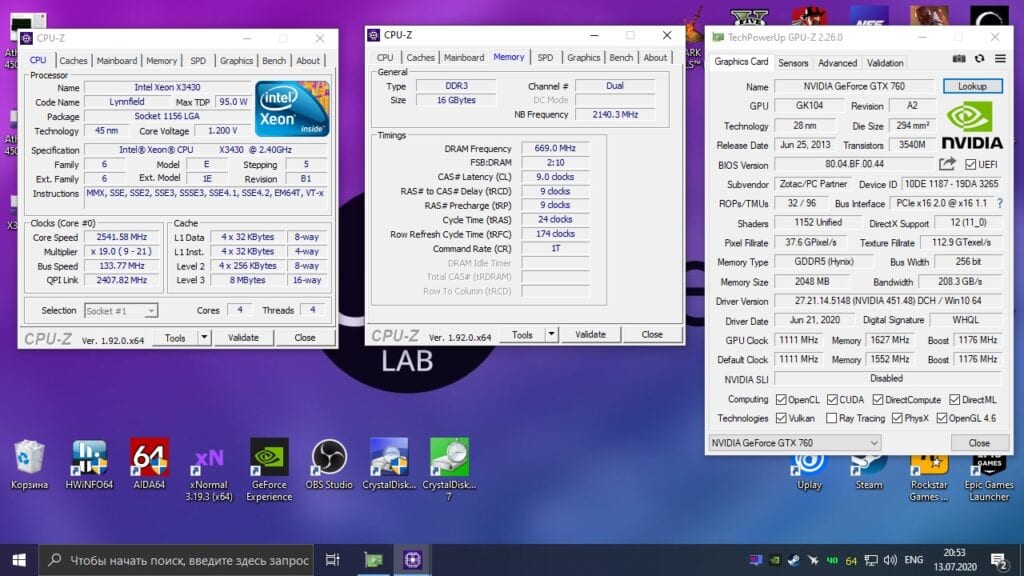 Measurements of the average and minimum FPS were carried out using tools built into the MSI Afterburner program (benchmark), after which the video was recorded using NVIDIA ShadowPlay.
Counter-Strike: Global Offensive
For testing in CS: GO, we used the "FPS Benchmark v1.01" downloaded from the game workshop and the minimum graphics quality settings:
Based on the results obtained, it becomes quite obvious that both CPUs are completely unsuitable for competitive play in Counter-Strike: Global Offensive. Nevertheless, if CS: GO is just "fun for the evening" for you, and not "cybersport future", then you shouldn't have any problems with a couple of rounds. But to emerge victorious in the same "clutch", 38 frames may not be enough for you.
Destiny 2
For testing in D2, we used the custom map "Deadly Depths" from the "Gambit" mode and the minimum graphics quality settings:
At the base frequency of 3200 MHz Athlon II X3 450 could not even load the Gambit test scene, constantly throwing the character into orbit. And only in overclocking to 3951 MHz was it possible to conduct a benchmark in the test location "Deadly Depths" with opponents "Fallen".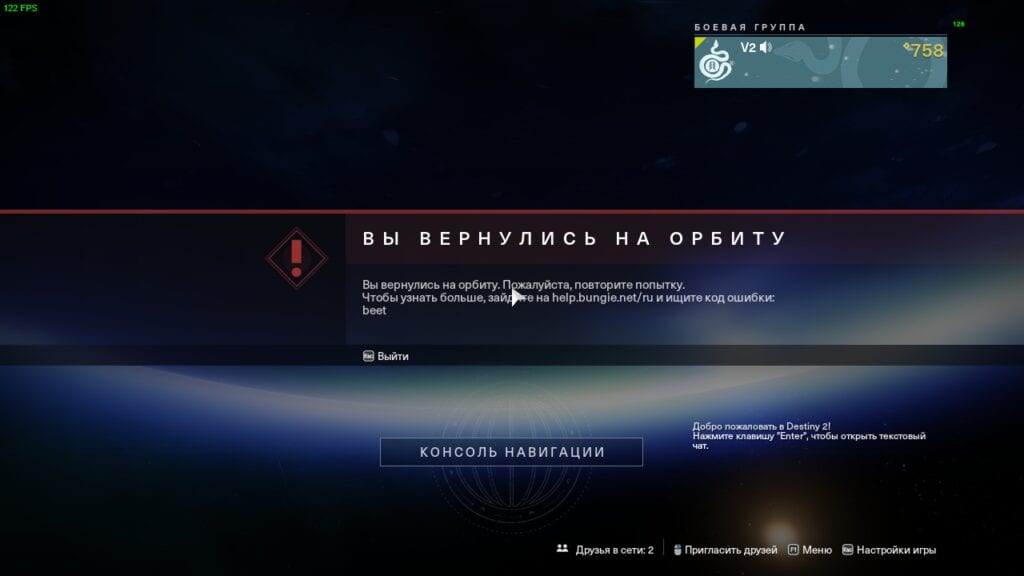 In general, Athlon II X3 450 loaded different locations for 3-5 minutes at 3200 MHz, and it was just impossible to get into competitive modes (Crucible/Gambit) due to time limits for loading modes (timeout). Therefore, it was not possible to adequately test the processor in the stock state in Destiny 2. But taking into account the chip's performance in overclocking, the stock X3 450 in any case could not master the minimum required 24 frames per second.
The same cannot be said about the Xeon X3430. This processor easily demonstrated the coveted 60 FPS at minimum quality settings. However, make no mistake – by slightly increasing the settings (for example, shadow resolution and/or character quality), you will get the performance level of an overclocked Athlon II X3. So, with the X3430 it is better to limit yourself to the minimum graphics settings and enjoy a relatively high FPS.
Fortnite
In the creation of the Epic Games studio, there is no built-in benchmark, therefore, it was necessary to shoot the FPS indicators in the royal battle for one person.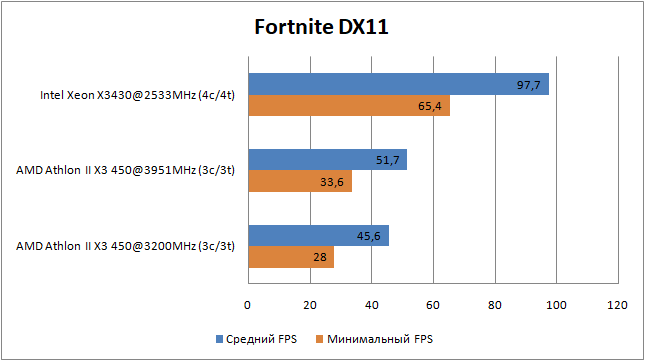 To my surprise, I got the most mixed scores in the entire test suite in Fortnite. Judge for yourself: the FPS of the X3430 chip is a cut higher than that of the overclocked X3 450, however, if you look at the test video, it becomes clear why the Xeon shows such crazy results. Due to its low frequency, the Intel processor simply does not have time to load the required high-detailed model onto the scene and is content with 3D models with relatively simple polygonal mesh and smeared textures with low resolution.
In addition, during testing in Fortnite, it was revealed that the picture on the Athlon II X3 450 and Xeon X3430 processor often freezes, which makes playing extremely uncomfortable.
By the way, "friezes" are even more noticeable on video recordings. And this is taking into account the fact that the main load when recording video is taken over by the video card because I purposefully used NVIDIA ShadowPlay. Fortnite was launched from a modern 2TB T2000DM008-2FR102 hard drive (defragmented before tests), and the recording was carried out on an SSD. Well, in general, with more powerful processors (Core i5-2500K, Xeon X5660, Xeon E5-2643), with the same drives and the same video card, there are no "freezes" in Fortnite.
For Honor
For all testing, this is perhaps the only game in which there is practically nothing to complain about. You can play For Honor with gritty teeth on the stock Athlon II X3 chip. Not to mention the Xeon X3430 processor, which shows fairly confident results at minimum settings.
Grand Theft Auto 5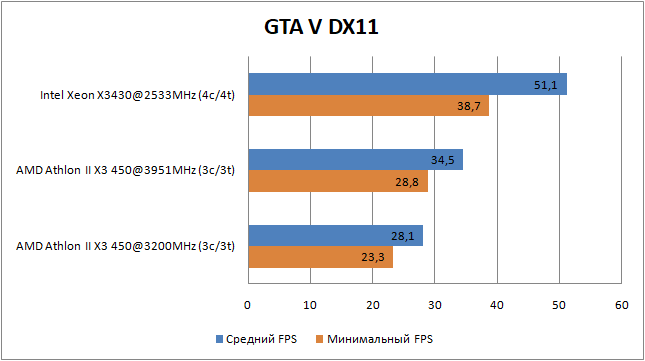 Well, the last game in our testing is recently the up-to-date GTA 5 again. Its benchmark clearly shows that playing online will not work comfortably both on the Athlon II X3 450 or on the Xeon X3430. After all, the number of frames in a multiplayer game GTA 5 is often almost 40% lower than in the story mode. Nevertheless, you can still enjoy the network game on these chips. And on the X3430 it will be even relatively comfortable.
Below is a video of all games from this bench session:
Conclusion
As a result, an interesting and amusing idea "to test a budget three-core Athlon II X3 450 processor, which was pretty good in the past, in games" turned into painful attempts to find games compatible with it and get at least some results in the base mode of the chip. In addition, all tested projects, except perhaps CS: GO, were loaded for so long that during their loading you can not only have time to make tea and go to the toilet but also make money on a new system, which obviously will not be so slow.
And you know what, it was quite obvious that in 2020 the old Athlon II X3 is in no way suitable for even the slightest budget gaming with virtually any video card from 2013 and younger, but somehow I was hoping to see slightly more confident results.
Besides the Athlon II X3 450 tests, I also planned to study the performance of the Athlon II X3 440 chip, but after the results obtained on the processor from this material, I lost all desire to test its younger brother as well. The same applies to Athlon II X2 260 – unfortunately, it will not be tested either.
If you want to get an idea of ​​the performance of the Athlon II X3 440, then take a look at the results obtained on the Athlon II X3 450 in this article. They are the same as the results of the junior CPU.
Well, in the end, I would like to talk a little about the results of the stock Intel Xeon X3430: In general, as a plug in front of the more productive X3470 or X3480, this chip is quite viable, however, it should be understood that its performance is strongly limited by four threads, and in actual games, they are not enough. What can I say if the same 8-thread Xeon X3470 isn't always capable of showing an acceptable FPS.
Besides, judging from the overclocking perspective, the Xeon X3430 is not so smooth here either. This is because this chip has a low multiplier, which will greatly limit the owners of budget motherboards. Not to mention the owners of Chinese "motherboards", which do not know how to overclock processors at all.
Именно поэтому, если у вас уже есть материнская плата с разъемом LGA 1156 – лучше немного переплатить и взять более производительный чип (X3450 или X3470), чем купить Xeon X3430 и уже после этого пытаться довести его до ума.
That is why, if you already have a motherboard with an LGA 1156 socket, it is better to overpay a little and take a more productive chip (X3450 or X3470) than to buy a Xeon X3430 and then try to bring it to mind.
Successful overclocking and see you soon!