Recently, the American enthusiast Splave has literally occupied the front page of the HWBot overclocking database with his favorite Ryzen 7 5800X and Core i9-10980XE chips. A week ago, he already set a record in HWBOT x265 Benchmark – 4k on a Ryzen 7 5800X@6000MHz chip and in Cinebench – R20 on a Core i9-10980XE@5877MHz processor, and today he returned with two results on the same CPUs, however, this time the overclocker focused on other disciplines.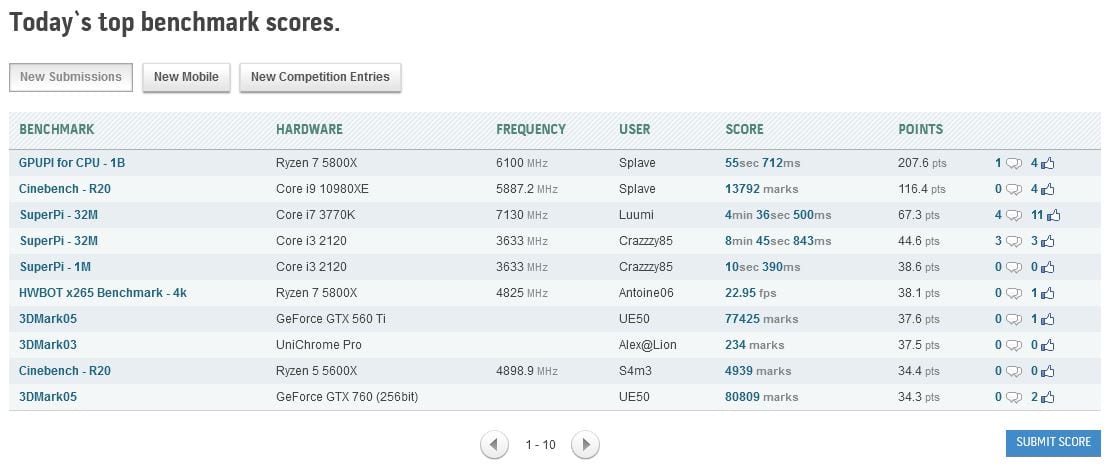 The American armed himself with liquid nitrogen, overclocked the Core i9-10980XE processor to 5887 MHz, and successfully completed the Cinebench – R20 benchmark with 13792 points.
This result allowed Splave to ascend the pedestal of both the rank of the CPU of the same name and the overall 18-core rank of the Cinebench – R20 discipline:
Right after that, the enthusiast took up the Ryzen 7 5800X chip. Splave again resorted to the usual method of cooling the CPU with liquid nitrogen and overclocked the 8-core AMD processor to 6100MHz. It should be noted that this is an extremely not weak result of the achieved frequency for the 7nm Zen 3 architecture, therefore, we give the American his due – he did a truly amazing job.
The result of the experiments of the overclocker with the Ryzen 7 5800X was the result of 55 seconds, 712 milliseconds and, as a result, the first place in the current and 8-core rank of the GPUPI for CPU – 1B discipline:
The enthusiast's test setup consisted of the following components:
Motherboard — ASRock AQUA X570 (AMD platform) and ASRock X299 OC Formula (Intel platform);
RAM — 4 x 8GB G.SKILL TridentZ NEO 3800C14 (AMD platform) and 4 x 8GB G.SKILL RoyalZ F4-4400C16-8GTRS (Intel platform);
Power supply — Enermax Maxtytan 1250W;
Thermal interface — Thermal Grizzly Extreme.
Source: Splave profile on HWBot website