The French overclocker under the pseudonym Radi took first place among any six-core processors, and also took first place in the Core i7-8700K rank. And all this in the discipline Cinebench – R15:
The incredibly successful Core i7-8700K was cooled with liquid nitrogen, and it was accompanied by the top-end ASUS ROG Maximus XI Apex motherboard. As a result, this combination helped the overclocker achieve a very impressive processor frequency of 6935 MHz, and the result of the benchmark was 2360 points:
This is how the workspace occupied by the record-breaking test setup looked like: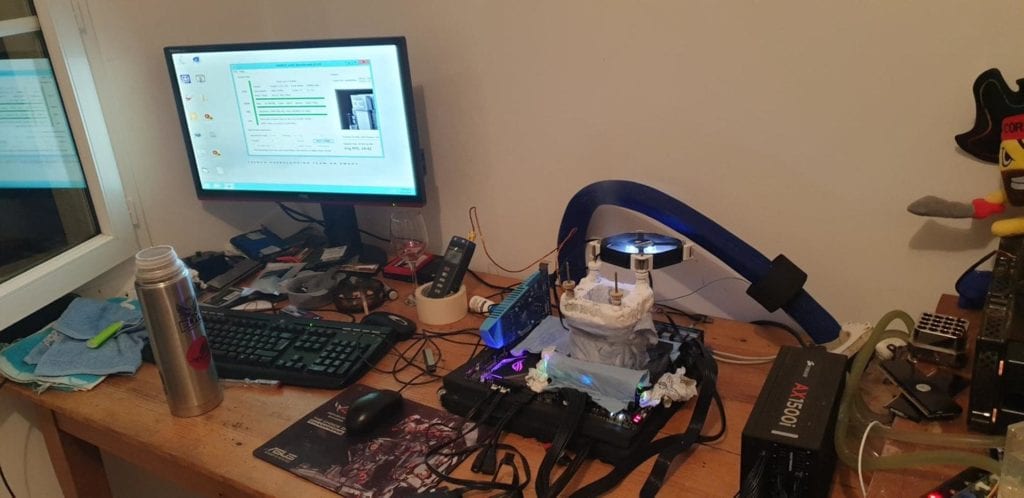 By the way, in addition to the aforementioned motherboard and processor, Radi also used the very popular and high-quality G.Skill OC World Cup 2019 RAM, dialed in two 8GB sticks.
The enthusiast did not specify the rest of the components. But from the photo, it is noticeable that an extremely expensive and effective solution from Corsair, model AX1500i (CP-9020057), acts as a power supply unit.
Source: Result page on the HWBot website