The American overclocker mllrkllr88 won two gold medals in the relatively young discipline y-cruncher – Pi-1b: the overclocker won the first place in the current rank of the Intel Core i9-10940X chip, and also put the championship in the 14-core rank.
As tools to achieve his goal, the enthusiast used an ASRock X299 OC Formula motherboard (one of the most popular overclocking devices for LGA 2066-compatible CPUs), four 8GB Corsair GMK16GX4M2Z4000C16 RAM modules, and an overclocked Core i9-10940X processor to 5098MHz.
Such a seemingly inconspicuous overclocking allowed Mllrkllr88 to take two first places with a result of 16 seconds 887 milliseconds: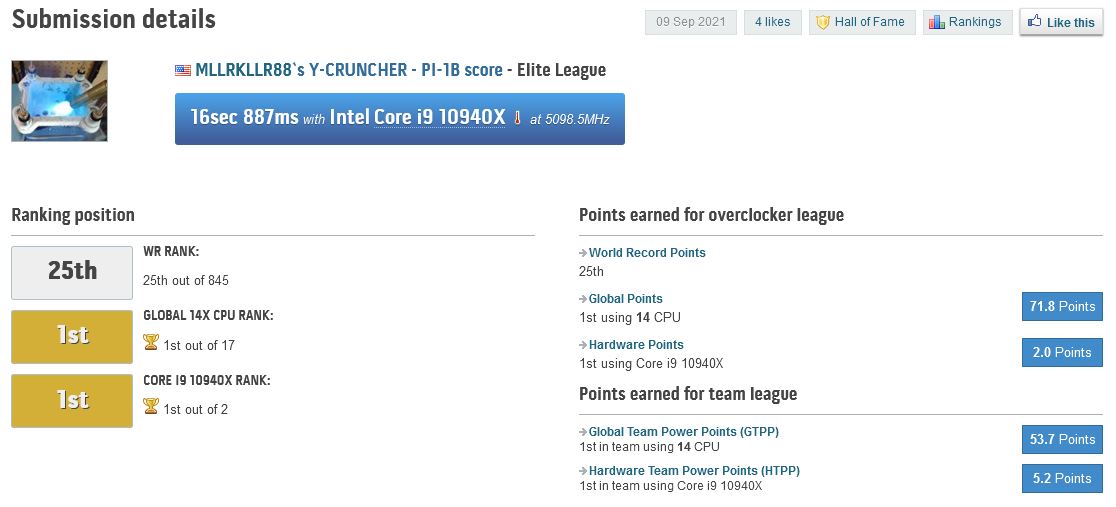 Of course, it should be noted that the y-cruncher benchmark – Pi-1b is now far from the first place in the list of popular HWBot disciplines, however, this in no way diminishes the merits of Mllrkllr88. The American had a very good bench session, and most likely he had a few more serious results in store.
Source: Page with the result on the HWBot website.