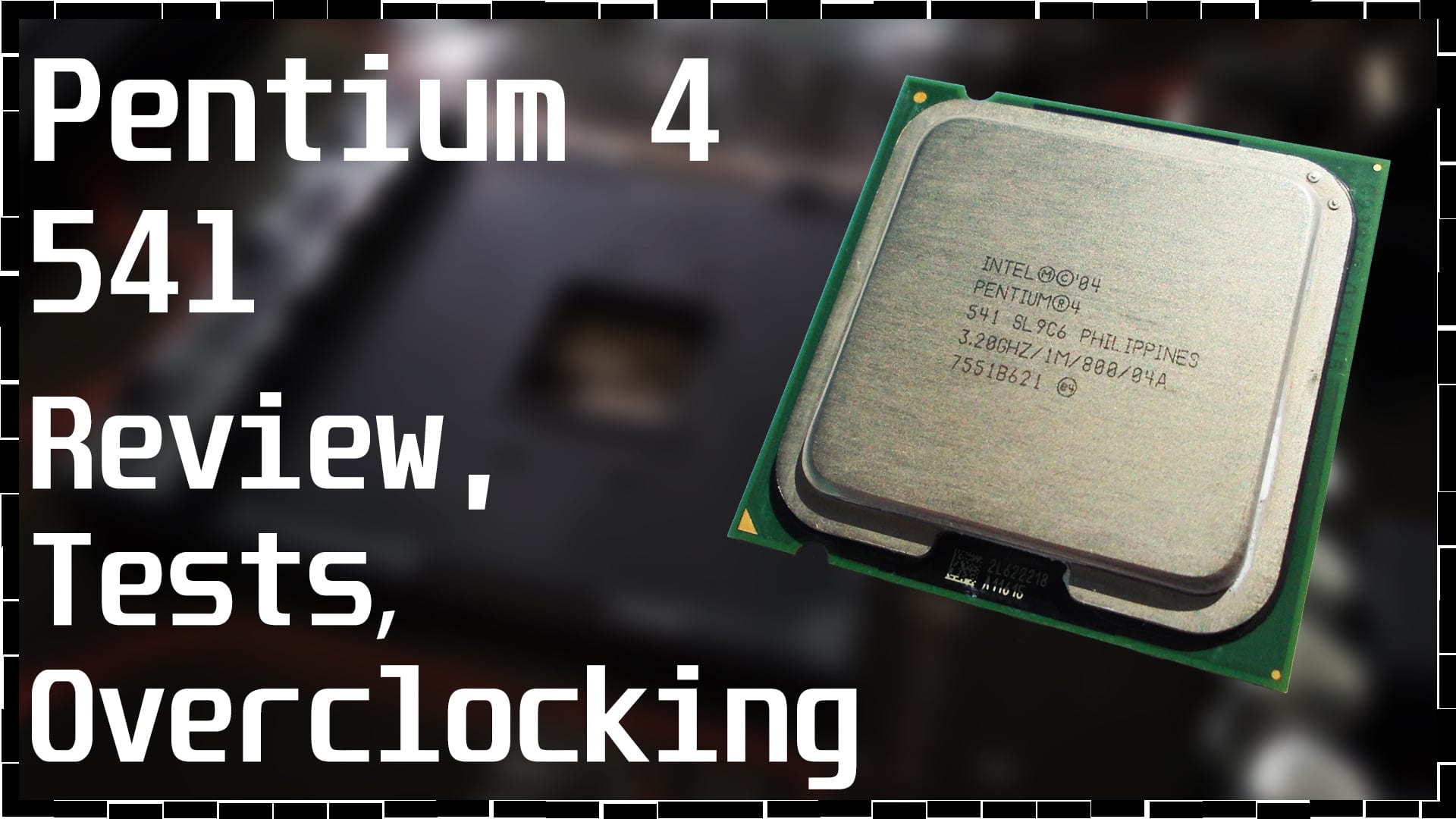 A little about Pentium 4
Much water has flowed under the bridge since Pentium 4, many architectures have changed, but NetBurst, which left the scene, still reminded of itself. His strength lies in his weakness. This is how this processor can be characterized. It uses the once-innovative NetBurst architecture. Intel engineers were once drawn into the "megahertz race" that formed between them and AMD after AMD was the first to release a processor with a frequency of over 1 GHz. This could undermine confidence in Intel's leadership, and they decided to win this race by all means.
In 2000, they released a processor based on a fundamentally new architecture, which was practically nothing like the previous one. This microarchitecture was designed to conquer the once such distant frequencies of 2 GHz, then 3 GHz, but such "megahertz" were simply not given.
The engineers had to increase the pipeline length to 20 stages (the Pentium III had only 10 stages), this technology was called "Hyper Pipelined Technology". Willamette and Northwood Pentium 4 processors have a 20-stage pipeline, while Prescott and Cedar Mill processors have 31 stages. This allows Pentium 4 processors to achieve higher clock speeds than processors with a shorter pipeline with the same manufacturing technology. For example, the maximum clock speed of Intel Pentium III processors based on Tualatin core (130 nm technology) is 1400 MHz, Athlon XP 2200 MHz, Athlon 64 2800 MHz, and Pentium 4 processors based on Cedar Mill core are capable of operating at a frequency exceeding 3800 MHz.
To minimize the impact of mispredicted branches from a long pipeline, the NetBurst architecture processors use a larger branch prediction buffer than its predecessors and a new branch prediction algorithm. This made it possible to achieve high prediction accuracy (about 94%) in processors based on the Willamette core. In subsequent cores, the branch prediction engine underwent upgrades that increased the prediction accuracy up to 98% for the Cedar Mill kernel.
Despite all these vivid examples of high frequencies, an excellent PV mechanism, and other goodies, Pentium 4 could not overtake its opponent Athlon. This milestone in history has remained with AMD.
If we look at the processors now, we can safely say that Athlon is "not the same", and Pentium, on the contrary, is strengthening its once lost positions more and more.
But these are all just my thoughts.
Processor
Test instance marking SL9C6. Pentium 4 541 is built on a 90nm Prescott core and has 1MB L2 cache at its disposal. The base frequency of the chip is 3200MHz, outgoing from 200MHz bus, multiplied by 16. Produced in the Philippines, thermal package 90 watts.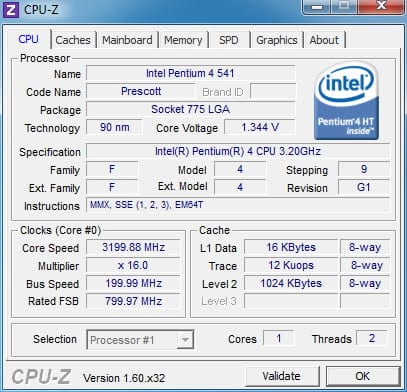 The CPU-Z utility confirms the above information and supplements them with the base voltage of the chip, which is at 1.344V. As you probably already noticed, the core is based on the best 90nm revision, namely G1.
Test setup:
Motherboard AM3 – ASUS M4A785TD-V EVO
Motherboard AM2 – ASUS M2V
Motherboard LGA775 – Biostar P35D2A7
Processors – Core 2 Duo E6300; Pentium 4 541; Celeron D 326; Sempron 140; Sempron 3400
CPU cooling LGA775 – Cooler Master Hyper 101; Cooler Master Hyper TX3
CPU cooling AM2/AM3 – Cooler Master Susurro (RR-KCT-T9E1)
RAM – 2x2GB DDR3 Corsair XMS3 PC10700 (9-9-9-34)
RAM – 2x2GB DDR2 PQI PC6400 (5-5-5-16)
Video card – Sapphire Radeon HD5770 (960/5300MHz) (for tests)
Video card – XFX GeForce 8600GT (540/1080/1400MHz) (for overclocking)
Power supply – Cooler Master 500W
HDD – Samsung SP160GB
Software:
Windows 7 x64 SP1
CPU-Z 1.60
CineBench 9.5 x64
CineBench 11.5 x64
Light Work – Renderbench
3D Mark Vantage v1.1.1 (CPU test only)
Hot CPU tester PRO
AMD Catalyst 12.3
wPrime v1.55
Fritz Chess Benchmark
FRAPS v3.1.0
Graphics quality settings in games:
GTA IV:
Resolution – 1280х1024
Textures – high
Reflection resolution – high
Water quality – very high
Shadow quality – high
Filtration quality – x16
Viewing distance – 100
Detail depth – 100
Traffic flow – 100
Depth of field of observation – on/on
Vertical sync– off/off
Prototype:
Resolution – 1280х1024
Textures – high
Shadows – high
Anti-aliasing – 0х
Overclocking
Let's go directly to overclocking. This instance disappointed me. At a voltage of 1.456V, it achieved 3665MHz, which is quite a bit for a 90nm core built on the NetBust architecture. It should be noted that HT technology was enabled during overclocking.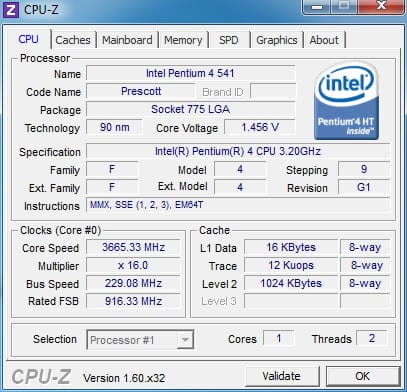 I will say a little more about the first result. With HT off, the processor took 3790MHz at the same voltage. After that I got the idea to test Pentium 4 541 with HT turned off. Unsatisfied with the result, I decided to raise the voltage to 1.6V, which gave me 1 hour to pass in LinX at 4012MHz: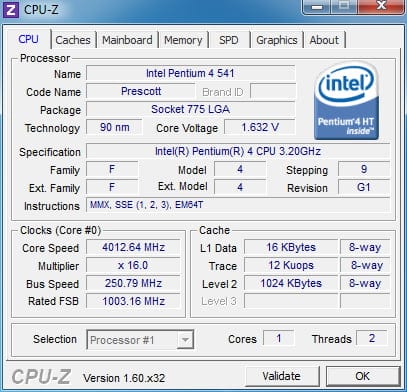 RAM worked at a frequency of 1003MHz, with timings of 5-5-5-24 and the voltage of 2.1V.
Cooler Master Hyper TX3 was already running out. The temperature of the Pentium 4 541 overclocked to 4012 MHz at a voltage of 1.6V began to exceed 79 degrees, but there was no throttling. So it was decided to record this result for tests.
Tests
Let's look at the heroes of today's testing:
| | | | | | | |
| --- | --- | --- | --- | --- | --- | --- |
| | Athlon 64 X2 3600+ | Sempron 3400+ | Sempron 140 | Core 2 Duo E6300 | Celeron D 326 | Pentium 4 541 |
| Frequency | 2000MHz | 1800MHz | 2700MHz | 1866MHz | 2533MHz | 3200MHz |
| Core codename | Windsor | Manila | Sargas | Conroe | Prescott | Prescott |
| Process technology, nm | 90 | 90 | 45 | 65 | 90 | 90 |
| Support Hyper-Threading | – | – | – | – | – | + |
| Connector type | AM2 | AM2 | AM3 | LGA775 | LGA775 | LGA775 |
| Heat dissipation, w. | 65 | 65 | 65 | 65 | 65 | 90 |
| Cache L1, Kb | 2×64 | 64 | 64 | 2×32 | 16 | 16 |
| Cache L2, Kb | 2×256 | 256 | 1024 | 2048 | 256 | 1024 |
| Cache L3, Kb | – | – | – | – | – | – |
| Number of cores | threads | 2|2 | 1|1 | 1|1 | 2|2 | 1|1 | 1|2 |
Now let's take a look at the CPU test modes:
Athlon 64 X2 3600+ 2000@2600MHz
Sempron 3400+ 1800@2466MHz
Sempron 140 2700@3780MHz
Core 2 Duo E6300 1866@3360MHz
Celeron D 326 2533@4005MHz
Pentium 4 541 HT-off 3200@3665MHz
Pentium 4 541 HT-on 3200@3665@4012MHz
The diagrams, due to many "clones" of Pentium 4 541, of course, turned out to be huge, but they still remained adequate for perception.
Rendering:
First, let's look at the HT variant. When overclocked to 4012 MHz, the Pentium 4 approached the Sempron 140 operating at the base frequencies, but could not overtake it. And in RenderBench, which does not support multi-threading at all, Pentium 4 did not even reach the Core 2 Duo E6300 operating at nominal frequencies.
What can we say about the version without HT? At 3665 MHz, the Pentium 4 could compete only with the stock Sempron 3400+ and the Celeron D 326 overclocked to 4005 MHz.
If we compare options with and without HT, it becomes clear that even the old Pentium 4, it gives a good boost, from 20 to 40%.
Overall performance:
Crystal Mark, although old, supports up to eight threads. Here the situation for the Pentium 4 is perfect! At a frequency of 3200 MHz, it was able to closely approach the Sempron 140 operating at the nominal, and overtake it during overclocking. More than that, I was surprised that Pentium 4 541, overclocked to 4012 MHz, was able to outrun (!) Core 2 Duo E6300, which worked in stock, to catch up with Athlon 64 X2 3600+ operating in nominal and in addition, overclocked to 3780 MHz Sempron 140! Here the Hyper-Threading bonus was as much as 30%!
HOT CPU Tester, on the other hand, only supports one thread. The Pentium 4 541 overclocked to 4012MHz cannot cope even with the AMD Sempron 3400+ operating at 2466MHz. Nevertheless, overtaking the E6300 and X2 3600+, which are working at par. There can be no question of rivalry with the Sempron 140, it, like the overclocked E6300, plays in a completely different league.
Archiving
WinRAR has long acquired support for multithreading, and thanks to this, Pentium 4 541 HT, working at 4012 MHz, shows impressive results, outperforming Sempron 140 overclocked to 3780 MHz, and catching up with real dual-core processors!
According to this test, you can notice a 30% increase in performance from the presence of the Hyper Threading technology in the CPU.
Calculations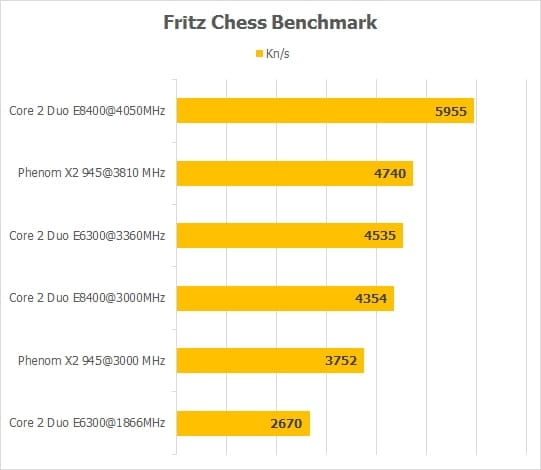 Fritz Chess BenchMark perfectly uses any number of cores or threads, however, due to architectural features, Pentium 4 could not show a decent result and lost to Sempron 140, moreover, it barely snatched victory from the single-core Sempron 3400+. I must acknowledge the excellent performance of the Core 2 Duo E6300. When overclocked to 3360 MHz, it did not leave the opponents even the slightest chance to win!
wPrime is also a multi-threaded benchmark. Upgrading from Pentium 4 541 to Sempron 140 will bring big dividends because even in "hellish" overclocking the Pentium could not get close to the Sempron 140, but only sluggishly competed with the Sempron 3400+. The outsider Celeron D 326, when overclocked to 4005MHz, still outperforms its older brother operating in the base mode, although who cares?
Games: Synthetics
3D Mark Vantage, an almost irresistible application for most processors in our test, is also optimized for a large number of threads. Here Pentium 4 541 was still lucky, but somehow quite weak. When overclocked to 4012MHz, it was able to outrun the Sempron 140 operating at nominal, and overclocking the latter brought it to the league of dual-core processors, where it was able to annoy Athlon 64 X2 3600+ operating at the base frequency. The performance of the Core 2 Duo E6300 after overclocking is simply amazing.
Games: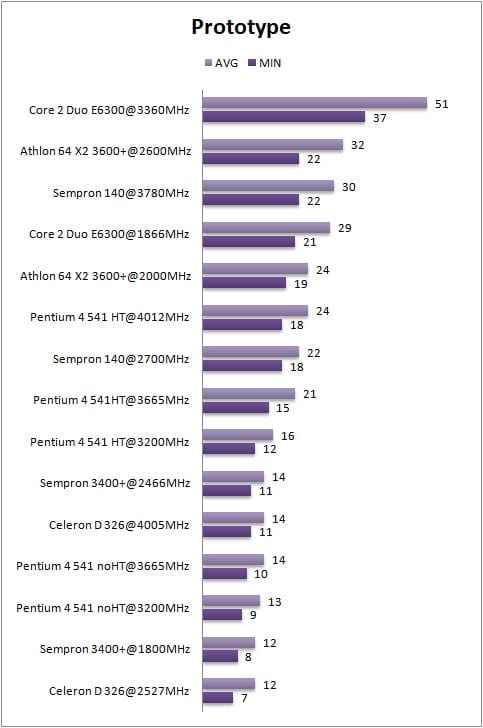 Overclocking Pentium 4 up to 4012 MHz will allow you to enjoy all the beauties of the Prototype game, which is important for a processor built on the NetBust architecture. At this frequency, he was even able to overtake the Sempron 140, but the overclocking of the Sempron 140 again brought him into the league of two cores, with only one. Oddly enough, but here the stock Pentium 4 was able to outperform the Sempron 3400+, overclocked to 2466 MHz, it is a rare case.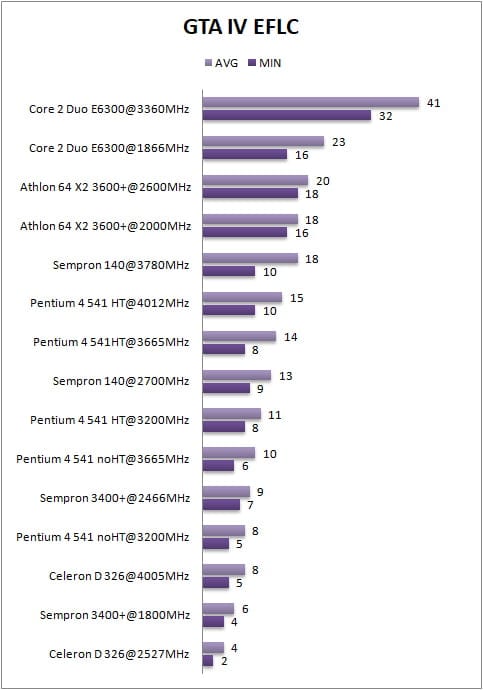 After running the tests, I realized that I had gone too far with the settings so high. Low performance in the (!) Benchmark of the game, and when free-playing on an overclocked Pentium 4 to 4012 MHz, it was about 4-7 FPS. Horror! I can reassure you a little, with the minimum settings for the image quality and drawing range, the FPS became acceptable for this type of processors, about 16-23 FPS. With HT disabled, the situation got worse, FPS dropped to 12-16 FPS.
Well, okay, let's talk about the results – the Pentium 4 541 overclocked to 4012 MHz was able to outrun the Sempron 140, which worked at the nominal frequency, while overclocking the processor from AMD, everything fell into place, except that overclocking did not allow this time Sempron 140 outperforms dual-core processors in par.
Conclusion
So the confrontation between Pentium 4 541 and Sempron 140 has come to an end. What conclusions can be drawn after the test of the processor, which turns 7 this year? What can we say, it was not the peak of productivity in its "age" either. But then Hyper Threading technology was not used to its full potential. Now we see a 15-35% increase in productivity. People who at one time wrote that having saved a couple of tens of dollars, and taking a CPU without the support of this technology, we do not limit ourselves to anything turned out to be wrong, but only partially.
Even with HT technology, Intel processors did not offer an overwhelming advantage over AMD processors from the same period in most applications.
The situation changed dramatically only with the release of Nehalem. In this architecture, HT technology has found its second life and raised the level of performance to a whole new level.
Summing up all the tests, we can safely say that almost always, Pentium 4 competed only with Sempron 3400+, which, in theory, is an opponent of Celeron D in general. Except for games, no matter how strange it sounds. After all, processors based on the NetBurst architecture have never shone with high performance in gaming applications. Although, perhaps, the fact that for tests we use only games capable of loading more than two cores affected. Here P4 541 played into the hands of his "bonus", namely HT.