Yesterday, AMD finally officially unveiled the Radeon RX 6900 XT, RX 6800 XT, and RX 6800 graphics cards, thereby giving the green light to its manufacturing partners to showcase their designs. In fact, MSI became a pioneer in this field, which showed its developments based on the RX 6800 XT card.
At the MSI Insider event, employees of the renowned manufacturer demonstrated a custom version of the Radeon RX 6800 XT graphics card: The Radeon RX 6800 XT Gaming X Trio model received an unreferenced PCB design, a 2.7 slot form factor, three advanced TORX 4.0 fans and two 8-pin connectors additional power supply.
In addition to obvious innovations such as a slightly modified cooling system, I would like to note a backplate design similar to non-reference versions of NVIDIA GeForce RTX 3090 cards, which implies the presence of two rather large (by the standards of space) heat pipes: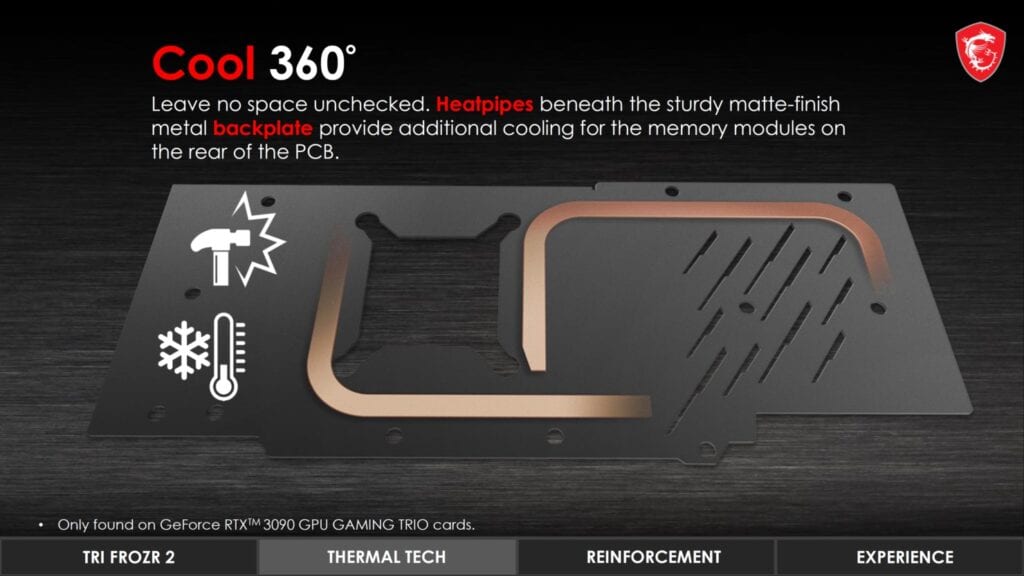 This solution should significantly increase the efficiency of heat removal from the back of the video card. And this, apparently, will come in handy, because the second part of the 16GB video buffer will be located on the same backside of the card, in the form of 8GB of rather gluttonous and hot video memory of the GDDR6 standard. So additional cooling in this place will obviously not be superfluous.
Most likely, in any case, not the first couple, except for the aforementioned Radeon RX 6800 XT, the usual Radeon RX 6800 will also receive a similar design of the cooling system, however, with a high degree of probability, the printed circuit board of the younger model can undergo some changes and become a little simpler.
MSI representatives did not say anything about the price, technical characteristics, or the timing of availability of their own versions of the Radeon RX 6800 XT and RX 6800 Gaming X Trio graphics cards, however, we assume that more information will appear in the next few weeks.