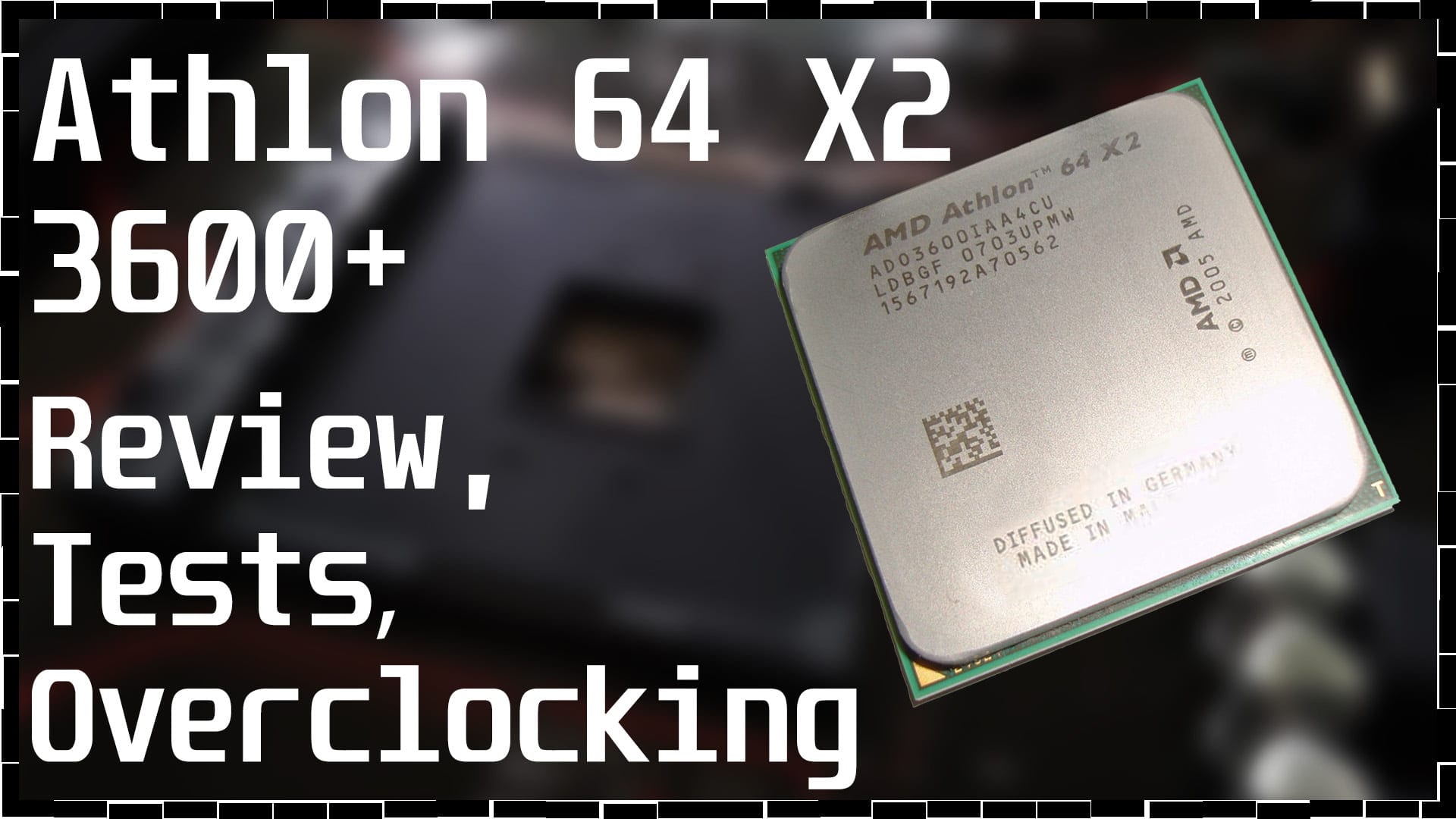 Introduction
As I already wrote in my previous articles, games, and software have changed a lot since 2005, and have already learned how to implement their code well for three, or even four cores, and it was at that time that the first dual-core processors were presented.
Many are also tormented by the question of how strong are today's single-core and dual-core CPUs against those introduced back in 2005-2007.
So what am I doing? Probably all people knowledgeable in hardware have heard about such a processor as Athlon 64 X2 3600+ at least once. This truly legendary processor was the most affordable dual-core from AMD in the not so distant 2006-2007.
Processor
Let's take a look at the hero of the article:
Screenshot of CPU-Z:
The Athlon 64 X2 3600+ processor is based on the 90nm Windsor core revision F2 and has 256KB L2 cache per core. The base frequency of the chip is 2000MHz, the speed of the HT bus is 1000MHz. Supply voltage 1.300V, typical heat dissipation 45 watts.
Test setup:
Motherboard – ASUS M2N
Motherboard – ASUS M4A785TD-V EVO
Processors – Athlon 64 X2 3600+, Sempron 140, Sempron 3400+, Athlon II X2 220
Cooling the CPU – Cooler Master Susurro (RR-KCT-T9E1
RAM – PQI PC6400 (5-5-5-16)
RAM – 2 x Corsair XMS3 PC10700 (9-9-9-34)
Video card – ASUS GeForce 9800GT
Power supply – FSP 400W
HDDs – Seagate 160GB, Samsung SP160GB
Software:
Windows 7 x64 (7600) with all critical updates installed up to January 2011.
CPU-Z 1.56
CineBench 9.5 x64
CineBench 11.0 x64
Light Work – Renderbench
3D Mark 2006 v1.2.0 (CPU test only)
3D Mark Vantage v1.0.2 (CPU test only)
Hot CPU tester PRO
NVIDIA ForceWare 260.99
wPrime v1.55
Fritz Chess Benchmark
FRAPS v3.1.0/build11052
Games and graphics quality settings:
GTA4:
Resolution – 1280×1024
Textures– high
Reflection Resolution – high
Water quality – very high
Shadow quality – high
Filtration quality – x16
Viewing distance – 30
Detail depth – 100
Traffic flow – 100
Depth of field – on/on
Vertical sync – off/off
Prototype:
Resolution – 1280х1024
Textures – high
Shadows – high
Smoothing – 0х
Overclocking the processor:
As you may have noticed, the ASUS M2V bench board for AM2 processors has been replaced by ASUS M2N. Theoretically, this replacement should have yielded better results for the disk subsystem and richer functionality along with high-quality sound, but in practice, this motherboard also has a rather strong overclocking potential.
On the ASUS M2V Athlon 64 X2 3600+ it was able to conquer only 2500MHz at 1.3V, with the replacement for the ASUS M2N board, this instance was able to operate stably at frequencies up to 2700MHz at a voltage of 1.320V!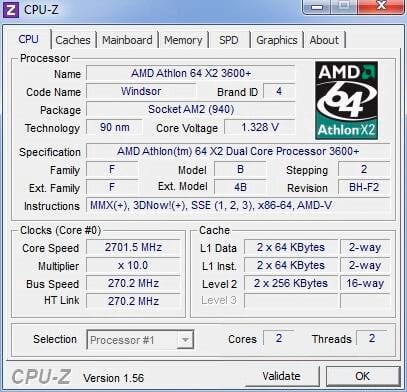 But due to the fact that the bench motherboard is not able to work stably with a RAM frequency higher than 900 MHz, and lowering its divider contributed to a strong drop in performance, for tests it was decided to lower the processor frequency to 2600 MHz:
Tests: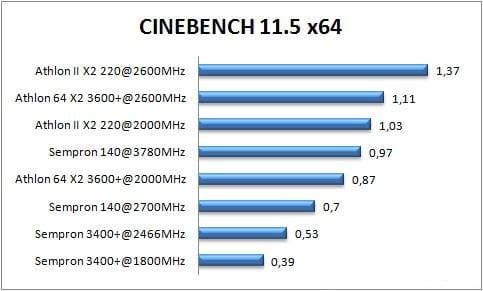 I would like to note the high performance of the single-core Sempron 140 overclocked to 3780 MHz. He was able to overtake the hero of our article operating at base frequencies. And only in overclocking Athlon 64 X2 3600+ was able to gain victory and surpass the offender, but it could not reach its elder congener Athlon II X2 operating at the same frequency.
As I mentioned in previous articles, this test is single-threaded. There is no reason to expect any feats from the K8 architecture here, the K10.5 is significantly superior to its old sister.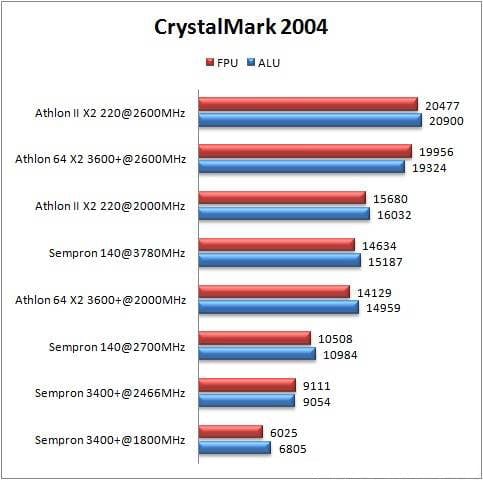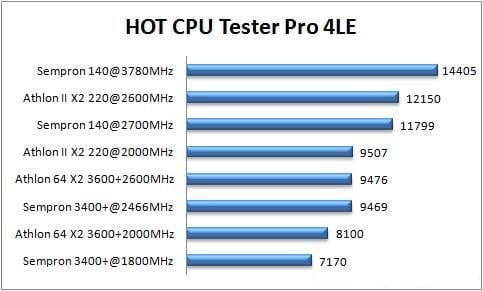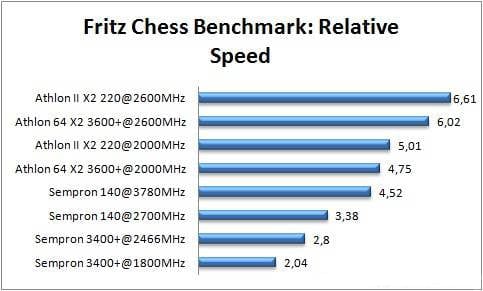 Everything seemed to be going on, as usual, Athlon 64 X2 3600+ kept trying to keep up with Athlon II X2 220 by more than 10%, and wPrime came to the fore. Having run this benchmark on Athlon 64 X2 3600+, I could not believe my eyes, Athlon II X2 220 lost at the same frequency of 2 GHz. Fractions of a second, but lost. Having rechecked everything I could, I rebooted the system, but this did not give a positive effect either. Apparently, there are negative delays in high-frequency DDR3 memory.
If DDR3 with high timings spoils the results in wPrime, then in WinRAR it allows Athlon II X2 220 to significantly outperform the old man. And the competition with Sempron 140 succeeded, it could not catch up with Athlon 64 X2 3600+ even with overclocked to 3780 MHz.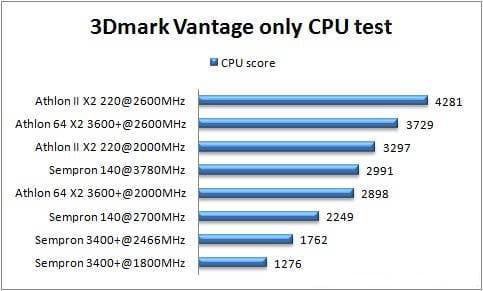 3D Mark Vantage considered the clock speed more favorable than the additional core and brought the overclocked Sempron 140 to fourth place. Overclocking Athlon 64 X2 3600+ made it possible to overtake Athlon II X2 operating at 2GHz, but the old man did not reach the "overclocked" Athlon II to 2600MHz.
In Prototype, as I expected, nothing supernatural happened, unlike GTA 4, where Athlon X2 lagged behind Athlon II by 7 frames per minute. FPS. A serious enough blunder. And in general, overclocking in this game does not bring almost any dividends to Athlon 64 X2 3600+.
Should we change Athlon 64 X2 3600+?
This processor once opened the world of dual-core CPUs to simple, inexperienced users and tries not to disappoint its owners to this day. Yes, you can lower the settings in the same GTA 4 after which the playability will return to normal. But is it worth disfiguring an already not-so-pretty game? The Sempron 180, the new dual-core and also the cheapest AMD processor, began to hit the shelves. Can we get it, or can everyone wait for a bulldozer?