The American overclocking mastodon l0ud_sil3nc3 was able to conquer the CPU rank of the dual-core, four-thread Intel Pentium G7400 processor in the Geekbench3 – Multi Core discipline.
The enthusiast armed himself with the top ASRock Z690 AQUA OC motherboard with an external clock generator installed. This generator allows you to change the frequency of the BCLK bus on any Intel Alder Lake processor (even with a locked multiplier). In addition to this feature, liquid nitrogen also played a key role, because it was it that cooled the central processor and extremely hot DDR5 RAM.
As a result, the overclocker managed to achieve a significant 6363 MHz for the Pentium G7400 and an impressive 7224 MHz for the RAM with timings 30-39-39-51, which allowed him to finish the Geekbench3 – Multi Core benchmark with a score of 10208 points in a single-threaded environment and 22406 points in a multi-threaded one: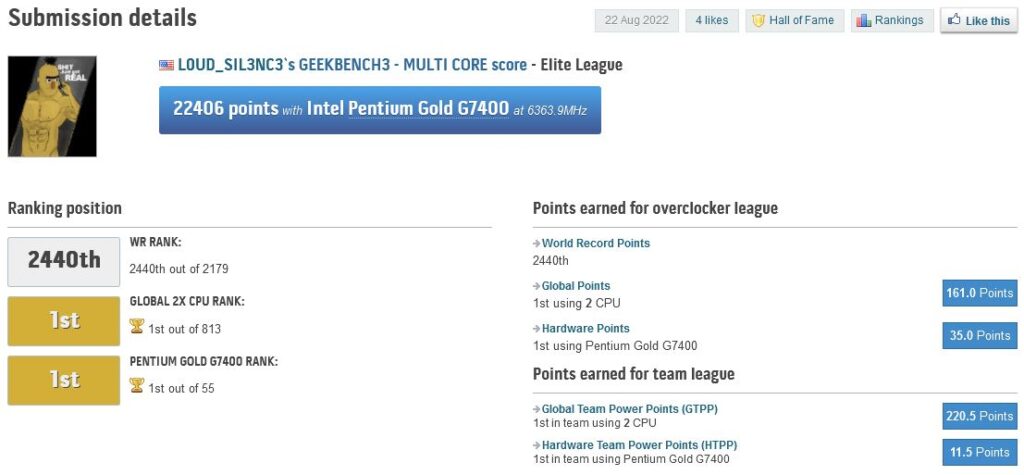 The overclocking formula for the Pentium G7400 processor is as follows: BCLK frequency 172 MHz, multiplier 37, and core voltage 1.568v. The rest of the settings, unfortunately, could not be found.
This is a very significant achievement because l0ud_sil3nc3 became the first not only in the current CPU rank but also received gold in the overall dual-core rank of the very popular Geekbench3 – Multi Core discipline.
Source: HWBot