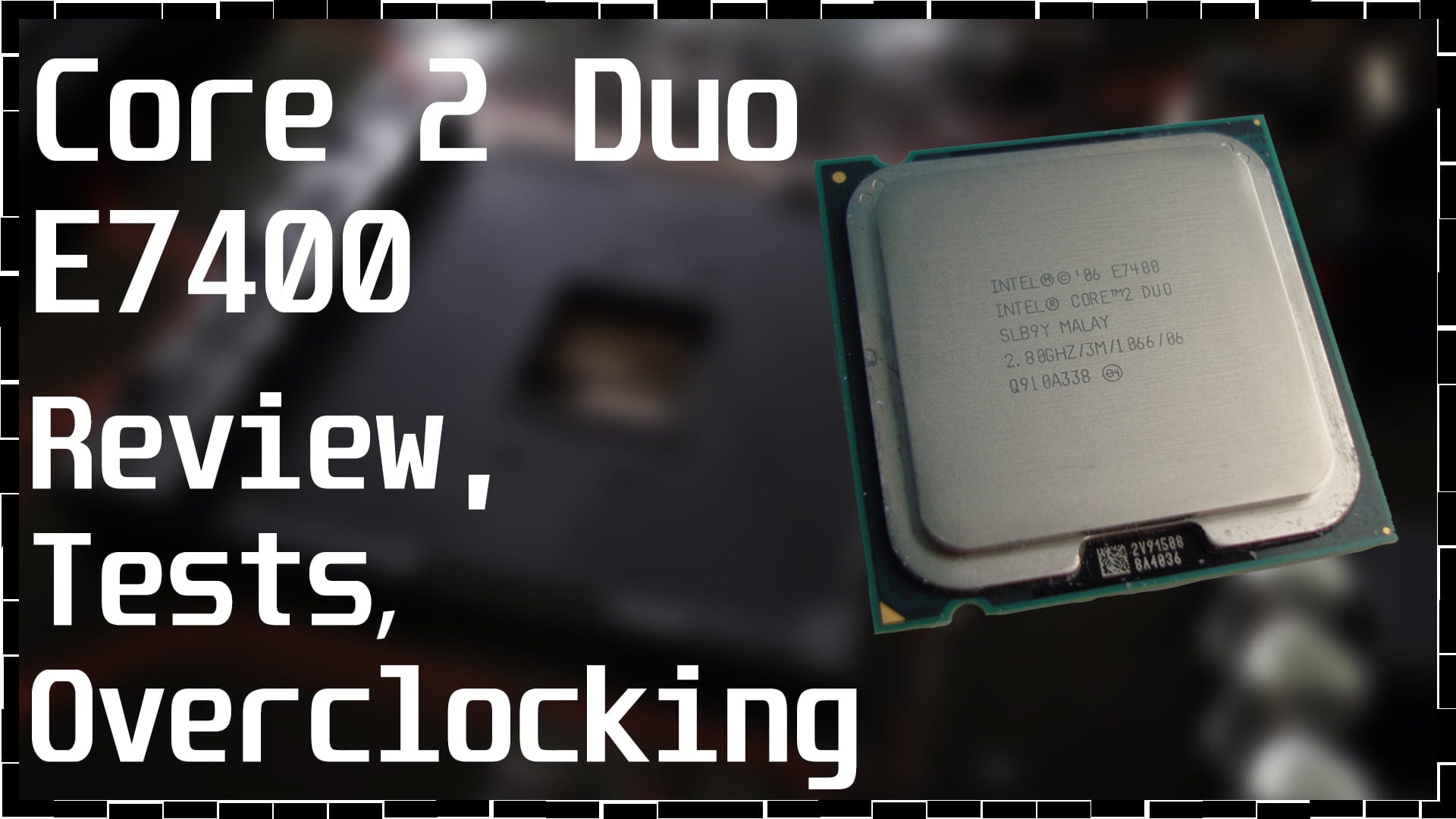 In the previous article about testing the Core 2 Duo E8400 processor, I touched upon such a sensitive topic as the greatly inflated prices for some (almost all) Intel processors.
And to my great regret, the hero of today's review, Core 2 Duo E7400, is just the same highly overrated and absolutely useless "stone" in terms of price/performance ratio.
The price of the Core 2 Duo E7400 chip (about $ 90-100) can scare off even an ardent Intel fan (no, it can't, they have been bought and are being bought in large quantities). After all, for a similar amount you can buy such CPUs as AMD Phenom II X3, or Athlon II X3, or at worst, if the money is really tight, it is better to take the same first generation Phenom X3 (you read everything correctly). At $ 50-70, and a used Phenom X3 costs even less, these are the best stones for relatively modern games and applications.
What's wrong with the E7400? Well, it's at least dual-core.
And yet, who is he, Core 2 Duo E7400? A useless cut from the E8xxx line, or a good alternative to aged tops like the E6xxx? It is hard to say.
Compared to the E8xxx series, it is noticeably "cut off". The L2 cache is two times less, 3MB versus 6MB (For processors without L3 cache, and even with slow DDR2, this is a big loss). Agree with me, a very significant drawback, especially for games. But in the course of testing, I realized that not everything is so simple. And now I will try to explain why.
Processor
A specimen that came to our laboratory: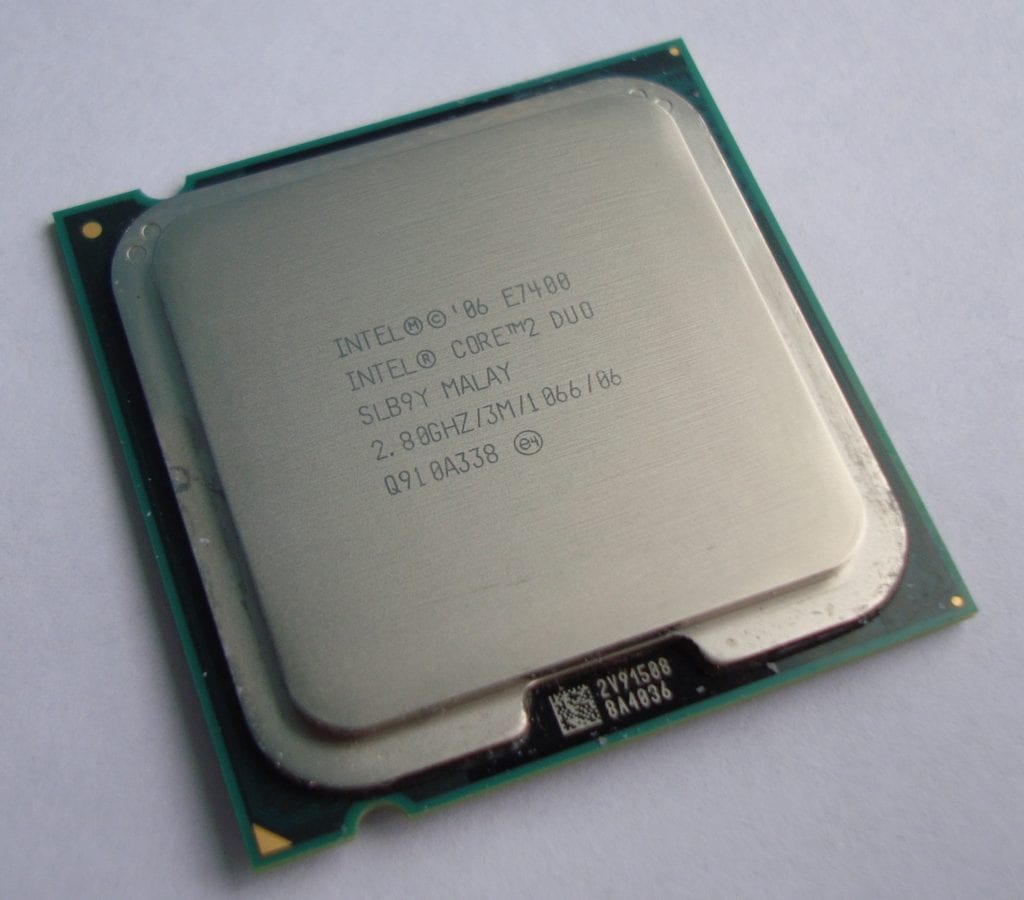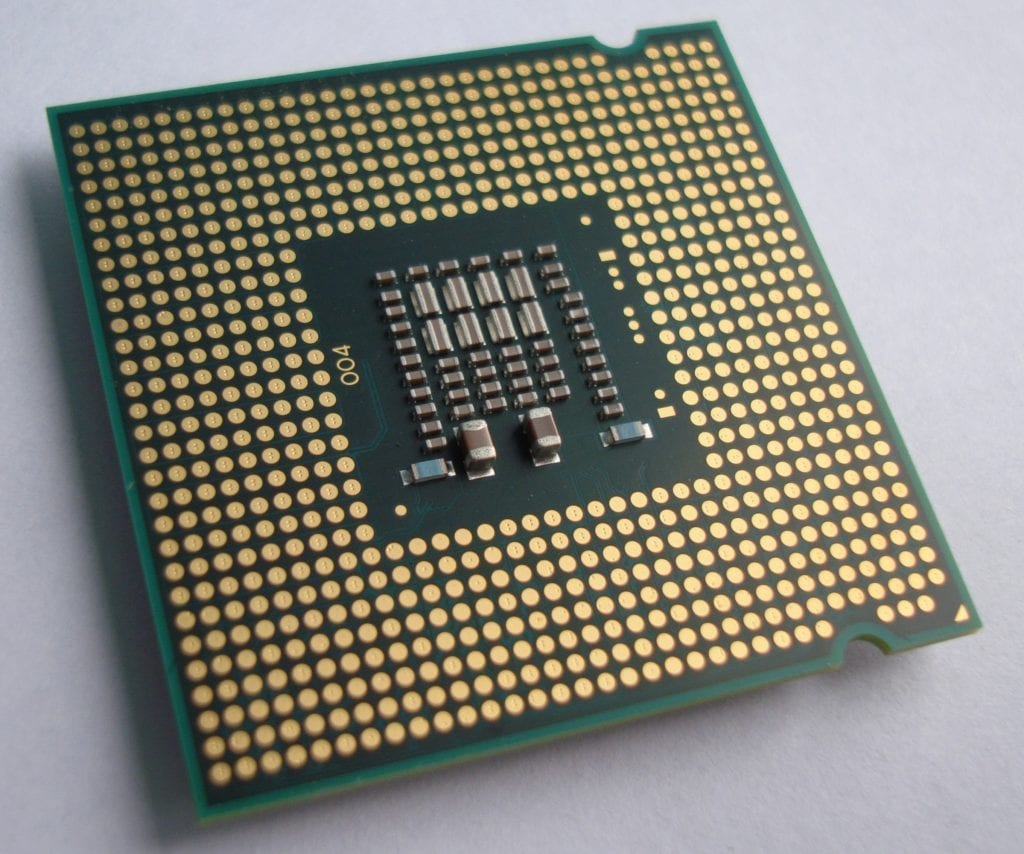 And its data according to the CPU-Z utility: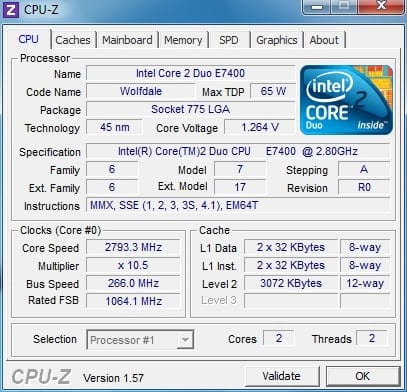 The Core 2 Duo E7400 processor is built on the first generation Core architecture. The semiconductor core, which is involved in this CPU, is codenamed Wolfdale, it is based on a 45nm technical process and is equipped with a shared L2 cache of 3MB for the two cores. This processor operates at a frequency of 2800 MHz, which is obtained by multiplying the 266 MHz bus by a factor of 10.5. The E7400 has a thermal package of 65W and a rated supply voltage of 1.264V.
One of the most popular processors based on 65nm core Conroe Core 2 Duo E6300 will compete with it. The disadvantage of this CPU is a very low multiplier because overclocking to frequencies exceeding 3GHz requires not the weakest motherboard.
The processor has a 2Mb L2 cache, operates at a clock frequency of 1866MHz (266×7) at a voltage of 1.300V, a bus frequency of 1066MHz. Core revision B2, typical heat dissipation 65 watts.
AMD's honor, if I may put it this way, will protect Phenom II X4 945. Since there is no Phenom II X2 in the laboratory, we disabled two cores of the existing Phenom II X4 945 using the motherboard bios, thus getting the required processor without any problems.
As you may have noticed, in the "Cores" cell there is a number 2, which confirms the successful shutdown of two of the four cores.
The processor is based on the 45nm Deneb core revision C2 (may the old and new gods help to finally get C3), has 512Kb L2 cache per core, and a total 6Mb L3 cache. The base frequency of the chip is 3000MHz (200×15), the frequency of the HT bus and CPU NB / L3 is 2000MHz. Typical heat dissipation 95 watts (for two cores).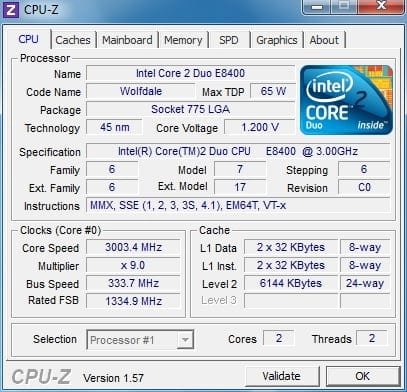 Here is the last player in today's testing – Core 2 Duo E8400. Here is one of the first-class representatives of the 45nm Wolfdale core. It is equipped with a 6MB L2 cache, the base core voltage is 1.200V. Its base frequency is 3GHz, it is obtained by multiplying the system 333MHz bus by a factor of 9. Revision of our C0 specimen, which is generally not very happy (yes, we are not particularly lucky with revisions). Typical heat dissipation is 65 watts.
Test setup:
Motherboard AM3 – ASUS M4A785TD-V EVO
Motherboard LGA775 – Biostar P35D2A7
Processores – Core 2 Duo E7400, Core 2 Duo E8400, Core 2 Duo E6300, Phenom II X2 945(disabled two cores)
CPU Cooling AM3 – Cooler Master Susurro (RR-KCT-T9E1)
CPU Cooling LGA775 – Zalman 7700cu
RAM – 1GB DDR2 Corsair PC6400 (5-5-5-16)
RAM – 2GB DDR3 Corsair XMS3 PC10700 (9-9-9-34)
Video cards – Sapphire Radeon HD5770 (960/5300MHz)
Power supply – FSP 500W
HDD – Samsung SP160GB
Software:
Windows 7 x64 SP1
CPU-Z 1.57
CineBench 9.5 x64
CineBench 11.0 x64
Light Work – Renderbench
3D Mark 2006 v1.2.0 (CPU test only)
3D Mark Vantage v1.1.1 (CPU test only)
Hot CPU tester PRO
AMD Catalyst 11.5
wPrime v1.55
Fritz Chess Benchmark
x264 Benchmark v4.0
SuperPi 1.4
PiFast
FRAPS v3.1.0
Graphics quality settings in games:
GTA IV:
Resolution – 1280×1024
Textures – high
Reflection Resolution – high
Water quality – very high
Shadow quality – high
Filtration quality – x16
Viewing distance – 100
Detail depth – 100
Traffic flow – 100
Depth of field of observation – on/on
Vertical sync – off/off
Prototype:
Resolution – 1280х1024
Textures – high
Shadows – high
anti-aliasing – 0х
Overclocking Core 2 Duo E7400
After the not very successful overclocking of the E8400, I didn't even hope to get high frequencies from the E7400. But here I was wrong. After 15 minutes of torture, I found a more or less stable line at 4200MHz at 1.475V, but the processor could not pass the LinX half-hour test!
He could spin the 3D Mark CPU test for hours, passed OCCT but crashed to LinX. It bothered me as hell because I didn't see the problem.
Attempts to raise the voltage to 1.5V were unsuccessful. I already thought about rolling back the system bus frequency to 390MHz, but then I noticed that I had not changed some of the secondary RAM timings!
After correcting the annoying errors (if only I could fix the broken keyboard on the test bench), the processor went through an hour LinX run at 4200 MHz, which made me incredibly happy.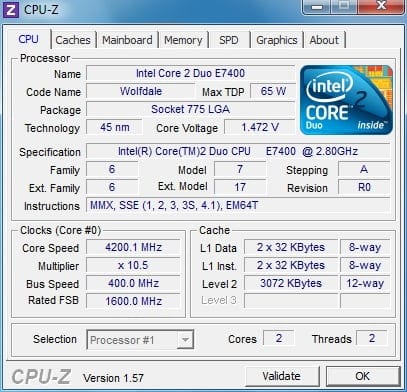 The final processor frequency was 4200 MHz, the RAM frequency was 1200 MHz (which is pretty good for DDR2), with timings of 6-6-6-18.
Now a little subjectivity. The E7400 turned out to be extremely pleasant to overclock and a cold processor in everyday use. Disabling half of the cache and stepping R0 pleasantly surprised me. Surprised at 4725MHz processor frequency: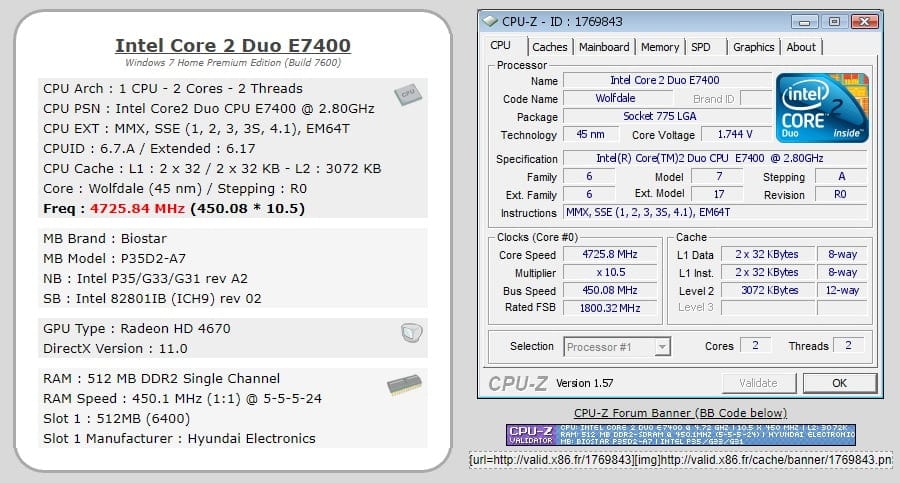 It is quite obvious that this is just the result for the screenshot and no one will use a processor at such a voltage 24/7. However, in my humble opinion, 4725MHz in the air is quite an impressive achievement.
Overclocking opponents
Let's move on to overclocking the rest of the test participants. Core 2 Duo E6300 is based on the old 65nm Conroe core. Its stable overclocking is limited to 3600MHz, and in most cases to 3400MHz. Everything turned out to be even worse for me: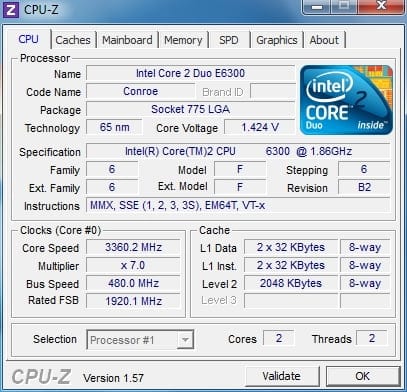 The RAM frequency was 960 MHz with timings of 5-5-5-15. The only benefit of such overclocking is the ability to compare it with the E8400 operating at base frequencies. Although, I probably just got used to 45nm chips. After all, the frequency of the E6300 was increased by 80%!
The overclocking of the Phenom II X2 945 did not bring any surprises. At a voltage of 1.440V, we managed to achieve stable operation at a frequency of 3810MHz.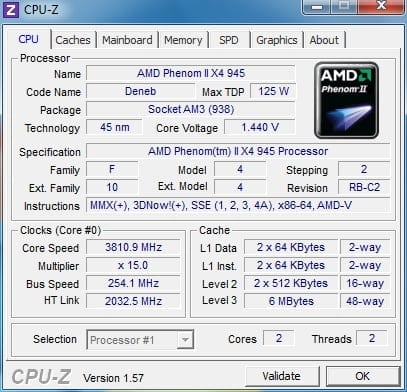 The reason for such a low overclocking is immediately visible from the screenshot of the CPU-Z utility – the old revision C2. The memory controller and L3 cache worked at 2540MHz, DDR3 at 1651MHz, with timings 9-9-9-24.
So the turn of the E8400 has come. Knowing the excellent overclocking potential of the 45nm Wolfdale core, I set the FSB frequency to 450MHz without raising the voltage, which should have given me 4050MHz, the OS booted, but LinX went to reboot after the first run. Increasing the voltage to 1.350V allowed a 20-minute test to pass, but then the same reboot. Only at 1.408V, the processor ran for an hour in LinX without a glitch.
With overclocking sorted out, it's time to move on to studying the performance of processors.
Rendering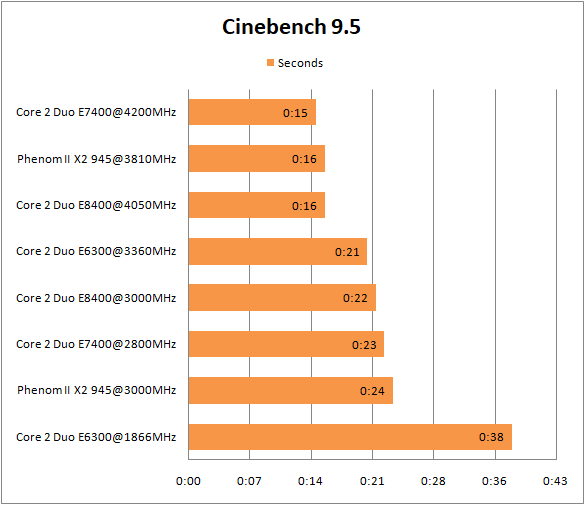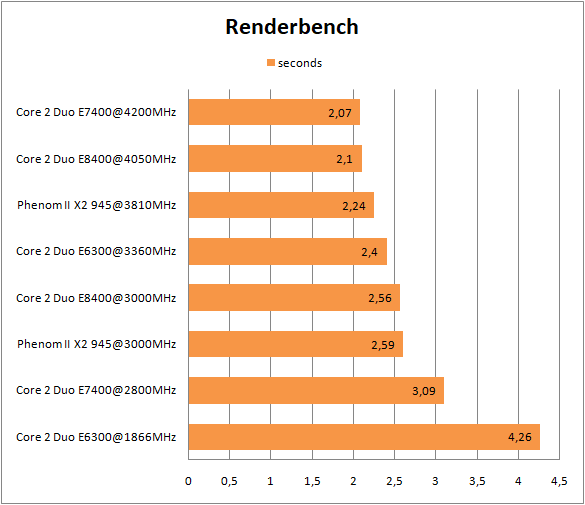 Overall performance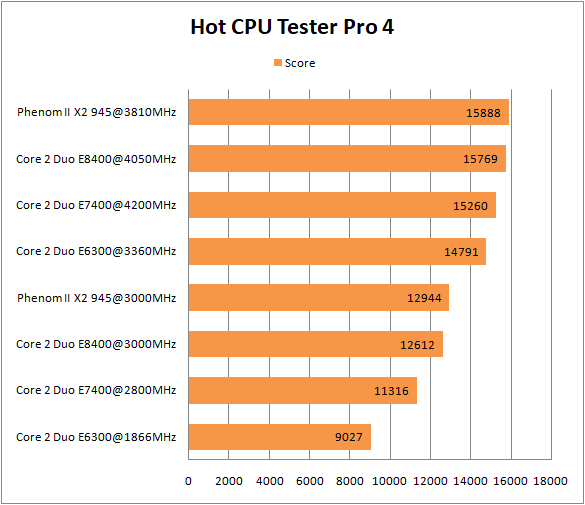 Calculations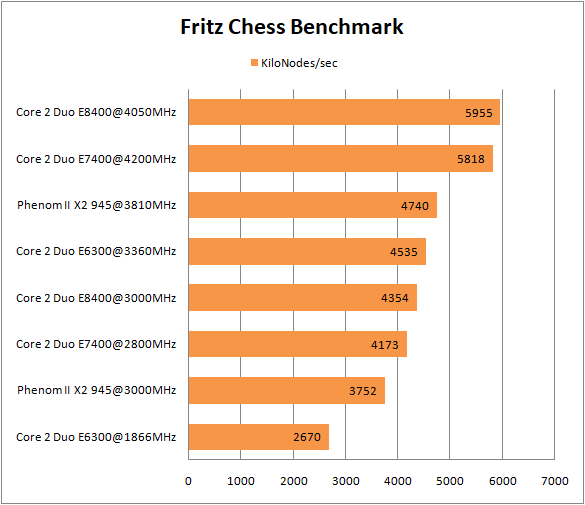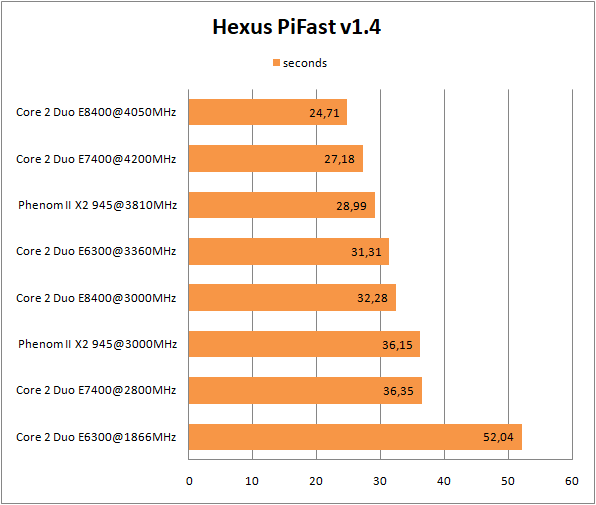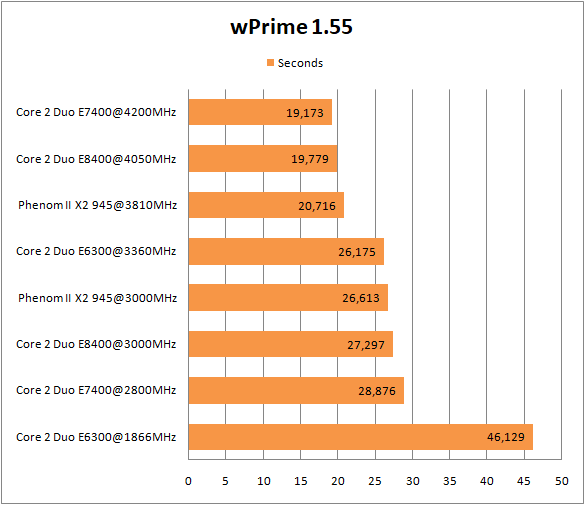 Coding
Archiving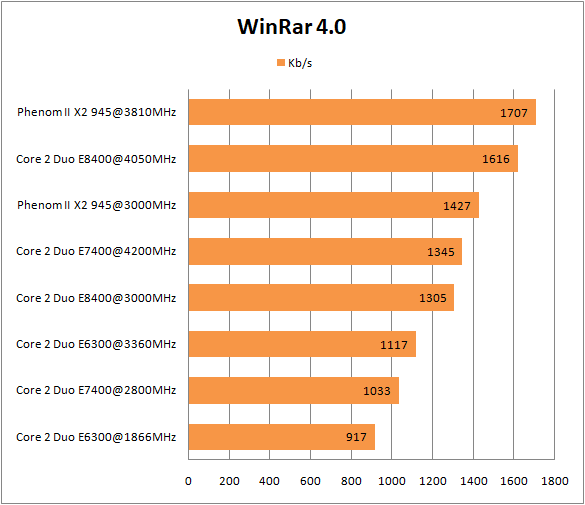 Games: Synthetics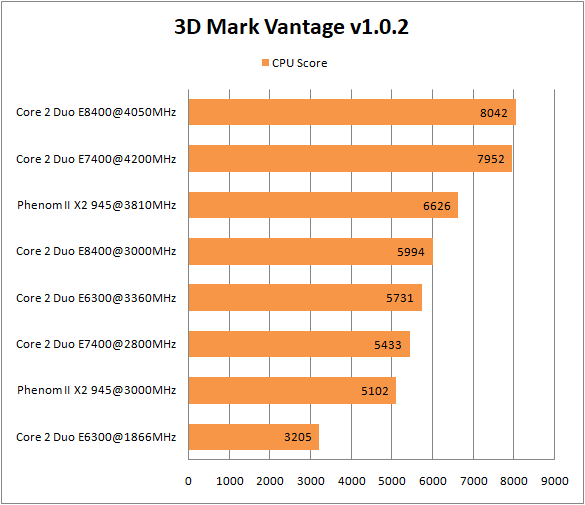 Games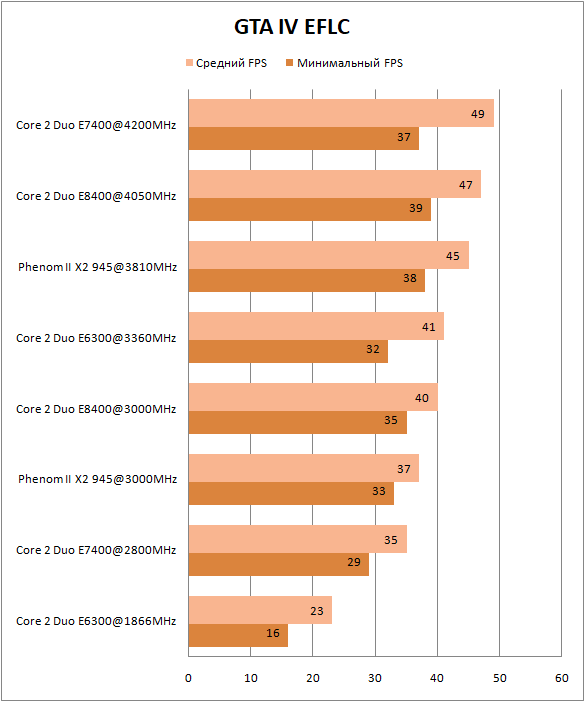 Conclusion
As you can see from the tests, the Core 2 Duo E7400 is quite a worthy competitor for both the Phenom II X2 and the E8400, but this is more related to overclocking, and even then it is incomplete. The older brother, represented by the E8400 at a lower frequency (4050MHz), outperformed the youngest (4200MHz) in 9 tests out of 16 and lost in 7 tests.
When choosing a processor, you need to take into account your needs. For example, E8400 won in calculations and relative parity in games. In rendering, the cache memory does not play a special role, and the frequency, on the contrary, dominates, and after overclocking the processors, it turned out to be 150 MHz higher for the E7400, which allowed it to eventually get ahead.
On the whole, Core 2 Duo E7400 left behind extremely positive emotions. Of course, the following words will run counter to everything that has been said above, however, I hope you will understand my point.
I cannot recommend the E7400 to anyone other than avid overclockers or enthusiasts. Especially considering that we're talking about him in 2011.
Already now it is not showing even acceptable results, and what will happen next is not difficult to predict.
In addition, even now its price on the used market turns out to be much higher than that of the same Phenom II X2 and Phenom II X3.
I have given you food for thought, and now I will take my leave.
Test setup accessories: DENIM and MTPZP