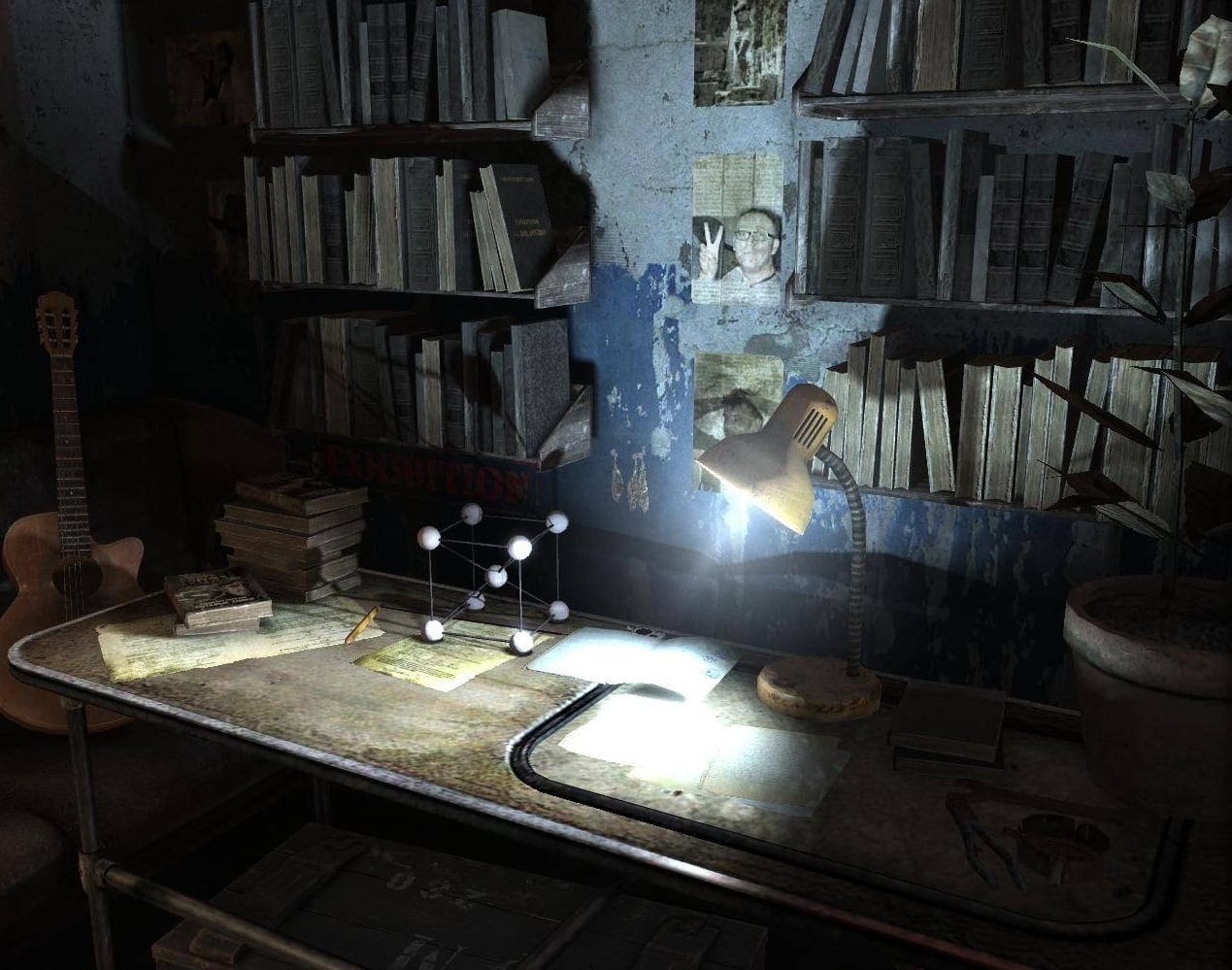 Developer: 4A Games
Publisher in the CIS: Akella
World Publisher: THQ
Genre: FPS
System requirements: Pentium DC E5200 / Athlon II X2 215, GeForce GTX260 / ATI Radeon HD4890, 2GB RAM, 9GB HDD
Recommended system requirements: Core 2 Duo E8400 / Phenom II X2 550, GeForce GTX 470 / ATI Radeon HD5850, 4GB RAM, 9GB HDD
Official website: http://www.4a-games.com/
A little about the project
Absolutely all gamers from the CIS were waiting for Metro 2033. But what did we get in the end? Not optimized, crude and not interesting project?
As for the first, I can say that this is not entirely true. This game is even a little like the great and terrible Crysis, but of course not the plot. Metro 2033 is a game steeped in technology. And no, this is not bad, but on the contrary is good! But only if they were in moderation. However, we have gathered today not to discuss the graphic (more about it below), first of all, we will deal with the plot (no spoilers!).
Plot: The Beginning
It's cold … so even the glass of the gas mask is fogging up … snow is sweeping around … practically nothing is visible … I stand among my brothers, friends who could survive … one of the few … and all for my sake. .. for me to be able to save my station, and our city … It is already very little left! The TV tower is just a stone's throw away! But the cry of one of my comrades suddenly brought me to my senses. It began … I tried to shoot a monster that mercilessly tried to bite my comrade … but it was too late, I was suddenly brought up and thrown to the overturned car. My legs were numb, my body simply did not obey me, such horror … Collecting all my will into a fist, I still got to my feet …
What do we have?
So, before us is post-apocalyptic Moscow.
It all starts with the fact that you find yourself in the Moscow metro with a partner. You are taught all the first skills of the game (right-click, left-click, put on a gas mask). The slightly imperfect animation of the characters' movements immediately catches the eye. Unfortunately, it starts to get a little annoying already somewhere in the middle of the game.
The world is worked out quite well, we can observe how people survive in extreme (to put it mildly) situations.
Let me tell you frankly, after a few minutes of being alone with the underground tunnels, I shivered literally! This has not happened to me since the great F.E.A.R.! The oppressive atmosphere of the post-apocalypse is so crushing!
A world where everything was lost. A world in which people must hide under the ground … Moreover, there are terrible creatures that do not allow the remnants of civilization to survive its last, miserable days … What can I say? Just this: This is what I've wanted to play since Fallout!
But the game also has a reverse side of the coin. Honestly, I am depressed by the fact that the game is very linear. It's easier to put it this way: I was put on a train, it started, I just start to like it, pleasant service, delicious food, comfortable beds, and then he suddenly arrived at the terminal station and I was thrown onto the platform! This is how I can briefly describe all the linearity of this project. But this does not mean that he is bad! I just would really like to walk through all the "subways", and at the same time not have a single mission in my pocket! It's a pity, but the developers decided otherwise … Perhaps we will see some kind of addition, although this is unlikely to happen.
Performance
This point, for good reason, would be worth highlighting in a separate article. After all, the performance of any video card in this game leaves much to be desired. Some players said that it was comfortable not to play even on AMD Radeon HD5850 with DirectX 11, and my colleague MTP could not play normally at high settings in a resolution of 1280×1024, with 4x anti-aliasing at DirectX 10 on GeForce GTX280.
I ran the game on an AMD Radeon HD4670 video card, and I can only say this: medium settings and no smoothing at a resolution of 1024×768. That's it, the engine is not particularly optimized, but the game is interesting plus addictive, so what is destined for it?
IMHO
Everyone should play this game! And here you have to accept one important detail: In this project, the graphics are not important. Although the developers put it in one of the first positions it does not have much weight.
Playing Metro 2033 I remembered those times when I just wanted to play games, regardless of the graphics settings, all sorts of anti-aliasing, and so on – I just wanted to play.
Yes, these times have sunk into oblivion for many, but I hope that the game created by our fellow countrymen will return all this to us! It has an atmosphere, it's not just three-dimensional graphics in the monitor, it's the life of Artyom, which, although not for long, you are offered to live!
As for the recently popular comparison with STALKER. Yes, the game is in a sense slightly similar to the GSC Game World project, but it is impossible to say that it is "better" than the latter, or worse. It is similar in the atmosphere and just as "dear" as Stalker. No more. Both games evoke unforgettable emotions. Both are worth playing.