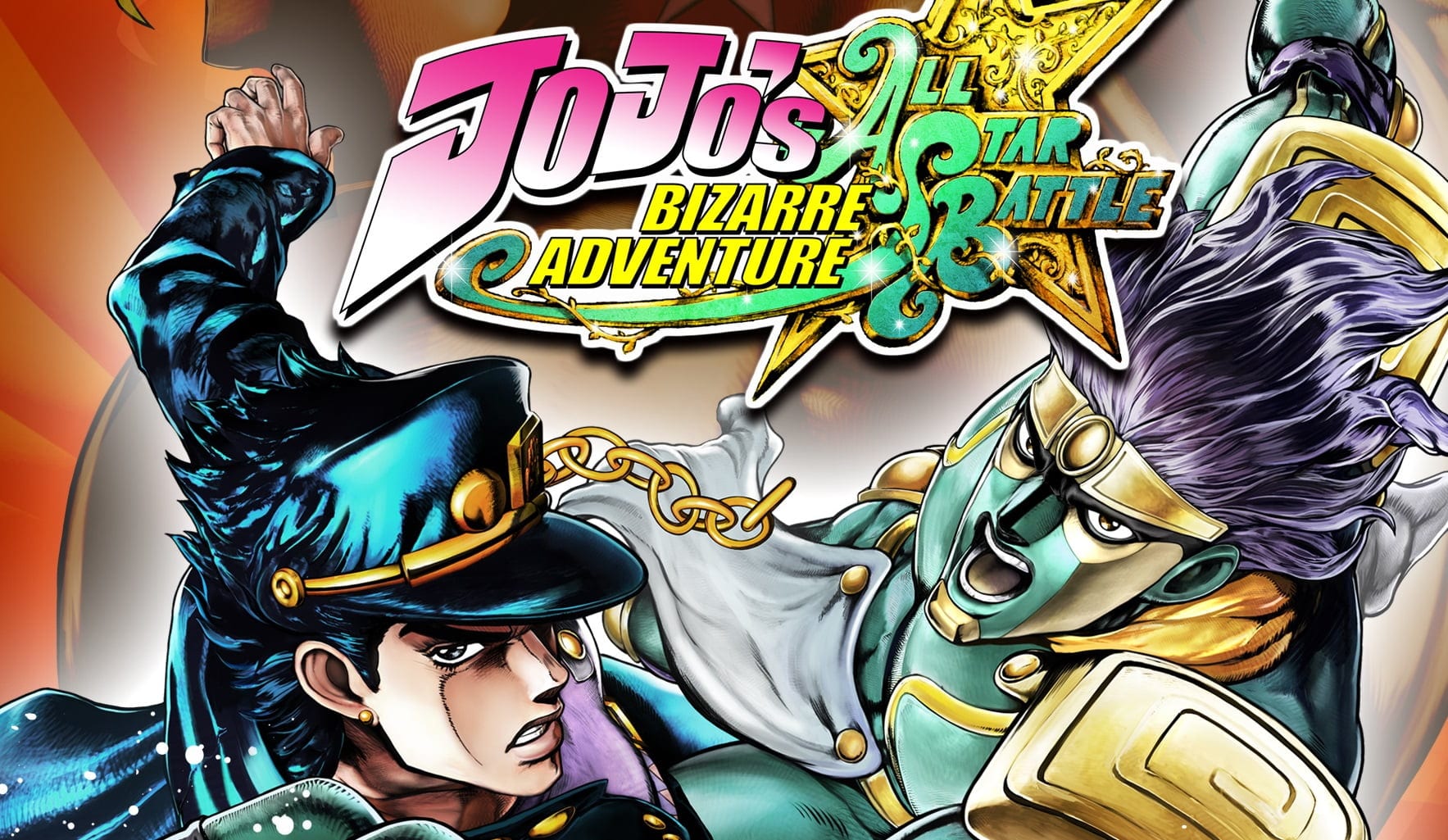 Fighting JoJo's Bizarre Adventure: All-Star Battle is based on the most popular manga and anime series "JoJo's Bizarre Adventure" and thanks to this the game came out quite original and memorable. Nevertheless, the project JoJo's Bizarre Adventure: All-Star Battle has not visited either the PC or the XBOX 360, and therefore many gamers could not appreciate this fighting game.
And only thanks to the developers of the RPCS3 emulator, almost everyone can plunge into "JoJo's Bizarre Adventure" now.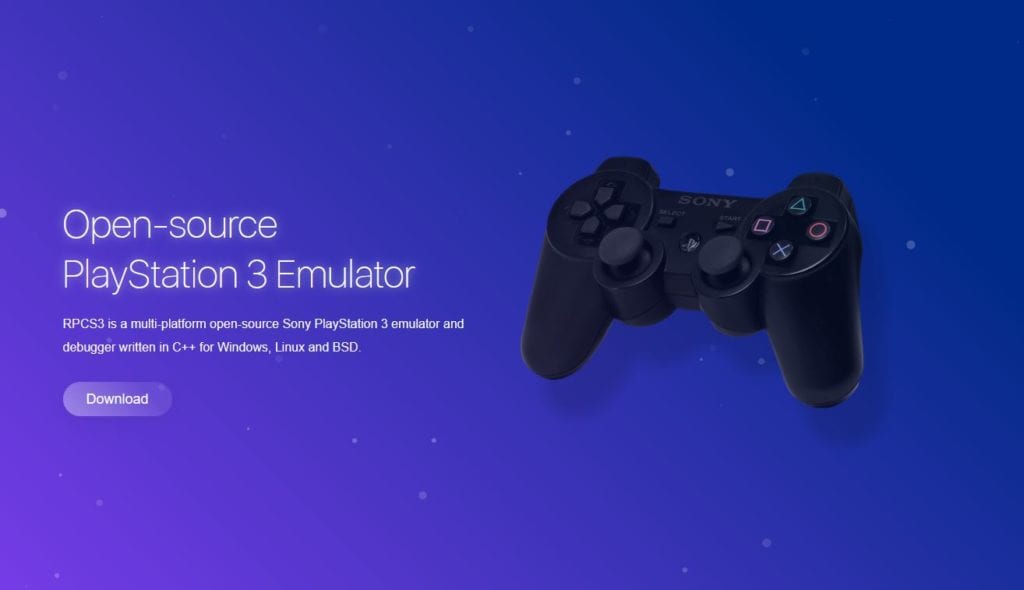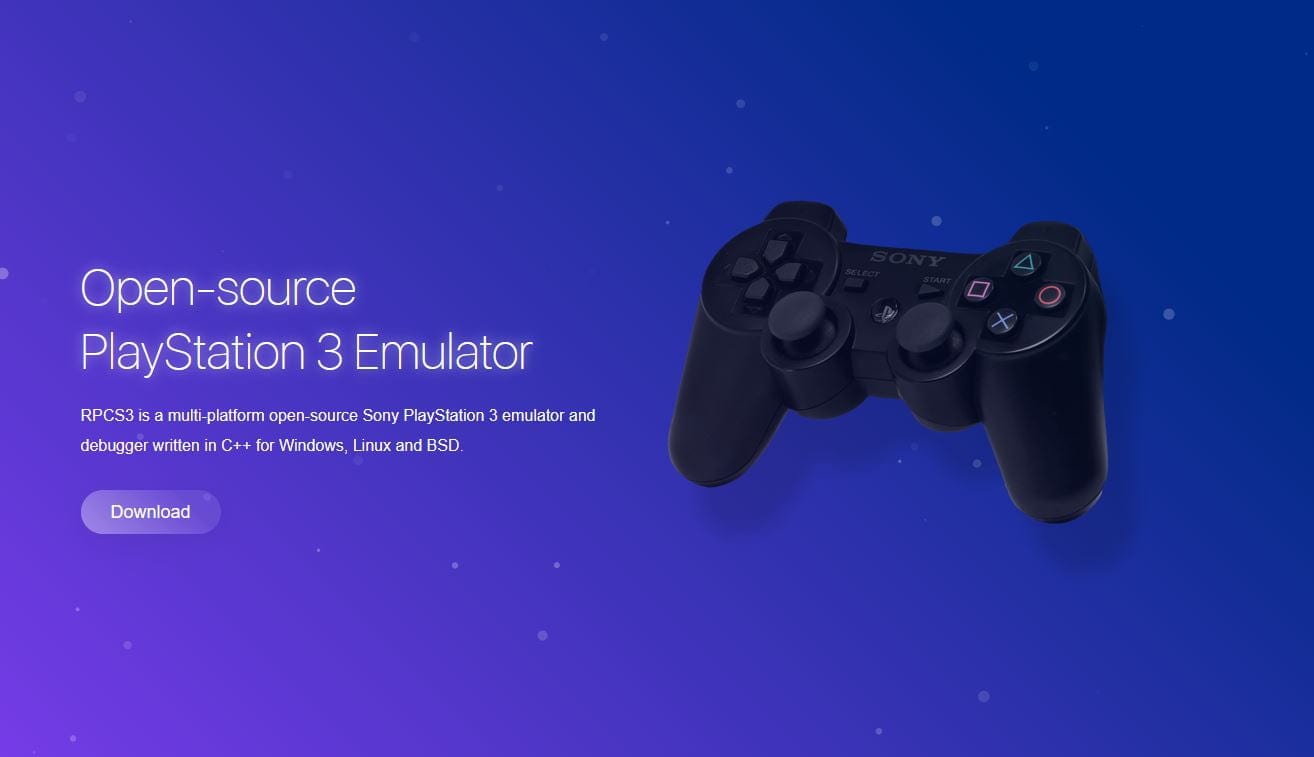 You can download the latest version of the emulator on the official website of the developers.
Today I will tell you how to run an unusual and memorable fighting game JoJo's Bizarre Adventure: All-Star Battle using the PlayStation 3 RPCS3 console emulator.
Customization
First and foremost, make sure your emulator version is at least RPCS3 v0.0.10-10470-ebbf329b Alpha. Update as needed. If your version is much higher, you probably won't need some settings. Try to play the game without further changes.
In order for the JoJo's Bizarre Adventure: All-Star Battle game to function stably, and most importantly without graphic or sound problems, you should follow these steps:
First, right-click on the JoJo's Bizarre Adventure: All-Star Battle icon and select «Change Custom Configuration»: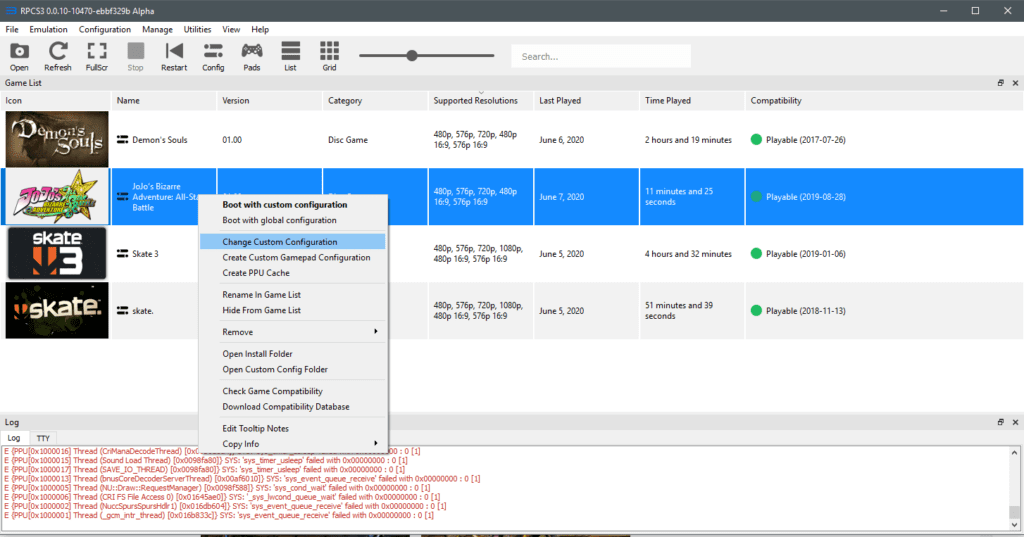 Next, go to the GPU tab and change the "Renderer" option from "OpenGL" to "Vulkan".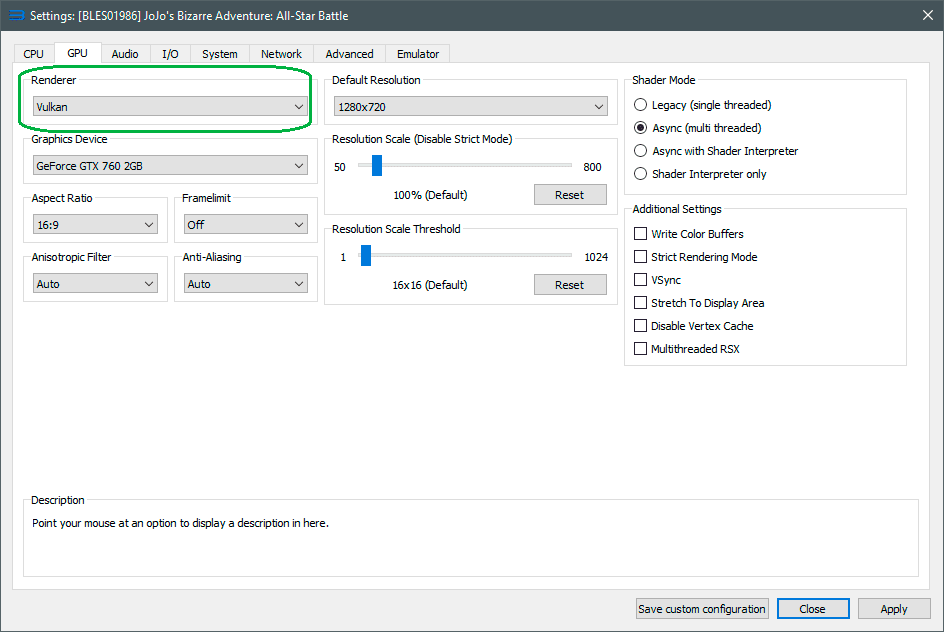 Then go to the Audio tab and there roll back the "Audio Buffer Duration" parameter to 20 milliseconds (if it was initially disabled, enable it):
Additionally
If the frame rendering speed is poor (below 20) and the sound in the game is not particularly important to you (ORA ORA ORA / MUDA MUDA MUDA?), You can turn it off, you will win a few more FPS: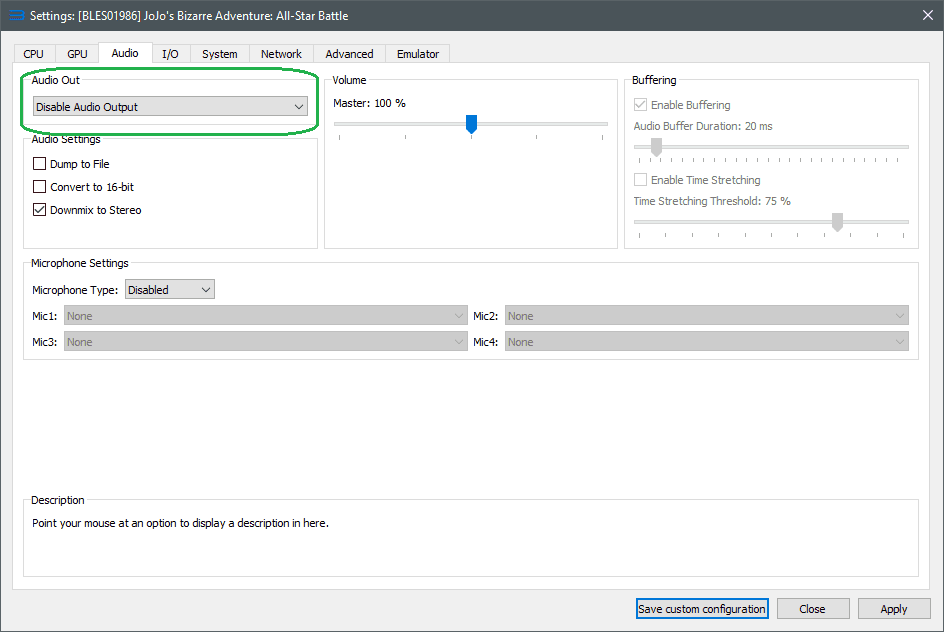 That's all! The game is set up. The rest of the tabs can be left unchanged. Well, if only your graphics card is powerful enough, you can also increase the "Resolution Scale" parameter in the "GPU" tab to 150% (equal to 1920×1080), or 200% (equal to 3840×2160). Then test it – if the frame rate doesn't drop – great, leave it. Now the picture quality will be much clearer!
Performance
JoJo's Bizarre Adventure: All-Star Battle title was tested on two systems: with an Intel Xeon E5-2643 processor (Sandy Bridge, 3400 MHz, 4 cores/8 threads – the closest analog of Core i7-2600) and with a Xeon E5-2630L v3 (Haswell, ~2600MHz, 8 cores/8 threads, HT disabled) paired with a GeForce GTX 760 video card (a video card in native resolution (720p) is not particularly important).
Both chips showed a decent result: the number of frames per second rarely dropped below 30, even in graphically loaded scenes.
Given the rather weak load of 8 threads, even Core i3-level chips are likely to cope here, especially when it comes to Core i3 8000, 9000, and 10000 processors.
Test the above settings and describe your results in the comments, and ask your questions.
In addition, I have plans to test hardware in RPCS3. If you are interested in the result of detailed tests of processors in the emulation of this game, please share it in the comments below.
Thank you for your attention.