It seems that the consequences of the mining ban in China began to gradually reflect on the market for used components in China. Right now, on a variety of marketplaces, you can grab a used GeForce RTX 3060 from $270.
Such a deplorable situation for Chinese miners was formed due to the repressive measures of local authorities in relation to bitcoin. Recall that last month, Chinese crypto miners were forced to shut down their farms or move from Sichuan to some other place. Some miners, for example, have chosen the USA as their new home for their farms.
However, back to the new pricing of graphics cards.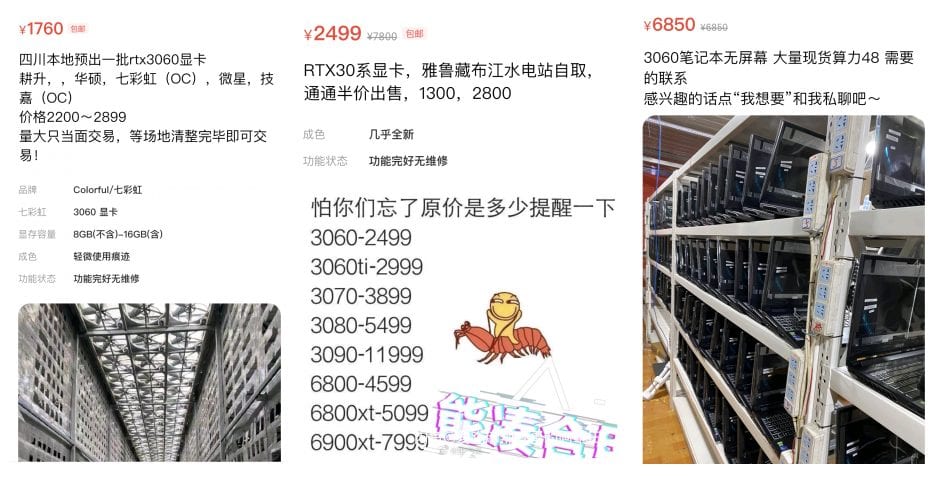 Our colleagues from The Block have collected in their material several very, very lucrative offers. So, large batches of GeForce RTX 3060 cards can be purchased at prices ranging from 2,200 to 2,899 yuan (equivalent to $ 336 / $ 450). Also, according to The Block, after some time, some sellers have further reduced the price of cards to 1,760 yuan (270 USD) after potential buyers hesitated to take the "mined" cards at the previous price.
There have even been miners who try to sell cards without even removing them from their rigs and photographing their farms in working order.
Let us remind ourselves that buying graphics cards after mining is fraught with a bunch of potential problems: from banal "dead fans" to "fried to death" video memory and a defective graphics processor. In addition, such cards often do not have a residual guarantee, which also adds to the disadvantages of such a purchase.
Therefore, if you nevertheless decide to purchase a graphics adapter from a "farmer", try to check its performance as thoroughly as possible.
Source: VideoCardZ