Introduction
The wait for Celeron processors for the LGA1155 platform was very long. Many times the news said that they are already on the way, and are about to be released. But the summer dragged on, and budget processors did not appear.
You probably already asked the question: "Why are they needed at all?"
Judge for yourself – what platform has lived long without this family? Let's remember Socket 423 with its Pentium 4 – it quickly left. Then the 478 Socket – Celeron was presented on it and its life span was five years, then the long-lived LGA775, on which this brand went through several architectures and technical processes. Behind it is LGA1366, and yes, there were no budget stones for it, but they were not needed there at all. Still, this is a high-end segment.
LGA1366 was followed by LGA1156, and, after a little over a year, it has sunk into oblivion. History makes it clear to us that Intel does not release budget Celerons on a pre-dead platform. And the appearance of the Celeron "G" series for the LGA1155 platform hints that this connector will live for at least another two years, or even three years. Indeed, according to the statement of Intel itself, processors based on the next Ivy Bridge architecture will also be produced for it.
A total of three CPUs were released under the Celeron G trademark. These are Celeron G440, Celeron G530, and Celeron G540. First, the G440 is a single-core model with a clock speed of 1600MHz and 1MB of L3 cache. Processors bearing indexes G5xx are dual-core solutions. And the youngest Celeron G530 just got into the test lab.
Let's take a look at its packaging:
Now let's look at the processor itself:
And at the screenshot of the CPU-Z utility:
Test specimen marking SR05H. The Celeron G530 processor is based on the Sandy Bridge core manufactured using a 32nm process technology, the chip has at its disposal 256KB L2 cache per core and 2MB of shared L3 cache. The processor frequency is equal to 2400MHz produced from the multiplier of 24 and 100MHz of the BCLK bus. The base voltage is 1.08V. It should also be noted that, unlike its older brothers, this processor lacks the AVX instruction set.
In idle time, thanks to Intel Speed-Step technology, the processor drops its frequency to the lowest possible in processors based on Sandy Bridge cores, 1600 MHz.
Also, when buying this processor, you need to remember that its memory controller does not support RAM with a frequency higher than 1066MHz.
Let's look at the comparative table of processors:
| | | | | | | |
| --- | --- | --- | --- | --- | --- | --- |
| | Celeron G530 | Core 2 Duo E6300 | Core 2 Duo E7400 | Core 2 Duo E8400 | Phenom II X2 945 | Athlon II X2 220 |
| Connector type | LGA1155 | LGA775 | LGA775 | LGA775 | AM3 | AM3 |
| Technical process | 32 | 45 | 45 | 45 | 45 | 45 |
| Frequency | 2400MHz | 1866MHz | 2800MHz | 3000MHz | 3000MHz | 2800MHz |
| Bus | 100 | 266 | 266 | 333 | 200 | 200 |
| Multiplier | 24 | 7 | 10.5 | 9 | 15 | 14 |
| L2 cache | 2x256Kb | 2Mb | 3Mb | 6Mb | 2x512Kb | 2x256Kb |
| L3 cache | 2Mb | – | – | – | 6Mb | – |
| Cores | 2 | 2 | 2 | 2 | 2 | 2 |
| TDP (watt) | 65 | 65 | 65 | 65 | 80 | 65 |
The beginner will have a hard time in the battle with powerful veterans of the processor world. Its low frequency can play a cruel joke with it. And to check this, it's time to go directly to the tests.
Test setup:
Motherboard LGA1155 – ASUS P8P61 M-LX2
Motherboard LGA775 – Biostar P35D2A7
Motherboard AM3 – ASUS M4A785TD-V EVO
Processors – Core 2 Duo E6300, Core 2 Duo E8400, Phenom II X4 945 (Disabled two cores), Athlon II X2 220, Celeron G53
CPU cooling LGA1155 – Intel BOX
CPU cooling LGA775 – Zalman 7700cu
CPU cooling AM3 – Cooler Master Susurro (RR-KCT-T9E1)
RAM – 2x2GB DDR3 Corsair XMS3 PC10700 (9-9-9-34)
RAM – 2x2GB DDR2 Corsair PC6400 (5-5-5-16)
Video card – Sapphire Radeon HD5770 (960/5300MHz)
Power supply – FSP 500W
HDD – Samsung SP160GB
Software:
Windows 7 x64 SP1
CPU-Z 1.58
CineBench 9.5 x64
CineBench 11.5 x64
Light Work – Renderbench
3D Mark 2006 v1.2.0 (CPU test only)
3D Mark Vantage v1.1.1 (CPU test only)
Hot CPU tester PRO
AMD Catalyst 11.9
wPrime v1.55
Fritz Chess Benchmark
SuperPi 1.4
FRAPS v3.1.0
Graphics quality settings in games:
GTA IV:
Resolution – 1280х1024
Textures – high
Reflection resolution – high
Water quality – very high
Shadow quality – high
Filtration quality – x16
Viewing distance – 100
Detail depth – 100
Traffic flow – 100
Depth of field of observation – on/on
Vertical sync – off/off
Prototype:
Resolution – 1280х1024
Textures – high
Shadows – high
Anti-aliasing – 0х
Rendering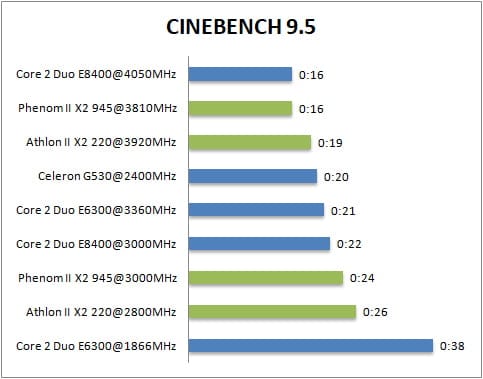 If you've already read the previous article on the Core i5 2300 and Core i5 2500, then you probably already know how much faster the new architecture is in rendering. But here, there is just a huge win! Only overclocked processors of previous generations were able to outrun the newcomer!
Overall perfomance:
A good start and a good continuation, this is how general performance tests can be characterized. Overtaking the Phenom II X2, the Celeron G530 showed that AMD's time to move, because the Athlon II X2 looks dull compared to the newcomer. I was surprised by the Hot CPU Tester Pro, in which the Celeron G530 overtook all opponents, even the Core 2 Duo E8400 working at a frequency of 4050 MHz did not come close to the new Intel product.
Caclulations: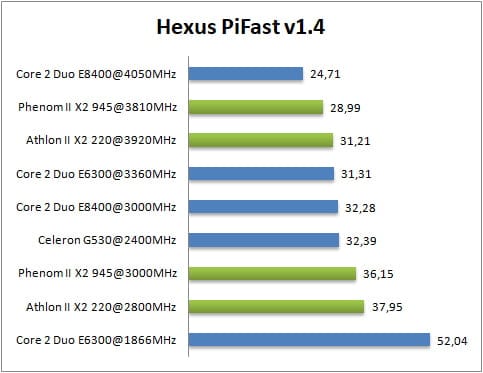 Slower and slower, here Celeron G530 lost to Athlon II X2 220 in two tests.
Video encoding:
In video encoding in x264 format, the Celeron G530 performed well, outperforming the Core 2 Duo E8400 working at base frequencies, but it failed to catch up with the Phenom II X2. After overclocking rivals, the stock G530 looks extremely weak.
Archiving:
Architectural improvements and an updated memory controller helped Celeron G530 to take 4th place, ahead of E8400 and the overclocked Athlon II X2.
Games: Synthetic
In the synthetic benchmark 3D Mark, the newcomer was only able to compete with the AMD processor family. In Futuremark test suites, the positions of Core 2 processors are traditionally extremely strong, however, given the extremely low clock speed of the cores, Celeron G530 looks quite good.
Games: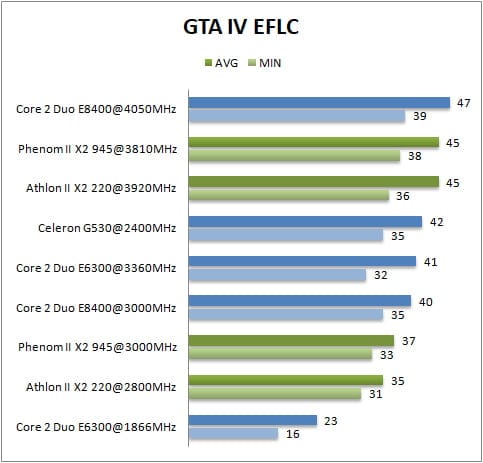 Games – this is where even the slowest processor built on Sandy Bridge architecture begins to unfold! If in the Prototype game the competitors still somehow tried to compete with the Celeron G530, then in GTA4 they successfully surrendered and only overclocked versions of the processors were able to overtake the daring newcomer.
After this review, we decided to introduce new graphs based on calculating the overall performance for all tests. The first graph shows the average performance in applications: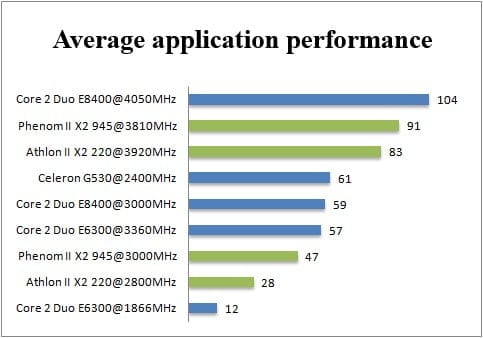 Celeron looks very impressive. Sometimes losing, but still making its way to the first place among overclocked competitors. The E8400's lag is easily compensated for by its excellent overclocking. Celeron cannot boast of this at all due to the presence of a locked multiplier.
The performance in games was spoiled by the 3D Mark, but the fact remains that the Celeron G530 was only able to overtake the Phenom II X2 and its younger brother, together with the constant outsider Core 2 Duo E6300.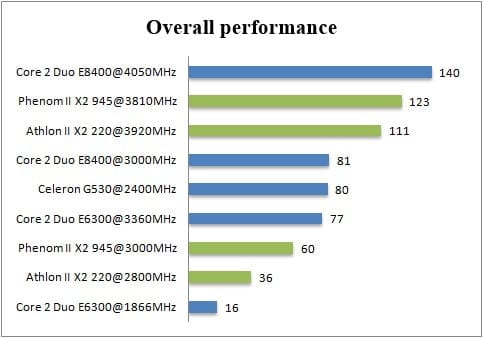 In overall performance, which included both game tests and tests in applications, the Celeron turned out to be one line lower than the E8400 but lost only a point. Which is quite impressive looking at its ~ $ 50 price tag.
Conclusion
Starting testing Celeron G530, I could not imagine what its real performance would be against the background of the selected competitors. Now I wondered if I named the review correctly? Perhaps it was necessary like this: Overtaking the Core 2 Duo E8400 and Phenom II X2? Indeed, in a number of applications, the newcomer turned out to be faster than these stones operating at base frequencies.
Either way, Intel has come up with a really powerful entry-level solution capable of delivering outstanding performance per unit of savings.
Should you buy it for games? The answer is obvious enough – no. However, for example, as a plug before buying the same Core i5, it will do just fine. The only thing that you should never do is buy it as a plug before purchasing a Core i3. The prices for these processors do not differ so much that it is spent twice.
Author: UmTale
Test setup accessories: UmTale, DENIM