Until recently, the Phenom X3 series processors looked not very attractive, to put it mildly. And frankly, this situation has developed not so much because of their relatively low performance in gaming applications (in professional tasks, tri-core processors have always been extremely good), but because of their high voracity and high-quality requirements for motherboards.
But let's not make any hasty conclusions, because about a year and a half have passed since the release of the Phenom X3 line, maybe the situation has changed at least in gaming applications? Probably any owner of the old three-core Phenom, whether he is an enthusiast or an ordinary user, will think about replacing it with the fresh Phenom II X3, or Athlon II X3. The new CPUs have their significant advantages: fresh 45nm technical process, high multiplier, low heat dissipation, and low requirements for the motherboard power subsystem.
We will not consider the upgrade to the Phenom II X3 for one simple reason: it is logical, but this CPU is practically no longer on the market, but Athlon II X3 can now be found in the price lists of any store.
Now let's take a look at the prices for processors that can be chosen as competitors to the Phenom X3 8450. It is not yet possible to consider competing solutions from Intel since there is no motherboard for LGA775 / 1156 in the laboratory. And for this reason the following CPU was chosen for the tests: Athlon II X3 435 ($ 75-90) – we will test this processor in four modes:
at the same frequency as the Phenom X3 8450, that is, at 2100 MHz – this step is necessary in order to find out how much the updated K10.5 architecture will be better than the old one, because, as we know, Athlon II does not have L3 cache, and the aged and hot Phenom as much as 2 megabytes;
at the frequency of the overclocked Phenom X3 8450;
at its base frequency of 2900MHz;
at maximum acceleration;
Processors:
Let's take a look at the hero of our today's review:
The marking of this instance tells us the following:
The processor is built on the AMD K10 architecture for workstations;
CPU rating 8450 – triple-core Phenom X3, with a bug fixed in the TLB;
Thermal package of the processor up to 95 W at supply voltage up to 1.25 V;
Critical temperature 70°C;
The processor is packed in a 940 pin OµPGA package (Socket AM2 +);
The L2 cache is 3 x 512KB;
The L3 cache is 2048KB
The processor is based on the Toliman core revision B3.
The latest version of the CPU-z utility notifies us that this is not a Phenom X3 8450, but an Opteron 1284 on the Barcelona core:
By running the previous version of CPU-z, we were able to confirm the authenticity of the test instance (which slightly confused us):
The utility confirmed that we are dealing with AMD Phenom X3 8450. It is based on the Toliman core produced in compliance with 65nm standards. The nominal clock frequency of the chip is 2100 MHz, it houses 2MB of L3 cache. The HT frequency is 1000MHz (in our case) and the frequency of the memory controller integrated into the CPU is 1800MHz.
We figured out the main character, so we will deal with his opponent. Athlon II X3 435:
All the details of its characteristics can be found in our recent review. And here we will restrict ourselves only to the readings of the CPU-z utility:
Next, we should tune our Athlon II to the same frequency as the Phenom. With a slight movement of my hand, I lower the multiplier to 10.5 and get an analog of the Phenom X3 8450 (in terms of the number of cores and frequency, of course):
Overclocking processors
There are frequent cases of failure of power circuits on motherboards when passing stress tests on AMD Phenom processors.
Based on this information and the bitter experience of one of my colleagues, sitting down to overclock Phenom X3 8450, I promised myself to be as careful as possible. But serious frequencies did not reach, because the test specimen practically from the very beginning reacted extremely weakly to an increase in the supply voltage.
At a voltage of 1.296 volts, the Phenom X3 8450 processor was overclocked to a frequency of 2362 MHz. Naturally, this is far from a record, but with such overclocking, it was not necessary to replace the cooling system. Cooler Master Hyper 212 Plus already worked at its limit.
To reach the same frequency as on the Phenom X3, the Athlon II X3 435 only had to set the HTT bus at 225MHz:
But to achieve maximum overclocking, I had to sweat a little. Unfortunately, we only had an exemplar of the first and relatively unsuccessful revision C2 in our test lab. Moreover, as it turned out a little later, this chip is literally a "failed" Phenom II processor.
In other words, under the cover of this CPU, there is a full-fledged Deneb crystal with 6MB of L3 cache. Therefore, it turned out to be very hot, and besides, it also gave little to an increase in frequency from an increase in the supply voltage.
After a lot of experiments, it turned out that our Athlon II X3 435 is able to operate stably at 3470MHz at a voltage of 1.442 volts. Further increases in voltage did not lead to anything and it was not possible to squeeze additional megahertz out of the stone.
With this overclocking, the RAM operated at an effective frequency of 956 MHz with delays of 5-5-5-16.
Test setup:
Processors – Athlon II X3 435, Phenom X3 8450
Cooling the CPU – Cooler Master Hyper 212 Plus
Motherboard – ASUS M2N68 AM-SE2
Video card – GAINWARD GeForce GTX280 (stock frequencies)
RAM – 2 slots of 1GB each manufactured by PQI PC6400 (timings 5-5-5-15)
HDD – Samsung HD161HJ 160GB
Power supply – Cooler Master Silent Pro M500
Software:
Windows 7 x64 SP1
CPU-Z 1.55
CineBench 9.5 x64
CineBench 11.5 x64
Light Work — Renderbench
3D Mark 2006 v1.2.0 (CPU test only)
3D Mark Vantage v1.1.1 (CPU test only)
Hot CPU tester PRO
wPrime v1.55
Fritz Chess Benchmark
SuperPi 1.4
WinRar 3.9
FRAPS v3.1.0/build11052
NVIDIA ForceWare 257.15 (BETA)
Games:
Prototype
Grand Theft Auto IV
Colin McRae: DiRT 2
Need for Speed: Shift
The average and minimum frames per second were taken using the Fraps utility.
As a screen resolution in all games, the maximum processor-dependent 1024×768 pixels was set. The rest of the graphics settings are set to maximum.
Let's go directly to testing processors.
Rendering: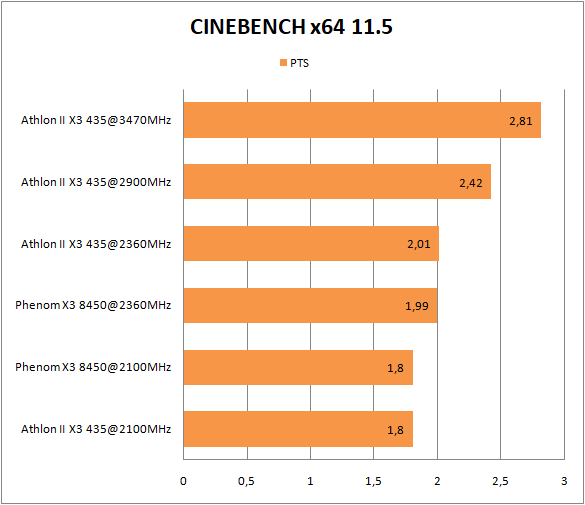 Cache memory does not play a special role in rendering, and therefore the technologically advanced Athlon II outperforms the Phenom even at equal frequencies, not to mention overclocking.
Calculations
In wPrime, the architectural improvements of Athlon II X3 turn out to be more advantageous than the L3 cache of the Phenom II X3 even at the same frequencies.
Overall performance
Archiving
Here the old Phenom X3 is greatly helped by its 2MB L3 cache. Nevertheless, even so it cannot reach the Athlon II X3 operating at the base frequencies.
Games, Synthetics
Testing in synthetic gaming applications showed that the Phenom X3 8450 goes head-to-head with the Athlon II X3 435, but only if it works at the same frequencies. The Phenom X3 8450 cannot cope with the base operating mode of the Athlon II X3, and even more so with its overclocked version.
In games, the situation is different. The Phenom X3 8450 processor has an L3 cache, which is very important for projects of this kind. Therefore, neither microarchitectural improvements nor a faster memory controller helps Athlon II X3 to gain victory at equal frequencies.
However, the 45nm chip has a trump card in the form of a high base frequency and the ability to increase it up to 3500MHz. In this case, the old Phenom X3 8450 can no longer oppose the Athlon II X3 435.
Conclusions
The Phenom X3 8450 processor shows almost the same performance as the more recent Athlon II X3 at the same frequency. Besides, in some tests, for example, in games, it can demonstrate better results than Athlon.
However, an extremely unpleasant feature of the Phenom X3 is its terrible power consumption and heat dissipation.
For high overclocking, about 2700 MHz + (for the 65nm Agena core, this is a lot), an expensive, high-quality motherboard and replacement of the standard cooling system with a more efficient one are required, and when overclocking Athlon II X3 to such frequencies, you can do without replacing the cooling system with a cheap board on a budget chipset.
Test bench accessories: DENIM, Jester, MTPZP
Last fix and addition 05/22/2020: improved graph quality.