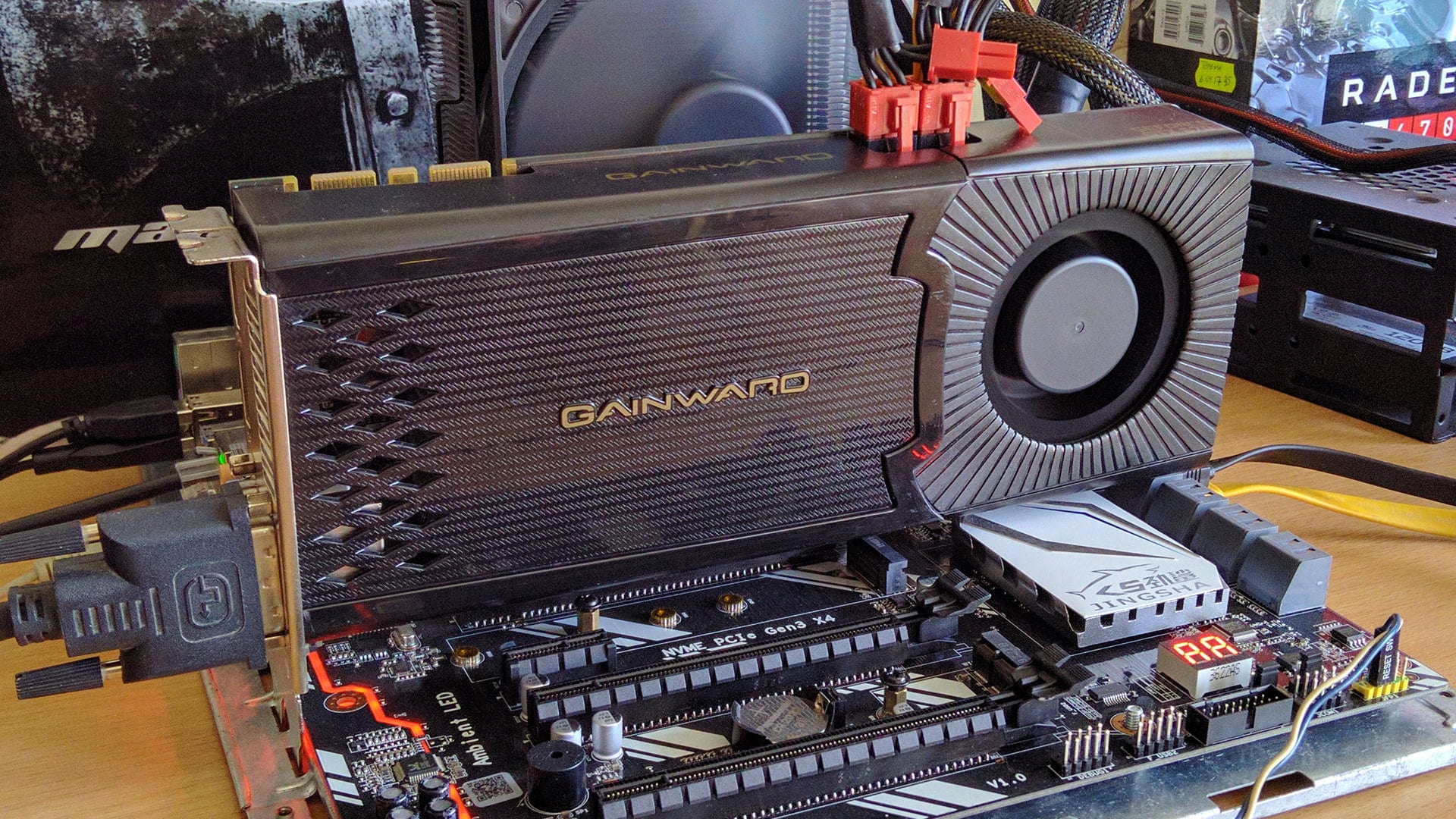 Recently, two representatives of NVIDIA video cards of the "Kepler" generation turned out to be in our test laboratory at once, and we decided to immediately investigate their performance. Moreover, it seemed to us extremely interesting to find out whether the outdated two-gigabyte adapters will be able to demonstrate acceptable performance in the extremely unfriendly realities of 2020.
Thus, the idea was born to turn this study into a whole series of materials devoted to video cards based on the NVIDIA Kepler architecture. However, we will warn you in advance that the release of a new article in this series may be greatly delayed, since at the moment there are only two representatives of this GPU generation available.
Let's start with a single-processor, pre-top video card of the "six hundred" series – GeForce GTX 670. By a lucky coincidence, we got our hands on a slightly modified NVIDIA reference sample, manufactured by Gainward:
Chinese engineers did not bother too much and only slightly revised the reference implementation of the cooling system developed by their colleagues from NVIDIA. However, make no mistake – only the radial turbine itself has undergone real changes.
Otherwise, there are practically no differences: we are greeted by a small reference aluminum radiator with a copper base for the GPU and a relatively overall radiator for the video card's power supply circuit: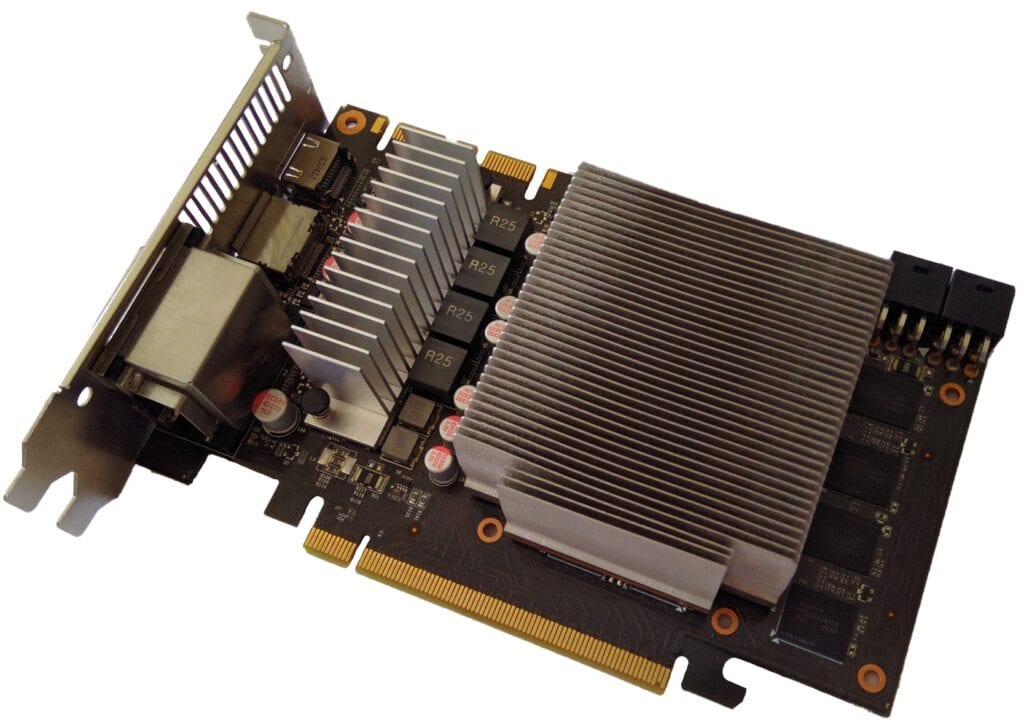 You rarely see this, but on the copper base of the radiator, the date of its production is applied – 2012, November 31:
Board and power supply system
The Gainward GeForce GTX 670 PCB is much more different from the NVIDIA reference design than meets the eye. The first thing that catches your eye is the location of the GDDR5 memory chips only from the GPU side. For reference samples, the memory is wired on both sides:
The second significant change was the use of DrMOS assemblies in the GPU power system (DrMOS combines MOSFET transistors and their drivers in one package.) "DC27 AP FDMF 6823С" instead of the usual reference MOSFETs. However, there are still only four power phases for the GPU.
The power supply of the GDDR5 video memory has not actually undergone any changes. The usual "SM7302 R093N" MOSFETs are used here. Thus, the engineers at Gainward had no trouble taking the NCP5392P reference power controller as a basis.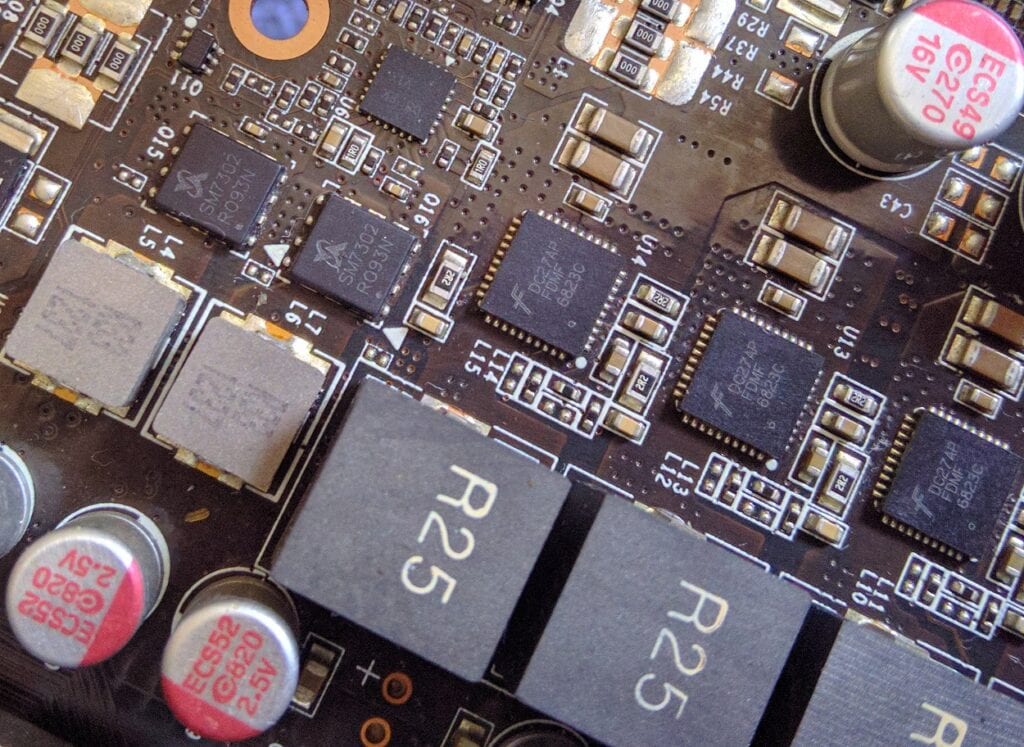 I would very much like to say that the DrMOS assembly data, as a result, turned out to be much more reliable and of higher quality than banal MOSFETs with drivers – but no. Unfortunately, as practice shows, they fail with about the same probability as the reference GPU batteries.
Nevertheless, if you do not play around with overclocking (and with such a cooling system it is absolutely contraindicated to do this), adjust your own turbine speed curve, and also not increase the Power Limit above 100%, the card should have survived until 2020.
GPU and memory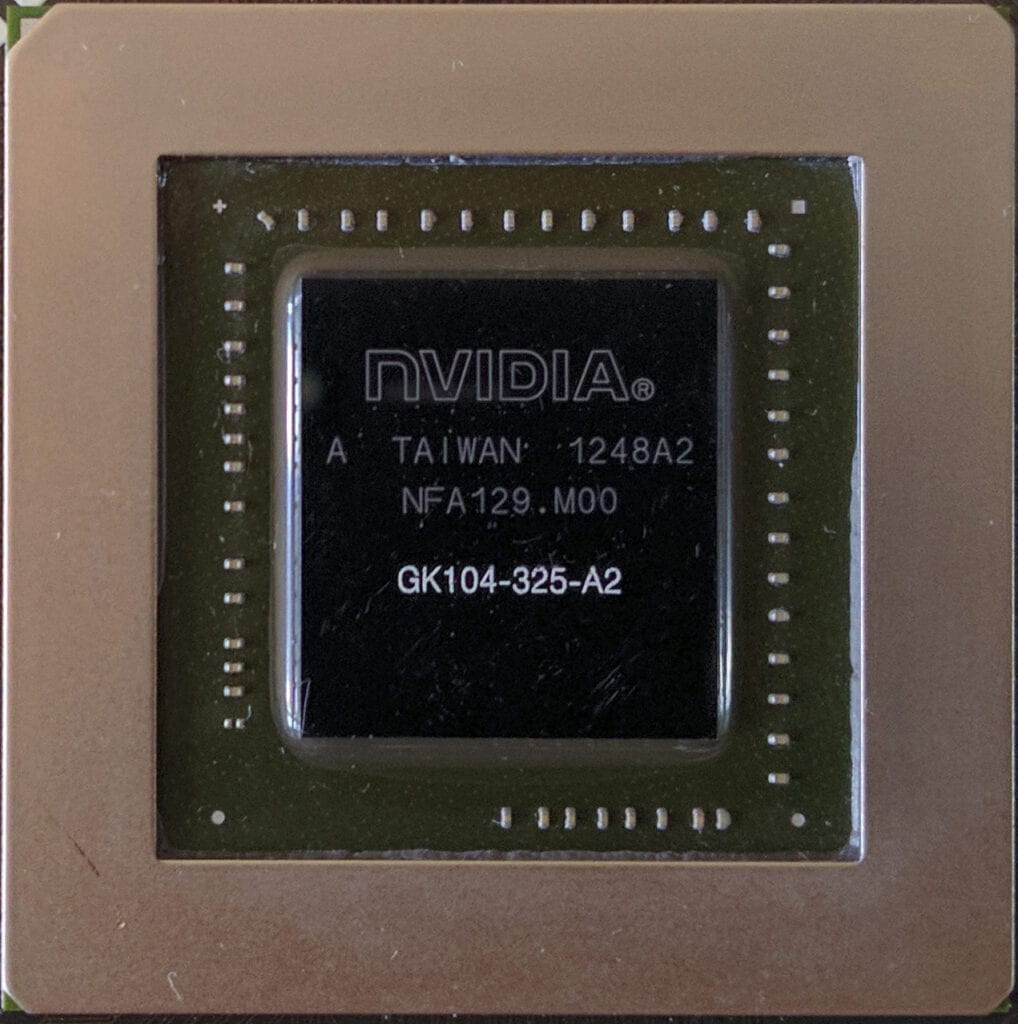 The heart of the GeForce GTX 670 is the GK104-325-A2 GPU. Compared to its top-end configuration used in the GTX 680, it lost one SMX unit, which reduced its physical processing power from 1536 stream processors and 128 texture units to 1344 and 112, respectively.
Regarding the video buffer, the presented GeForce GTX 670 uses 8 x 2 Gigabit (256 MB) GDDR5 chips from SK Hynix with the marking H5GQ2H24AFR as memory:
According to information from the official Hynix website, this memory is designed to operate at an effective frequency of 6000 MHz. The H5GQ2H24AFR chips are quite common on the GTX 600 and GTX 700 series cards – both in 2GB and rare 4GB versions.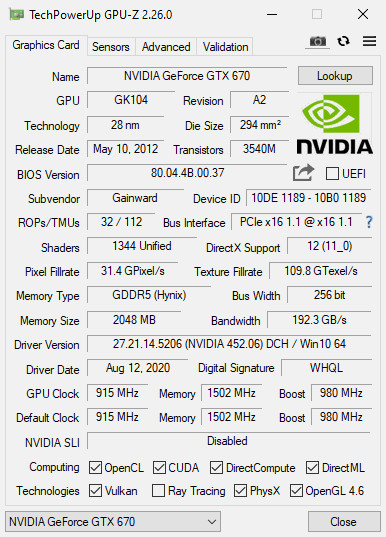 The base frequency of the GPU is 915MHz, and the maximum declared by the manufacturer is 980MHz. Nevertheless, in most games, the GPU frequency was at around 1019-1084 MHz, leaning more towards the last figure. The maximum recorded voltage of the GPU stopped at around 1.175 volts.
In the FurMark stress test, the GPU frequency of our GTX 670 sample was 915MHz base at 1.037 volts. And there is nothing surprising here because the video card runs into its own power consumption limit (Power Limit) set at 160-170 watts.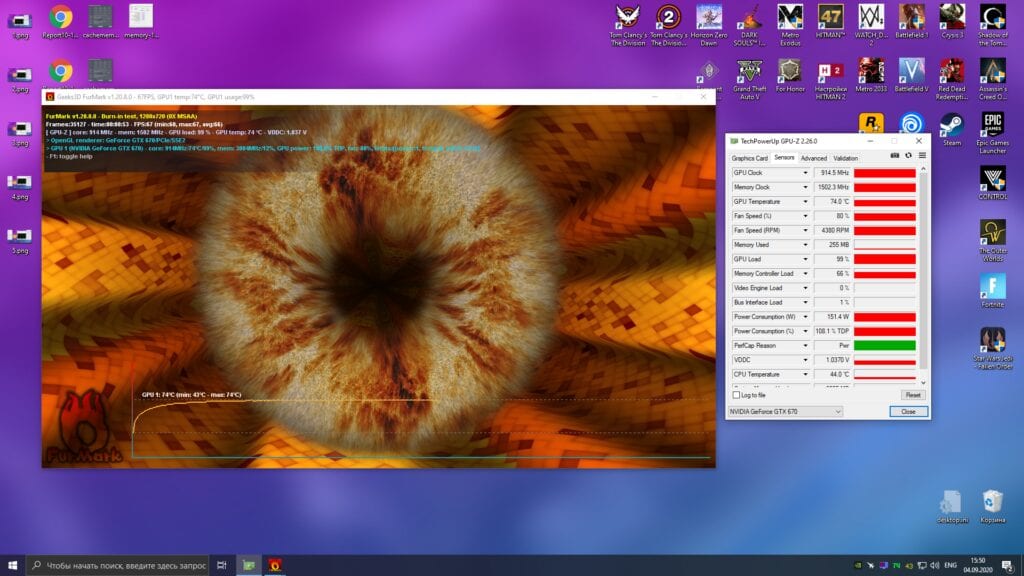 The peak GPU temperature was 74 degrees, which is extremely high, especially considering the room temperature of 24 degrees. In the summer heat, the video card can easily warm up to 80 degrees and even step over this temperature a little.
Test setup:
Processor – Xeon E5-2630L [email protected] (unlocked Turbo Boost frequency);
Video card – Gainward GeForce GTX 670 2GB DDR5 (stock frequencies, Power Limit 100%);
Motherboard – Kllisre X99-D8 (AD12) with modified bios;
RAM – G.SKILL [email protected] 4 x 2GB F4-2400C15S-4GNT, with a total volume of 16GB (delays 10-10-10-24);
SSD – KINGSTON 120GB SA400S37120G;
HDD – Seagate 2TB ST2000DM008-2FR102;
Power supply – Chieftec GPS-1250C.
Games and graphics settings:
All games featured in the GTX 670 benchmark have been updated to the latest version.
Assassin's Creed Odyssey – resolution 1920×1080 (render 1920×1080), low graphics quality settings;
Control Ultimate Edition – resolution 1920×1080 (render 1366×768), low graphics quality settings;
Counter-Strike: Global Offensive – resolution 1920×1080 (render 1920×1080), high graphics quality settings;
Destiny 2 – resolution 1920×1080 (render 1920×1080), medium graphics quality settings;
For Honor – resolution 1920×1080 (render 1920×1080), high graphics quality settings;
Fortnite – resolution 1920×1080 (render 1920×1080), high graphics quality settings;
Horizon Zero Dawn (tested on patch 1.03) – 1920×1080 resolution (render (70%) ~ 1280×720), ultra low graphics quality settings;
Red Dead Redemption 2 – resolution 1600×900 (render 1600×900), ultra low graphics quality settings;
Remnant: From the Ashes – resolution 1920×1080 (render 1920×1080), medium graphics quality settings;
Outer Worlds – resolution 1920×1080 (render 1920×1080), low graphics quality settings;
Tom Clancy's The Division – resolution 1920×1080 (render 1920×1080), medium graphics quality settings;
Tom Clancy's The Division 2 – resolution 1920×1080 (render 1920×1080), low graphics quality settings;
Watch_Dogs 2 – resolution 1920×1080 (render 1920×1080), high graphics quality settings;
For more detailed graphics settings, you can familiarize yourself with the video recording of testing the GTX 670 video card, which is located at the end of this article.
Let's move to studying the performance of the "average" Kepler in games:
Assassin's Creed Odyssey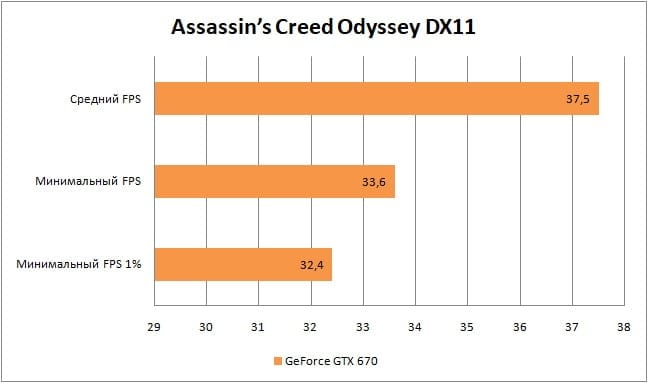 The first game on our list, Assassin's Creed Odyssey, brings us down to earth. In combination with low graphics settings and FullHD resolution, the GTX 670 video card shows relatively weak results, bordering on the minimum allowable 30 frames per second. Nevertheless, if the number of FPS is more important for you than the quality of the picture, then an increase in the frame rate can be obtained by reducing the resolution.
Control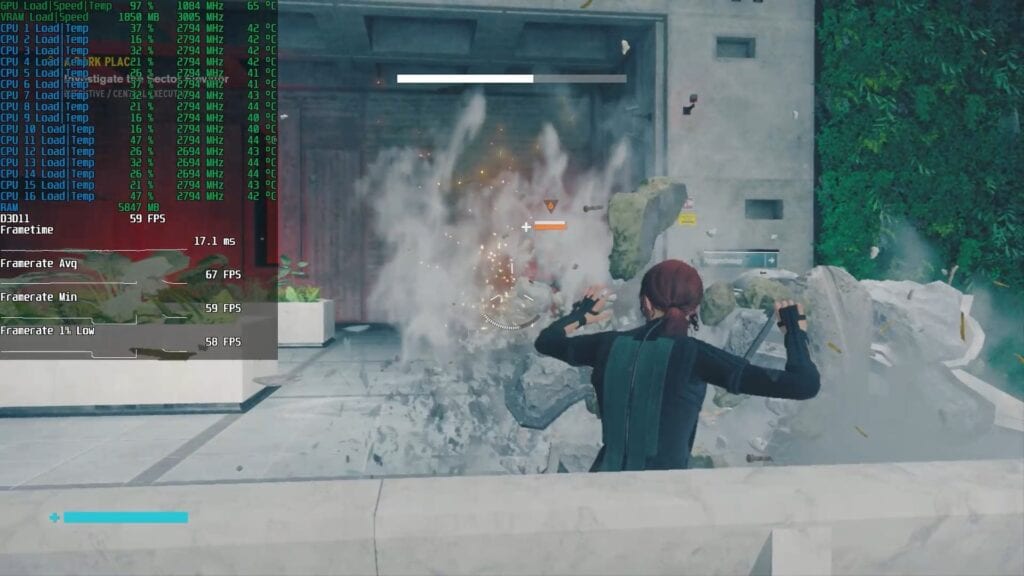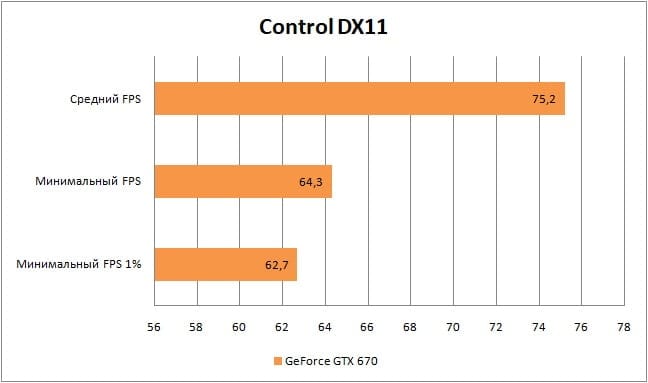 Unlike Assassin's Creed Odyssey, Control is a more dynamic game, so the 30-45 frames obtained in FullHD seemed too little to us, but by lowering the internal rendering resolution to 1366×768 we were able to achieve an average of 75 FPS, while not losing much in the quality of the final image. Which is actually an amazing result! Sam Lake and his Remedy Entertainment team have done a truly titanic work on their engine, which, for a second, was also used in their last project – the extremely "gluttonous" Quantum Break. Bravo!
CS:GO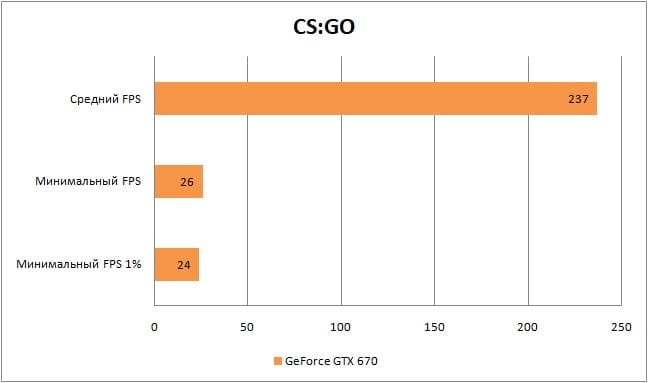 To test the performance of Counter-Strike: Global Offensive, we used a benchmark from the game's workshop.
If everything is fine with the average frame rate, then with the minimum one, the GTX 670 has obvious problems. However, you should not take the benchmark data for the ultimate truth: it generates many events that are almost impossible to get in one game situation.
For example, on classic maps from quick matches, such low FPS rates were not noticed. Plus, you always have the option to lower the graphics quality settings.
Destiny 2
Given the specificity and PVE focus of the Destiny 2 project, an average frame rate of 51 is a perfectly acceptable result. However, if we talk about the "Crucible" PVP mode, then here you have to lower the settings to a minimum.
For Honor
Medieval battles in For Honor run on the GTX 670 at ~ 60 frames per second, which at high graphics settings is simply amazing!
Fortnite
The same goes for Fortnite. With a GTX 670 graphics card in your gaming system, you can play Epic Games' Battle Royale comfortably at 1920×1080 resolution and high graphics quality settings.
In this game, it doesn't make much sense to look at the 1% of rare events indicator, since for the most part, it is associated with data downloads from the drive.
Horizon Zero Dawn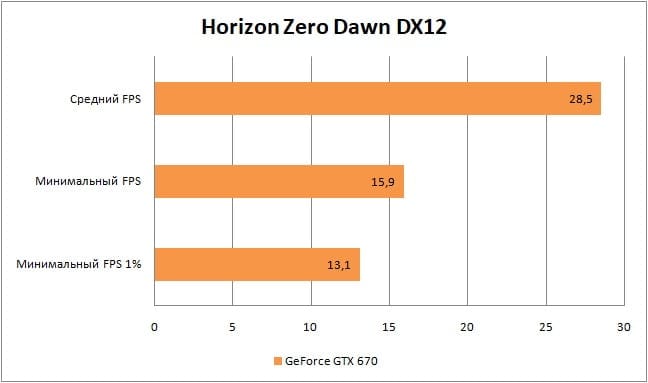 But it is almost impossible to play in the sensational project from Guerrilla Games – Horizon Zero Dawn. In addition to flickering objects, low FPS, to put it mildly, disgusting graphics at low settings, on top of that, the game still quite often crashes to the desktop. Although the latter phenomenon is not associated with a specific video card (similar problems plague more modern cards like RX470 / 1070/1060). Unfortunately, patch 1.03 did not completely eliminate Horizon Zero Dawn crashes.
By the way, we even inserted one of these moments of the crash into the video about testing the GeForce GTX 670, which, as I mentioned earlier, is at the end of this article.
Red Dead Redemption 2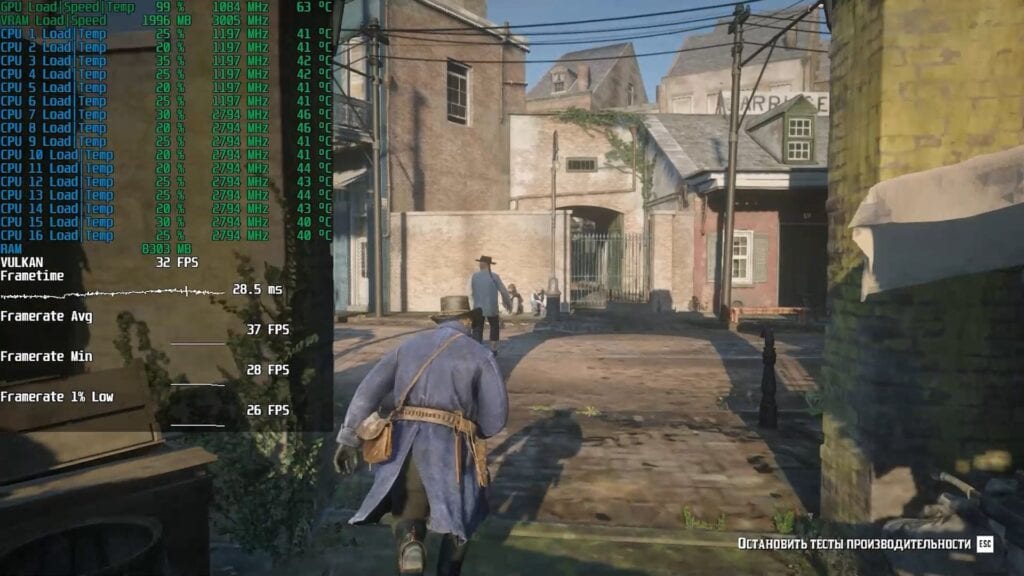 If we are talking exclusively about the storyline company Red Dead Redemption 2, then gritting its teeth, the GeForce GTX 670 video card can allow the game to pass, while balancing on the brink of unplayability. Another question, is it worth it? RDR2 is an extremely rewarding and exciting project, and it will take more than a dozen hours to put up with constant FPS drops, ultra-low graphics settings and "ladders" from low resolution. Whether it makes sense to spoil your impression of a game like Red Dead Redemption 2 is up to you, of course, but the GTX 670, in turn, will prepare for you an average of 36 and minimum of 28 frames per second.
Remnant
Last year's sensational Souls-like action game Remnant: From the Ashes can be safely played on a GTX 670 video card. The game works perfectly: no freezes, no lags, and most importantly, a high frame rate: an average of 75 and a minimum of 55. The main thing is not strong overestimate the graphics settings, otherwise, after the 2GB video buffer overflows, the game may experience serious FPS drops.
Outer Worlds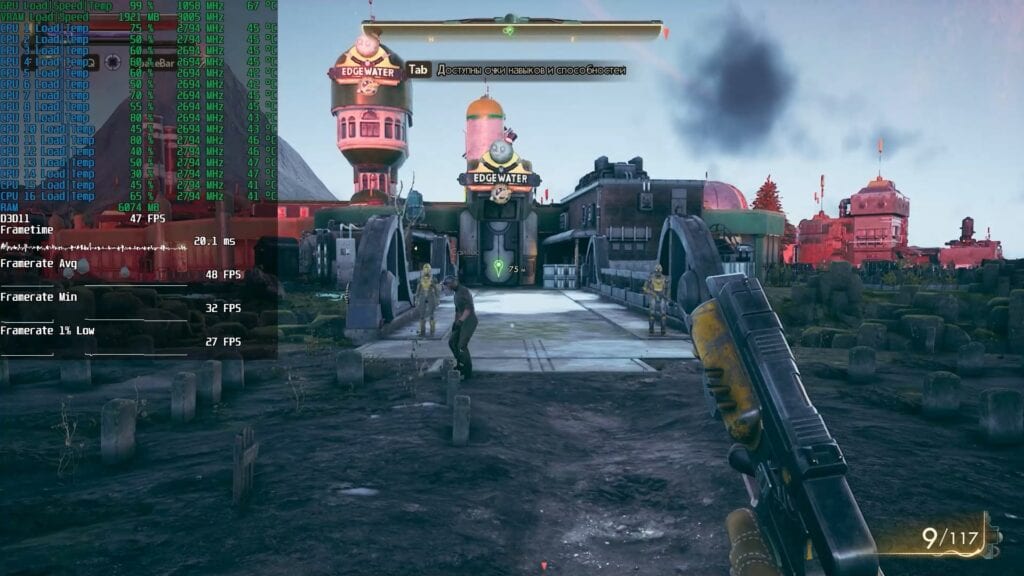 The performance of the GTX 670 in Outer Worlds is at a relatively acceptable level. In general, we did not notice any discomfort from the gameplay with such a frame rate, but the game did not allow us to raise the settings above the "low" ones: the FPS became completely unplayable.
The Division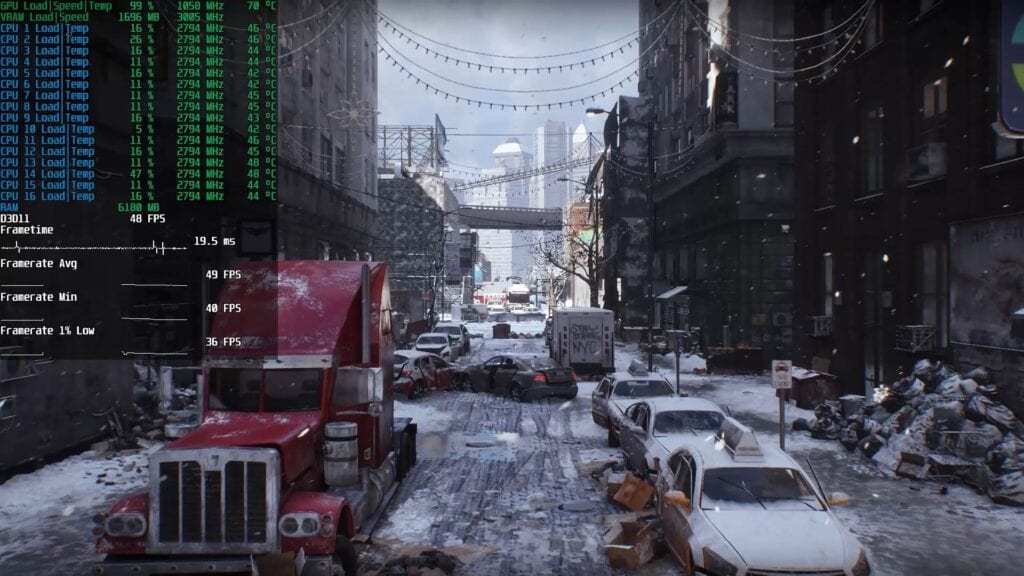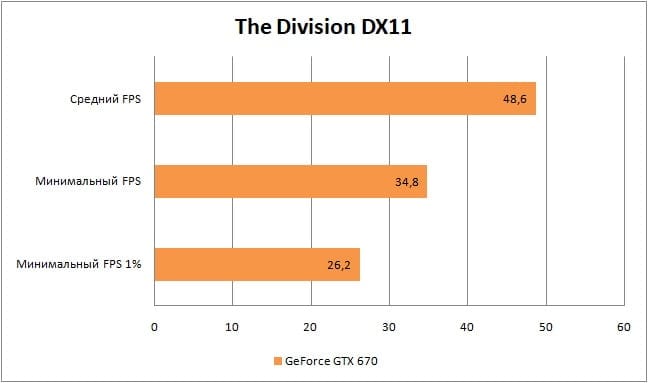 In the first part of MMOFPS The Division, the situation is extremely ambiguous. With medium graphics settings selected for testing, the GTX 670 performs fairly mediocre at 48fps. But on the other hand, the owner of this card still has a choice: low settings, or the render resolution reduced to 1600×900.
Nevertheless, it will be possible to play exclusively in the PVE component of the project on medium graphics quality settings. But before going to the "Dark Zone" (there is a chance to run into PVP in it) it is better to set the quality to "low".
The Division 2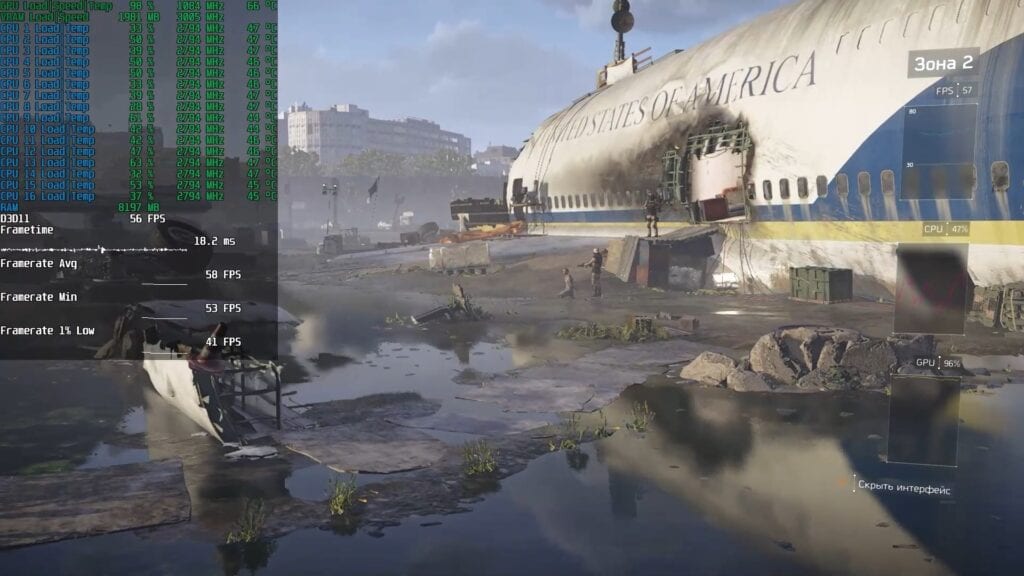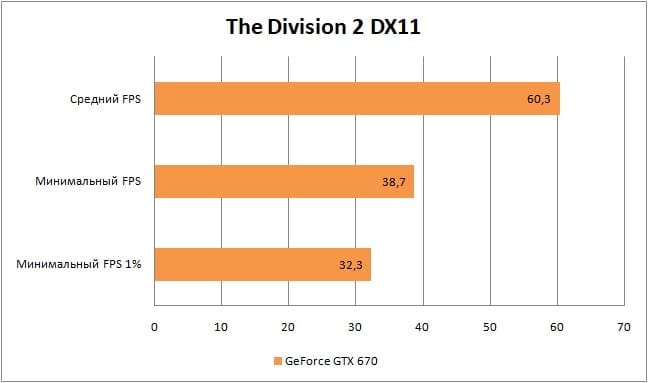 In the next part of the game – The Division 2, there is already catastrophically little room for maneuver: If 60 average and 38 minimum frames per second are not enough for you, you will have to sacrifice the screen resolution and lower it to 1600×900, or to 1280×720. However, in our opinion, this is a perfectly acceptable result in order to enjoy the PVE content of Division 2.
Watch_Dogs 2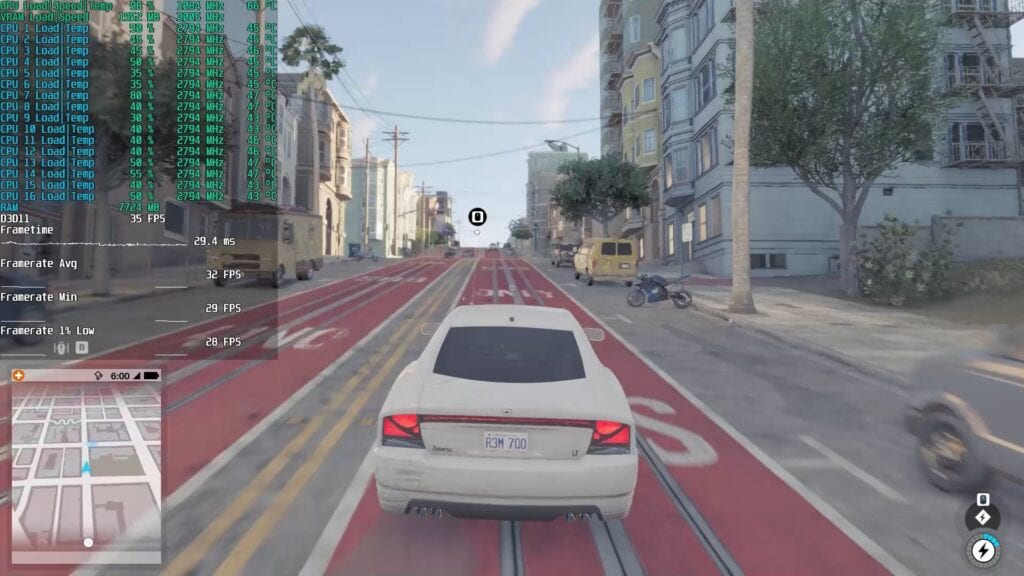 In Watch_Dogs 2, the GTX 670 played well with high graphics quality settings. Moreover, if at first glance the obtained 36 average and 29 minimum frames per second seem to be a weak result, then in practice this is completely wrong: the gameplay with such an FPS indicator is quite pleasant, the control of vehicles is at a quite comfortable level, and aiming and shooting weapons does not cause any problems. In general, 30 frames in Watch_Dogs 2 look quite decent.
Plus, you have the option to lower the graphics settings to medium and actually get a 2x performance boost. Or completely – customize the game for yourself using a mixture of minimum, medium and high settings.
Conclusion
Initially, starting this testing, I did not expect that the old video card GeForce GTX 670 is still capable of something. However, based on the results obtained, the budget "Kepler" in 2020 can still provide its owner with a more or less playable frame rate change in modern and relatively modern projects.
Unfortunately, you often have to reduce the graphics quality settings to their minimum values. Sometimes it is even possible to step over the minimum comfortable resolution of 1920×1080 (for the corresponding monitors) and lower it to 1600×900, or even worse – to 1366×768. But for some reason, it seems to me that the potential owners of this video adapter already understand it.
However, there is good news: if your monitor does not support Full HD, then you will definitely not have problems with the GTX 670.
And in the end, a few words about the relevance of this graphic solution and its position on the used components market:
At the moment, cards like the GeForce GTX 670 are still very popular, and therefore quite common in the secondary market. However, often, the price of these cards completely inadequate and in no case does not match their performance. In addition, the 2GB video memory, modest by the standards of 2020, becomes a stumbling block for the tolerable performance of the GTX 670, 680 and 690 adapters: this video buffer is not enough even for minimal settings in the vast majority of tested projects.
Summarizing all of the above, I would by no means recommend a GeForce GTX 670 video card for buying on the secondary market. Even if you are extremely tightly constrained by finances: Better wait, save up some money and turn your attention to slightly more expensive cards like Radeon RX 470 (4GB ) or GeForce GTX 1060 (3GB). The performance of these video adapters is at a completely different level, and at the same time, their price is sometimes only a couple of tens of dollars higher than that of the same GeForce GTX 670.