Today, the American overclocker keeph8n presented four new records to the public at once: two in the AMD Ryzen Threadripper 3960X processor rank and two in the 24-core rank.
It should be noted that throughout the entire bench session, the chip was cooled not with liquid nitrogen, which is usual for extreme experiments, but (relatively) with an ordinary water cooling system.
The American won the first gold in the hardest discipline HWBOT x265 Benchmark – 4k: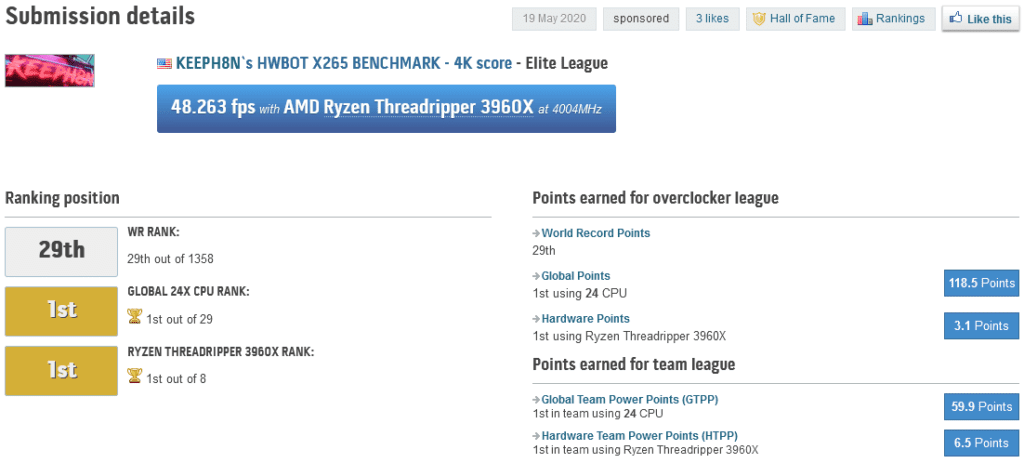 During testing, the processor operated at 4004 MHz at 1.240 volts, and the final result was an impressive 48.263 frames per second:
The second achievement for keeph8n was the first place in the 24-core rank in the no less difficult discipline wPrime – 1024m.
In this case, the chip worked at a frequency of 4475 MHz at a voltage of 1.440 volts, and the result was 23 seconds 283 milliseconds:
The enthusiast's test setup consisted of the following components:
Motherboard – ASUS ROG Zenith II Extreme Alpha
RAM – 4 x 8GB G.SKILL F4-3600C17-8GTZR with CL16.0 15-15-30 timings
Video card – NVIDIA GeForce GT 1030 (GDDR5)
Source: Keeph8n profile on HWBot website