The AMD Ryzen 5 3400GE 35W processor is a relatively rare guest in retail stores. This is because this APU is essentially an OEM processor, which means it is intended for companies that assemble ready-made solutions and is not designed for retail sales.
Unfortunately, the 3400GE did not come into my hands for a long time and I did not have enough time to fully test such an interesting and rare CPU. Nevertheless, I managed to do a little research on the performance of the AMD Ryzen 5 3400GE chip. But first things first. Let's take a look at the culprit of this blog first:
Processor
The APU Ryzen 5 3400GE 35w carries 4-cores 8-threads with Zen+ architecture, which are adjacent to 11 Vega graphics units (GPU configuration: 16 ROPs, 44 TMUs, and 704 SPs).
The Ryzen 5 3400GE has 512KB L2 cache per core and a common small by Zen architecture 4MB L3 cache buffer. According to the official specifications, the base frequency of the CPU component of the crystal is 3300MHz, and the maximum is limited to 4000MHz. GPU speed can reach 1300MHz.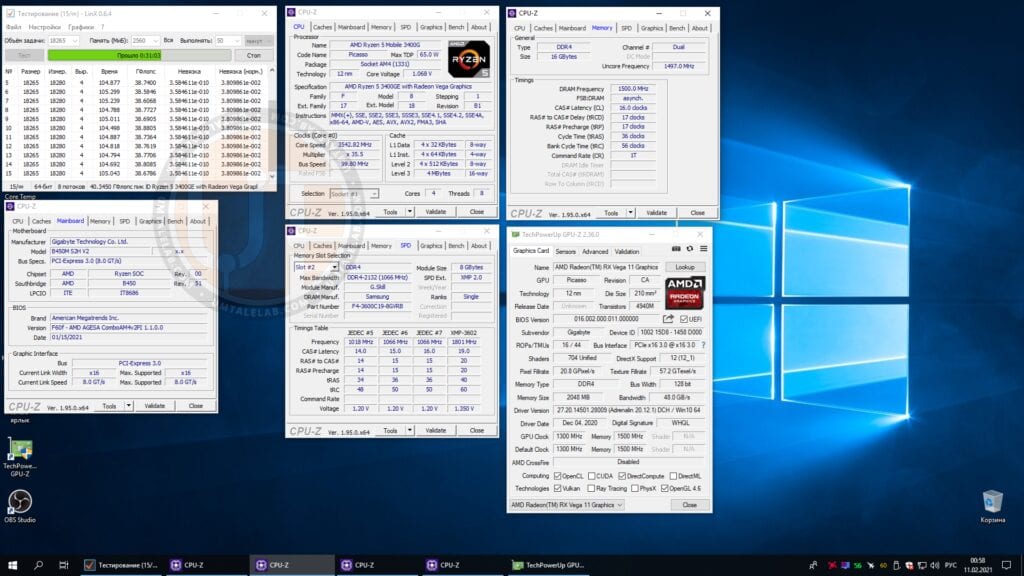 And here it should be clarified once again that we are dealing with a 35-watt processor:
In order to keep within such narrow limits of power consumption, the Ryzen 5 3400GE chip actually never runs at the maximum frequency of the CPU and GPU.
For example: In The Witcher 3 game, the core frequency of the tested APU did not rise above 2500MHz, and the frequency of the GPU was within 700-900MHz. As you can imagine, the recorded APU speed does not correlate in any way with what we see on the official AMD website. And it is quite obvious that such a decrease in speed has a rather noticeable effect on the final performance of the APU.
The "feature" of the AMD Ryzen 5 3400GE processor that has surfaced, so to speak, turned out to be an extremely unpleasant thing. But fortunately, there is a way out of this situation (in any case, it worked on a bench motherboard):
In order to push the 3400GE power consumption limit, you need to go into the BIOS of your motherboard (in our case, it is GIGABYTE B450M S2H V2), go to the "AMD CBS" section and move the "System Configuration" option from the "Auto" position to the "65WPOR Configuration" position. After that, the frequency of the chip in the complex load (CPU and GPU) will no longer fall below 3300-3500 MHz, and the frequency of the integrated graphics core will reach its nominal 1300 MHz.
However, most likely, the above settings can be really useful only for owners of GIGABYTE motherboards. But, in any case, now you understand where you should "dig" if the APU frequencies are far from their base values.
If we give real results of the increase in performance from increasing the TDP limit, then without changing the "System Configuration" option, the 3400GE chip demonstrated an average of 28 fps in The Witcher 3. After switching this option from the "Auto" position to the "65W POR Configuration" the average frame rate per second was 39. In other words, we were able to achieve a 35% increase in performance just by increasing the TDP limit.
Test SETUP and software
Motherboard – GIGABYTE B450M S2H V2;
RAM – 2 x 8GB DDR4 G.SKILL F4-3600C19-8GVRB;
SSD – Kingston M.2 UV500 240GB (SUV500M8/240G)
HDD – Seagate 2TB ST2000DM008-2FR102;
Power supply – Chieftec GPS-1250C;
OS – Windows 10;
Drivers – AMD Adrenalin 20.12.1.
FPS metering software – MSI Afterburner 4.6.2.
The Ryzen 5 3400GE has been tested in the following games:
Assassin's Creed Odyssey (Benchmark) – Low settings, 1280×720 resolution;
Death Stranding (Free mode, delivery) – Low settings, 1280×720 resolution;
The Witcher 3: Wild Hunt (Free mode, Novigrad) – Medium settings, 1280×720 resolution;
Horizon Zero Dawn (Free mode, start the game) – Low settings, 1280×720 resolution;
Shadow of the Tomb Raider (Benchmark) – Low settings, 1280×720 resolution;
World of Tanks (Play a replay recording) – Medium settings, 1600×900 resolution.
Testing features:
Testing of the AMD Ryzen 5 3400GE processor was carried out in 65W mode with DDR4 3000MHz RAM with delays of 16-17-17-36.
The results of testing the CPU AMD Ryzen 5 3400GE in several applications:
The results of testing CPU AMD Ryzen 5 3400GE and GPU Vega 11 in games: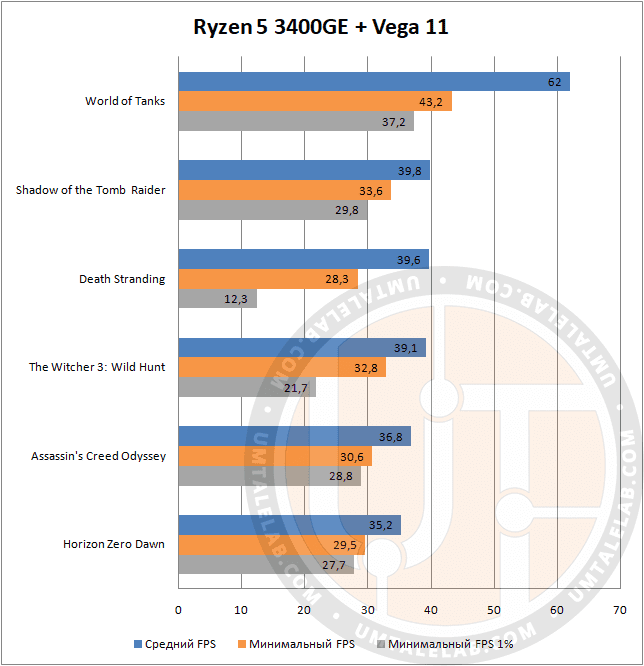 The Ryzen 5 3400GE APU handled all games tested at 720p, and World of Tanks managed to get a decent frame rate at 900p. Which, in my opinion, is an extremely good result. Just think about it: in modern realities, even on an integrated GPU, you can play Wild Hunt with an acceptable frame rate of 720p and with medium graphics settings!
The only thing that I would like to note separately is the rather weak indicators of rare events in Death Stranding. In the course of gameplay on the 3400GE chip, we periodically encountered unpleasant freezes, which were not present on full-fledged cards like Radeon RX 470 and GeForce RTX 2060. But in general, if you want to get acquainted with the project, then Vega 11 will cope with this task in full.
Conclusions
As I said at the very beginning of this material, it is extremely sad that the Ryzen 5 3400GE could not stay with me for a long time. Due to its narrow focus and rarity, this is a rather interesting chip, although it should be admitted that due to some pitfalls like a clamped TDP, it is very specific and not suitable for everyone.
Unfortunately, at 1080p, this processor was unable to demonstrate decent performance (which is why I did not shoot the performance in FullHD), but this is completely unsurprising. But the fact that, although with some reservations, the 3400GE coped with each of the tested games at 720p without any problems is really amazing.