Rare item trader Zur has arrived at the European Dead Zone. In order to get to him, you must land in Winding Cove and proceed to the place marked in the screenshot below: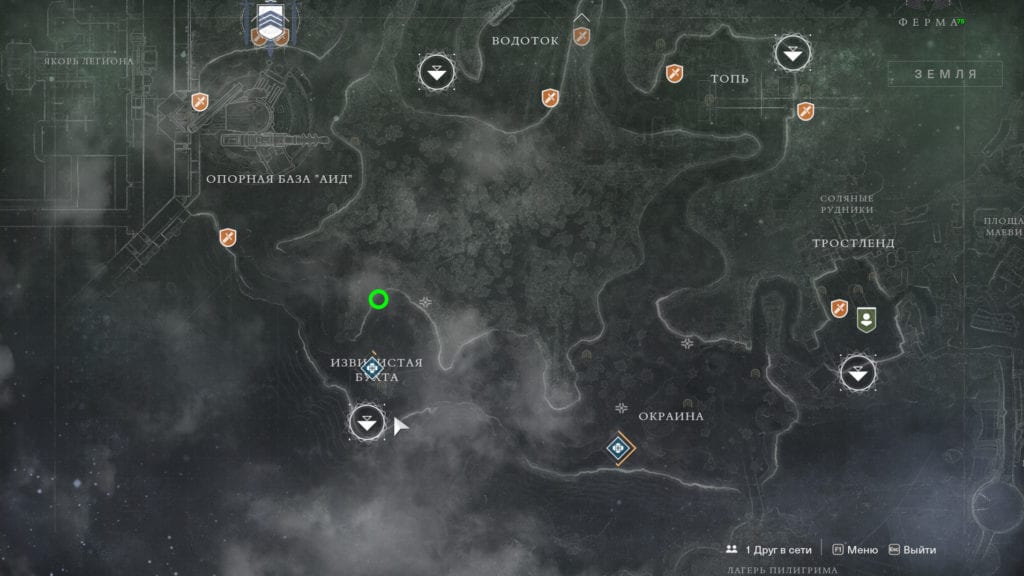 The items brought this week may disappoint experienced players, since they most likely already have them, but those who have just come to conquer the world of Destiny 2 will appreciate at least a couple of things.
The D.A.R.S.I sniper rifle with power supplies (in the third slot), although not popular in the current game "meta", is a fairly stable and convenient weapon. If you are new to the "sniper craft", it will help you get the hang of it as it is extremely easy to use. Plus, it has a rangefinder, which is an extremely useful feature in some situations (for example, measuring damage drops at a distance).
I can't say much about "Wormhusk Crown", however, in some situations (PVP?), It can be useful. In my opinion, the Hunters were not particularly lucky this week.
The same cannot be said about warlocks. "Evening Star" is also not very popular, however, for example, during the solo passage of the activity "Shattered Throne" in the city of dreams, in some moments, it can be useful.
And finally "Toolbox" for the titans. This armor has a special skill "two grenades", which is extremely useful for fulfilling some contracts, especially from Zavala (Vanguard).
Also, for 99 Legendary Shards, the Doom Engram is available to you. Recently, it can drop exotic items from the Forsaken expansion.
As a reminder, trader Zur will be at the EDZ only from July 26 to July 29. After that, he will have a break and change of subjects.
This post is also available in:
Русский