German overclocker Bullshooter was able to get four records in the 45nm, quad-core Intel Core 2 Quad Q9300 ranks in the disciplines SuperPi – 1M, SuperPi – 32M, wPrime – 32m, and wPrime – 1024m.
But we will not start with them, but from the second place in the ranks of the chip of the same name in the "overclocking" discipline.
Using the relatively popular Gigabyte EP45T-UD3P motherboard, Bullshooter managed to overclock the Core 2 Quad Q9300 to a very impressive 4226MHz. According to the CPU-z database, the core voltage was 1.776 volts, the bus was set at 563 MHz, which, together with a multiplier of 7.5, gave the final frequency.
At the same time, the DDR3 RAM was overclocked to a frequency of 1352 MHz with delays of 6-6-5-18-2 (tCAS-tRC-tRP-tRAS-tCR). By the way, two Corsair CM3X2G2000C8GT strips, 2 GB each, acted as RAM.
Let's go directly to the benchmarks.
In SuperPi – 1M, the processor frequency dropped to 4202 MHz, and the final result was 11 seconds, 781 milliseconds: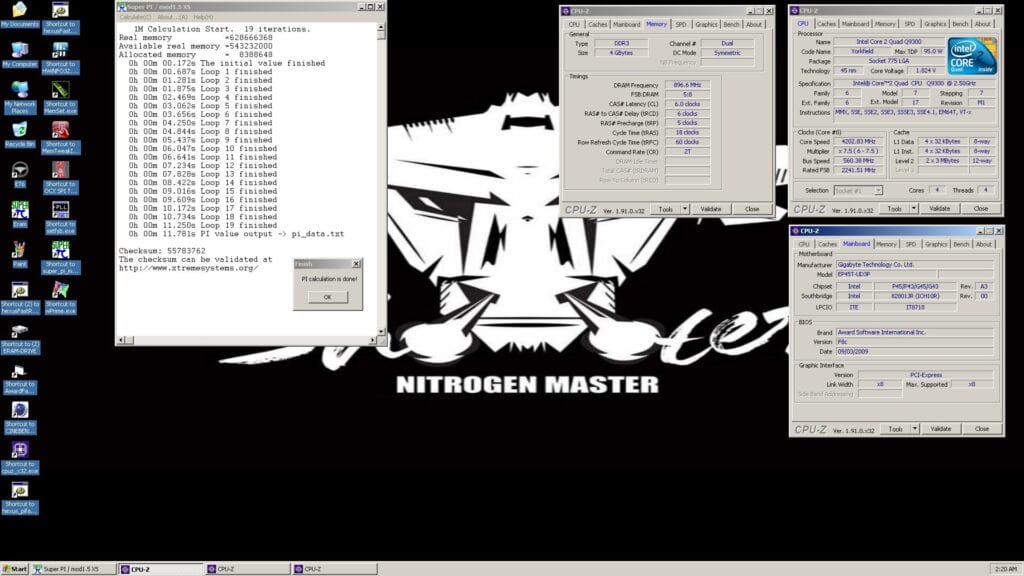 In the slightly more complex SuperPi – 32M, the frequency decreased even more and was only 4125 MHz with indicators of 10 minutes, 55 seconds and 422 milliseconds:
In wPrime – 32m, the German enthusiast was able to keep the frequency at 4232MHz, which eventually brought him a result of 8 seconds, 968 milliseconds:

And finally, in wPrime – 1024m, the frequency was 4220 MHz with indicators of 4 minutes, 47 seconds, 407 milliseconds:
Of the components used, in addition to the Gigabyte EP45T-UD3P motherboard, the Core 2 Quad Q9300 processor, and the Corsair CM3X2G2000C8GT RAM, the enthusiast indicated only the GeForce GT 710 video card.
In addition, I would like to note that an optimized version of Windows XP was used as the operating system.
Source: Overclocker profile on HWBot website